Formula One racing in the 1960s was a world away from the sport we see today. During that decade, 10 different constructors won a Grand Prix, the concept of owner/driver teams was still going strong, and the Indy 500 and Le Mans 24 Hour were included in the F1 calendar on occasion. Racing during the 1960s was exciting, tragic, and controversial in turn; this watershed decade, which saw huge advances in vehicle technology, safety and many rule changes is now covered in detail in a new book by Peter Higham: Formula One: Car by Car, 1960 – 1969.
Lotus wore the badge of excellence for the era winning 3 World Championships in total, but Chapman's crew faced a lot of strong competition along the way. 1960 saw the last of the front engine layout cars as mechanical concepts and developments moved forward. Aston had been struggling with their engine development, and formally pulled out of F1 in August that year.
How much is your car to insure? Find out in four easy steps.
Get a quote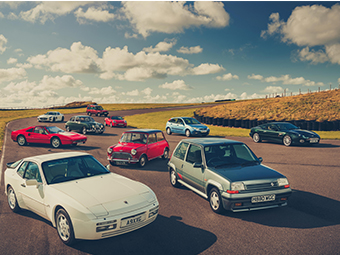 1960 also saw John Surtees compete in four races, when his MV Augusta contract allowed- he went on (in 1964) to become the only man ever to win World Championships on both 2 and 4 wheels. Stirling Moss was also in the F1 frame in the 1960s, but his '60 season ended when he broke both legs in practice in Belgium. These two well-known racers were often up against a very different breed – the Gentleman racer. The likes of Lance Reventlow, son of the Heiress Barbara Hutton, tried and failed to produce a car that was light enough and carried enough power to overcome the professional teams.
In 1961, the British teams were caught with their metaphorical trousers down. Although new rules on engine size for the season had been released in 1958, the British V8 engines weren't ready. That evening in the RAC Club in 1958 certainly seems to be one to remember – Motorsport commented the night 'turned in to uproar' and Autosport claimed the change of rules on engine size was equal to 'sabotaging Grand Prix racing'. The Queen attended the event that evening, so one can only wonder what she thought of the whole affair! The Grand Prix Drivers Association was later formed with Moss at the helm as the first Chairman, possibly in response to the '61 rule change.
1961 also saw the worst crash ever to be seen in F1, when 15 people died as Wolfgang Von Trips' Ferrari crashed with Jim Clark's Lotus at Monza. This changed the face of F1, and put Ferrari's further involvement in the sport under doubt for a short time.
With the arrival of the '62 season, Coventry Climax unveiled a highly successful 1.5l engine which helped BRM to win the Championship. The next year however, the company threatened to leave the F1 arena as development and production costs were too high and new rules had reduced the potential spoils. The British motoring industry eventually increased funding, and the company was taken over by Jaguar in 1963.
F1 seems to have always revolved around money, and the 1960s were no exception. Throughout the decade, the thorny issue of starting money reared its head. Various agreements were put in place with the Formula One Constructors Association, but an agreement was never reached in which all parties were truly happy. The big competition in tyres also started around this time, with Goodyear and later Firestone joining the party. While technical development slowed down as new rules were due again in 1966, tyre development was at its height.
The 1966 season arrived to new rules again in engine development. Teams could now choose between a supercharged 1.5l or a 3l normally aspirated engine, which harked back to discussions that had started as early as 1963. The Ford Cosworth DFV engine was on its way by this time, an engine that continued to race successfully up until 1983, with both race and Championship wins.
On a different and by all account difficult note, the film 'Grand Prix' was filmed over this year. There was much consternation in the paddock as the disruption was greater than expected. The film was released later that year to much acclaim.
The decade drew to a sombre close, with the death of many great names. Jim Clark, Mike Spence, Ludovico Scarfiotti and Jo Schlesser all lost their lives. This was a tragic and timely reminder for motor racing that the sport was riddled with danger, no matter what developments were made.
Peter Higham's book features an abundance of excellent photographs, aiming to show every single car and driver that started a GP during the decade. For each year, Peter has also complied tables to show driver performance race by race, a winners' table, plus both the drivers' and manufacturers' championship victors.
Formula 1: Car by Car makes for interesting reading. Any F1 fan would love it as it captures the passion and enthusiasm of the era, and is a true reflection of one of the most exciting decades in F1 and Grand Prix history.
Formula 1: Car by Car 1960-69 is published by Evro Publishing (www.evropublishing.co.uk), and is available to order. ISBN 978-1-910505-18-2, RRP £50.