It's fair to say that prototypes are usually the unadulterated dreams of their talented designers. They're a giant 'what if' that shows what might be possible in a world of automotive design where there are no bean counters and no engineering compromises. For that reason, to me, they represent the purity of car design in its finest form. Here are a few that I would dearly love to add to my collection, but sadly probably never will!
Alfa Giulia Spider Bertone 1955
How much is your car to insure? Find out in four easy steps.
Get a quote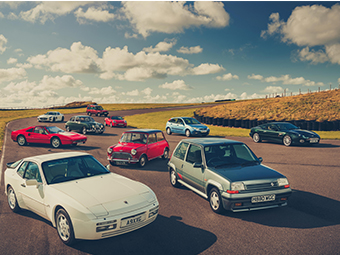 Alfa Romeo and Bertone – if you were mixing a design cake, then you'd probably reach for these two ingredients for a perfect confection. This fabulous design study from 1955, under the steerage of North American importer Max Hoffman, didn't disappoint either. Designed by Franco Scaglione as the calling card to grab a full factory-sanctioned contract, the resulting pretty roadster simply contained far too many gorgeous and complex shapes for mass production. The gig for a full-on road car went to Pininfarina in the end, who brought a much simpler and easier to produce car to the table. It's still a great example of what could have been, and a stunning piece of aerodynamic design for the time. It is now in the private Lopresto Collection in Italy.
Austin Allegro 1968
Titter ye not! While the Allegro suffered from an image problem for many years, the concept as it left the pen of its talented designer, Harris Mann, was quite the looker. Mann's early sketch from the late '60s boasts elegant proportions, a trendy 'shark nose' snout and an finely proportioned roofline. Sadly, once in the hand of its parent company, the compromises required to make the car ready for its 1973 debut made it slightly less easy on the eye. Once the hydrolastic suspension and Maxi engines had been squeezed in under the arches, it looked like the original concept had added a few pounds and lost a few sharp lines. At least the innovative quartic wheel made it through, however – but look how that turned out, eh?
Subaru XT Concept (later SVX/Alcyone) 1986
Japanese build quality with Italian style? That seemed like a fun recipe in the mid-80s, so many were intrigued when Ital Design legend Giorgetto Giugiaro penned the stunning XT concept for Subaru in 1986. Drawing on many of his other contemporary design works at the time, like the Oldsmobile Inca and Ford Maya, the XT was dramatically curvier than its angular titular forebear. Featuring an innovative 'glass-to-canopy' design, parent company Fuji Heavy Industries took the gamble that the car could take them forward towards a more prestigious marketplace. The resulting production car, the SVX, managed to hit the showroom floor virtually unchanged, and while perhaps didn't do the sales numbers hoped for, did much advance Subaru's image as a builder of technically innovative machinery.
MG EX-E 1985
Oh, what could have been! Presented at the Frankfurt Motor Show in 1985, this stunning design concept from MG looked ready to go toe-to-toe with the finest that Maranello had to offer. Designed by the British design duo of Roy Axe and Gerry McGovern, it featured an aluminium chassis and plastic body. Power was from the venerable Metro 6R4 powerplant, mid mounted and de-tuned to 'just' 255bhp. For its time, this thing had the numbers to seriously make a dent in a game of Top Trumps!
Sadly the whole concept only ever got as far as a very realistic model, which, while wowing the crowds at the time, and still looking remarkably fresh today, never quite joined the ranks of octagonal legends. It's still at the British Motor Museum at Gaydon if you fancy a squint into an '80s vision of the future though!
1966 Porsche 911 Spyder
When is a one-off coachbuilt something a little more? When it's smiled on by the factory, of course! Following the success of the open-air 356s in the USA, Southern California dealer Johnny von Neumann waited impatiently for the factory to offer the next big, drop-top sportster. When it didn't come quickly enough, and then came with a Targa roof, he decided to go his own way and give his loyal customers exactly what they craved. With the full blessing of the factory, as something of a fishing trip, a bare chassis fell under the gaze and pen of Bertone, who designed the stunning 'boulevard racer' body that von Neumann's clientele craved. Despite such visual appeal, Ferry Porsche was reported to be less than enthusiastic with the end result, and when combined with a 30% higher sticker price than an equivalent 911, meant that the project was quietly shelved. Only one example was made – and it recently sold at Gooding in August for an impressive $1.43m!
Which prototypes would you add? Which cars do you think lost their way from design to dealership, and which maintained the concept of the show car?