The Ferrari 250 GT was the epitome of the beautiful road going Ferraris of the 'creative sixties'. It was an era before design rules and various other, often ill-conceived laws and rules concerning motor vehicle manufacture reared their heads. So the Ferrari 250 GT existed in the pinnacle of exotic car creativity, an era when there was no shortage of money to fund toys for rich boys, and girls, and there was a measure of guiltless hedonistic willingness amongst the rich, (many of them 'nouveau riche'), to spend on life's little pleasures, such as a custom Ferrari.
Thus it was that in this era of The Beatles and The Rolling Stones, of Janice Joplin, Jimi Hendrix and Woodstock, that there was enthusiasm for 'freedom', and freedom in the design of your custom Ferrari was an enjoyable thing for those with enough spare shekels to indulge themselves in.
How much is your car to insure? Find out in four easy steps.
Get a quote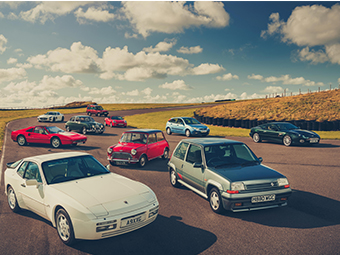 Ferrari's 250 GT came in a variety of shapes and forms as the custom coachbuilders let their imaginations and sharp pencils run free. Amongst the more interesting are the beautiful 1961 Ferrari 250 GT Coupé Aerodinamico, the 1957 Ferrari 250 GT Coupe Speciale that looks as if it was inspired by Facel Vega, and the 1956 Ferrari 250 GT 'B Genève' Boano Cabriolet whose graceful curves of its rear end design looks like it might have been the inspiration for the more conservative rear of the humble Humber Vogue, an array completed by the elegant and restrained Pininfarina. The list of variations on the Ferrari 250 is a long and fascinating one.
The Ferrari 250 GT SWB California Spyder began life in 1959 and was a follow on from the 250 GT California Spyder LWB of 1957. The LWB car has something of an awkward look that the later SWB car amends beautifully. Twenty centimetres shorter than its predecessor the 250 GT SWB California has the same "coke bottle" hump between the cockpit and rear wheel arch of the LWB version that at once breaks up the line of the car making it interesting to the eye. It was a design feature that later appeared on a number of other car designs such as the 1966 Pontiac GTO and more Ford models than one could count on one's fingers. Based on the 250 GT Berlinetta the car made its debut in Geneva. The car featured the usual 3 litre V12 producing 276hp and had disc brakes all around to ensure the results of enthusiastic use of that 276hp could be washed off quickly when needed.
Approximately fifty five examples of the car were built of which a decent number have survived; the most recently famous of which was one which was owned by French actor Alain Delon for a couple of years during the period he was going out with American actress Jane Fonda, and whilst they were both working on the 1964 movie by Rene Clement called "Joy House" (or "Les Felins" in French). This car was recently sold at auction by Artcurial for an eye watering USD$18.5 million, which puts it the ranks of the most expensive "barn finds" in car collecting history. That particular car had been literally found in a French barn under a pile of old magazines with a vast array of other fabulously desirable antique cars, covered in dust and grime as all good barn finds are, and in much need of some expert TLC.
Being one of only thirty seven of the 250 GT California Spyder fitted with covered headlights made this a highly desirable collector's item to which its sale price attests. No doubt back in 1964 neither Alain Delon nor Jane Fonda would have suspected that the fun set of wheels that provided their transport to the film set would one day fetch such an astonishing figure. Astonishing though the final bid price was it was in line with the successful bid for another pretty red with light-tan interior 250 GT SWB California Spyder which sold at Pebble Beach in 2014 for $15,180,000.
There is however a variant of the Ferrari 250 GT SWB California Spyder that is even more rare than the ex Alain Delon car. There were thirty seven of the covered headlight variants made, but only sixteen of the non-covered headlight variants. One of these 1961 Ferrari 250 GT SWB California Spider by Scaglietti came up for auction by RM Auctions/Sotheby's on 23rd May 2015 and did not sell. The asking price of this beautifully restored car with Ferrari Classiche certification was 11m to 13m Euros. So that one is still available – at a price. More information can be found here: http://www.rmauctions.com/ve15/villa-erba/lots/1961-ferrari-250-gt-swb-california-spider-by-scaglietti/1073624
The Ferrari 250 GT SWB California Spyder is one of the prettiest and most desirable Ferraris ever made, coming as it does from a period of freedom and creativity in car design that reflects the zeitgeist of the swinging sixties. It is an iconic car of its time.