Record 185,000 fans pack Goodwood for the 19th Festival of Speed, while £5M Birkin Bentley and £4.7M "Matchbox" Rolls-Royce break records at Bonhams
From the bottom of the Gerry Judah-designed Lotus sculpture to the top of the Goodwood hill, a record 185,000 spectators packed the Sussex venue over the weekend of June 29-July 1, with new delights at every turn from the "Young Guns – born to win" theme, celebrating drivers who made a huge impact on motorsports from an early age, to the fast and furious action in the forest rally stage.
Even off the track there was excitement: In Friday's auction behind Goodwood House, Bonhams broke a number of world records when it sold the ex-"Tim" Birkin blower Bentley single-seater racer for a whisker over £5m, and the "Corgi" Rolls-Royce Silver Ghost Pullman limousine for £4.7m.
How much is your car to insure? Find out in four easy steps.
Get a quote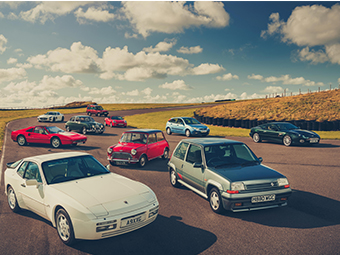 Lotus was the celebrated marque and, as well as significant F1 racers from '60s 25 and 49 to present day, showcased on the swirling 28-metre double-helix loop sculpture immediately front-of-house, more than 40 of Colin Chapman's creations took to the Festival hillclimb.
The event's bias towards modern F1 strengthens every year and two of the greatest names — reigning World Champion Sebastian Vettel and former champion "The Professor" Alain Prost — visited for the first time, among the 120 other motor racing heroes, from Jenson Button and Lewis Hamilton to Emerson Fittipaldi and Kenny Roberts.
Festival founder Lord March joined in, driving the ex-Jochen Rindt 1970 "Gold Leaf" Lotus 72. You'll not walk far at Goodwood without encountering heroes from all eras of motorsport, such as former F1 ace Tony Brooks spotted trying out one of his old Vanwalls for size in the Cathedral Paddock.
This is where the treasure lies for real petrolheads as machinery from the dawn of racing comes to life in a live museum show. Here were rare Alfas, Cobras, a pack of Martini-liveried Lancia sports-racers, the legendary Baby Bertha V8 supersaloon, NASCAR stockers and a fearsome fuel-injected Maserati 450S coupe. Mercedes' own 300SLR racer, driven by Juan Manuel Fangio in the 1955 Mille Miglia and just back from running in this year's retrospective event, was spotted this year taking a well-earned rest in the top paddock.
There's always a needle match over who can thread their way up the narrow, snaking hillclimb the quickest and, though some of the hill runners were strictly "demo only," there were plenty making full-bore assaults on the climb, which is an MSA-ratified event. In the 45-car timed shootout on Sunday afternoon, former British Touring Car Championship ace Anthony Reid brought the house down by blasting his Chevron GT3 racer up the narrow, sinuous hillclimb course in a staggering 46.46 seconds for Fastest Time of Day, reaching 131 mph and narrowly edging out the favourite Gary Ward, who streaked up the hill in 46.80 seconds aboard his Leyton House-Judd CG901B Grand Prix car.
But Justin Law almost melted the traps when he clocked a belief-beggaring 142 mph across the line in the Group C Jaguar XJR8/9. In pursuit, Rod Millen's mid-engined Pikes Peak Toyota pickup had an "off" following a grassy moment exiting Molecomb. The Kiwi emerged unscathed, and even managed a smile, but his truck had bent front suspension.
In Her Majesty the Queen's Diamond Jubilee year, the Cartier Style et Luxe Concours d'Elegance was themed on royal vehicles, from stately saloons to a De Havilland Chipmunk trainer from the Royal Air Force museum in the "Bespoke working vehicles" class, a Royal train carriage and an amazing bubble-top 1950 Lincoln Cosmopolitan with huge continental kit that was almost as long.
Several of the entries were direct from HM herself, including the Vauxhall Cresta Friary station wagon in which she liked to drive herself around Sandringham. Overall winner was HRH The Prince of Wales' Aston Martin DB6 MkII Volante, while the sublime Chapron-bodied Citroen SM Cabriolet emerged top in the Overseas Engagements class. The Duke of Edinburgh's 1961 Alvis TD21 drophead claimed the Regal Runabouts category.
Next year's Festival of Speed will be the event's 20th year, with dates to be announced soon. See more on http://www.goodwood.co.uk/motorsport/motorsport.aspx