The other day I was reading an old classic car magazine from 2005, researching past values for the Hagerty Price Guide. But it wasn't the values that caught my eye, rather a ranty letter from one reader who warned of "what I've been dreading for years- transverse engine front-wheel drive hatchbacks being considered as classics!" His ire was not limited to the 'new' cars either, but also the man who started it: "If it hadn't been for Issigonis and his wretched Mini being the forerunner of the Volkswagen Golf, the hatchback may never have happened!"
Poor man. If he's still alive today, we can only hope he's living on an island somewhere with no internet or television. Or magazines. Or cars. Because whether you like it or not, the market is going crazy for 1970s and '80s classics: from the Ford Capri to the Ferrari Mondial, everyone wants 'modern' classics.
How much is your car to insure? Find out in four easy steps.
Get a quote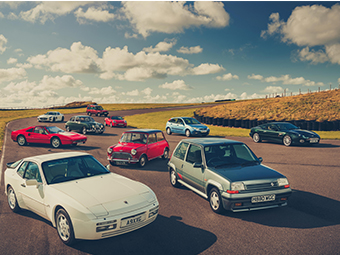 Many commentators think this marks a shift-change in the classic car world. Their rationale is that a new generation of owners- people in their 30s and 40s with spare cash- will buy cars that they can relate to. They will be attracted by drivable classics which are comfortable to drive, powerful, and full of the gadgets you would expect of a modern car: air conditioning, ABS, power steering and the like.
The theory continues that earlier cars won't have this 'cultural reference' for the new generation of owners, and interest in them will dwindle as the current owners get older and shuffle off. So Wolseleys, Alvis, Sunbeams, and the like will all be left to rust.
So are we looking at a total change in the classic car world, one where anything more ancient than 45 years old is written off as a has-been? I don't think so.
It is true that a lot of first-time classic car owners have been attracted by the comfort and complexity of 1980s cars. But with that complexity comes… well, complexity. Open the bonnet of any 1960s car and you'll see an engine, coil, distributor, a bit that controls the fuel entry, a bit than controls the air entry, and an exhaust. With a bit of logic and a workshop manual, all things seem to be possible, and if you get it a little bit wrong the engine will probably still work (of sorts).
Open the bonnet of a BMW E30, a Porsche 944 Turbo or an Audi Quattro Ur and the story is different. You have an ECU to deal with for a start, lots of sensors, and much finer manufacturing tolerances. Add in the need for a range of specialised workshop tools and it all gets a bit complicated.
Now, I'm not saying that owning an '80s classic is a bad thing- I personally own two myself- but I think that having made the step into classic car ownership, having experienced the thrill of driving and nurturing an old car, the love will spread. I'll use myself as an example. Last year I bought my first ever Porsche, a 944 Lux. Now I want a long-bonnet 912 more than anything else. Do I have any cultural references for the 912? Absolutely not. They stopped making them when I was two, they weren't driven by my favourite movie star, nor did they feature in the TV shows of my youth. No, I want one because I love my other Porsche, I LOVE the look of the early 912/911 cars, and I quite like the idea of an engine that is roughly similar to the one in the back of my VW camper: basic.
So I welcome the influx of new owners, even if they start with a "wretched" VW Golf. Because for every new classic owner who gives up the first time their car breaks down, there will be another whose love will spread. Maybe the Golf owner will yearn for a Karmann Ghia or an early Beetle. Maybe he or she will attend a rally and be introduced to the pure driving thrill of a vintage car. As their confidence grows, the whole world of wonderful, diverse classic motoring will be opened up to them. And that can only be a good thing.