Biggest gathering of vintage Ducatis in U.S. draw 51,000 fans, lots of famous race faces, as Italian marque celebrates 30th anniversary of legendary TT2 with 3rd annual symposium

Late in 2011, I felt the pull of a big motorcycle magnet tugging me toward Alabama. It had been years since I raced at Barber Motorsports Park in Leeds, just outside of Birmingham. Now the familiar urges lured me back into my old leathers. I would soon be racing my Ducati Pantah and Moto Guzzi V65 in Birmingham's mild weather at the monumental Barber Vintage Festival on one of the best-flowing technical racetracks in the U.S. There was also the attraction of attending "Ducstock" the biggest assemblage of vintage Ducati racebikes in the U.S., as well as the 3rd annual Ducati TT2 Symposium. My flight was booked, my bikes were prepped and shipped, and I was on my way.
Barber Motorsports Park is a well-known mecca for motorsports fans. It's a sprawling compound in the green rolling hills outside of Birmingham. The on-site racetrack is technical and challenging. The paddock is clean and modern; it's a world class facility. The complex also houses the legendary Barber museum, one of the largest assemblages of racing motorcycles and automobiles in the U.S., all housed in a lovely, modern structure.
How much is your car to insure? Find out in four easy steps.
Get a quote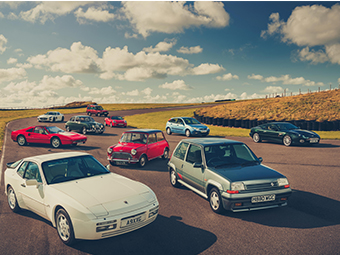 There were Ducati racebikes at Barber. Lots of them. Manhattan, New York-based Ducati guru Louis Saif has previously held his "TT2 Symposium" out of his garage space in the city. For the past two years, Lou assembled a few dozen highly collectible and curious TT2's, F1's and other Pantah-engined 1980s Ducatis. Notable attendees included racers both famous and infamous. 2011, coincidentally the 30th anniversary of the Ducati TT2 factory race bikes, promised to be big. Online discussions ensued. Lou thought large. After a few weeks of development and collaboration with organizers Steve Munroe of Loudbike.com and Vicki Smith of Ducati.net , Ducstock (billed as a "Woodstock" for Ducati fans) was born. The organizers delivered an epic display of vendors, Ducati personalities and Ducati racing machines.
Factory built, handmade racers
Ducati TT2s are factory built, handmade racing machines that were sold to the general public in the early 1980s. The F1 and its variants followed a few years later as street legal versions. The motors are Ducati's famous 90-degree V-twins. They feature hemispherical, air-cooled cylinder heads with two valves per cylinder and desmodromic valve actuation. These are all eminently tuneable machines. In stock form, they display mid to high 50's hp, but they can be bumped up to 80+hp very easily. And unlike most modern sportbikes, they can be ridden close to their limits by mere mortals.
These were the last of the hand built Ducati superbikes. TT2's were, in fact, assembled in the factory by Ducati's NCR race development team. During their heyday, these bikes trickled out of the factory and onto victory podiums worldwide, ridden by Jimmy Adamo, Marco Lucchinell and others. The TT2's attraction is its lovely form and its close resemblance to the Ducati factory's own race bikes.
Prices for TTs and F1s are creeping upward. F1's, which were in the $6-8000 range a few years back, are now $10-17k, depending on pedigree, modifications and condition. The limited edition Montjuich, Laguna Seca and Santa Monica versions of the F1 command $20,000-30,000 as well. TT2's are now upwards of $30,000 when they appear for sale. The last ones I've seen on the market were a pair at the Peterson Speed and Style auction in Los Angeles a few years back. A multitude of companies now make replica TT2/F1 frame and bodywork kits, so the price of admission is a lot lower if you're willing to roll your own.
I crossed paths with many Ducati notables
Throughout the weekend, I crossed paths with many Ducati notables. I saw racer Paul Smart, who won the 200km race at Imola in 1972. I also saw Cook Nielson, who rode a 900ss to victory at Daytona in 1977. Factory TT2 tuner Pat Slinn made the long journey to Barber from the UK. Bruce Meyers, of New Hampshire's BCM Ducati, was holding court and tuning bikes in the paddock. I also spoke with legendary Ducati tuner Reno Leoni, who splits his time between Italy and the U.S. These Ducati legends were greeted by a long line of admirers who waited for a turn to speak directly with their heroes.
Racing, as always, was intense. Unlike many "vintage racing" events, the guys on the grid at Barber meant business. This was one of the last events on the 2011 calendar and many championships hung in the balance. My Ducati Pantah is 320 lbs and around 75 hp. It races against air-cooled Japanese bikes up to 700cc. My Moto Guzzi V65 is about 320 lbs and approximately 55 hp — it races against Honda Ascots and Yamaha SR500s. I'd just found another few horsepower in the little Guzzi after chopping 14 inches off its too-long mufflers.
On each of my four races, I lined up with around 15 other bikes in packed starting grids in the vintage superbike classes. I got the holeshot both days on the Guzzi — it was a breeze with all that v-twin torque. Throughout the weekend, I managed three wins and one second place finish. World champion GP racer Kevin Schwantz had a good dice with racer Pat Mooney in 500 Premier class, with both riders on tuned Manx Nortons. Schwantz, as expected, took the win. American Isle of Man race winner David Roper won the 350 GP class on his Aermacchi.
Another attendee, Gary Palmer, pulled his F1 out from display at Ducstock and made for the starting grid. He managed a respectable 3rd place finish in a Battle of the Twins class against SV650s and modern Ducs. That's the beauty of vintage Ducatis, they're functional art, and equally at home on display in your house or office or being thrashed on the racetrack.
The premier U.S. vintage racing event
Racing ended on Sunday, but the action continued through Monday with a track day hosted by Penguin Racing school and led by instructors such as AMA privateer Eric Wood. Many of the same Bevel Drive and and TT/F1 Ducatis on display a day prior were now being flogged on the track. Also of note in the rotation was one Ducati Supermono ridden by well-known motorcycle auctioneer Jerry Wood. With prices for this extremely low production single-cylinder racing Ducati soaring beyond $100k, you don't see too many Supermonos being used as they were intended.
An added benefit of Barber's location in the deep south is the preponderance of roadside BBQ restaurants. My California residence prevents my access to any real barbecue, so I took full advantage of Birmingham's local cuisine. I ate at every single BBQ joint I could find.
With official attendance at around 51,000, and vintage Ducatis galore, the Barber Vintage Festival has become the premier vintage event in the U.S. for racers and spectators alike. See you there in 2012. And if you've got a little time on your hands in the meantime, check out Vicki Smith's huge collection of 2011 pictures.