The first of The Classic Motor Hub's 2017 events is to take place this Sunday, 2nd April at their motoring base in the Cotswolds.
The Coffee and Classics meeting is taking place between 9am and midday, and is expected to draw crowds of classic, vintage and sports car and bike enthusiasts, keen to look around at everything The Hub has to offer.
How much is your car to insure? Find out in four easy steps.
Get a quote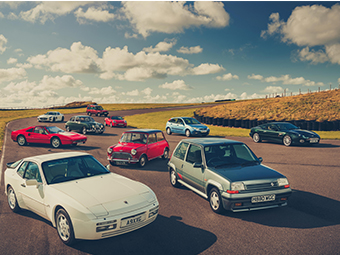 The Classic Motor Hub is the brainchild of Martin Chisholm, whose concept was to create an environment where all aspects of classic and sports car ownership could be catered for. The Hub houses not only classic car and bike sales, but also car storage, a workshop, a clubhouse (open to car clubs by prior arrangement) and accessory sales.
Those attending the free-to-enter Coffee and Classics will be invited to view an exclusive private collection of historic sports cars, and master- detailer Steve Bell will be on hand to work on a very special car owned by a well-known motoring celebrity. All this, plus trade stands, catering and refreshments, give a perfect excuse for a Sunday morning trip down the fine local Cotswold lanes.
If you can't attend this event, Coffee and Classics are run every first Sunday of the month from April until October. In addition, The Hub has a busy schedule of events throughout the summer, including Hagerty's Classic Drive-In Movies; watch this space for details.
Coffee & Classics is being held at The Classic Motor Hub, Ablington, Bibury, Gloucestershire, GL7 5NX. All drivers and riders of classic, vintage and sports cars and bikes are welcome, and it is free to attend. Please Google 'The Classic Motor Hub Bibury' for directions (Satnavs can be temperamental!) and visit https://www.facebook.com/TheClassicMotorHub/ for more information and register your place.