Silverstone autumn event included highly sought-after examples from 1980s in mint condition
The first example of a European 'Hot Hatch' dates back to 1976 and the Volkswagen GTi, which was a high-performance derivative of a front-wheel-drive, three-door hatchback.
How much is your car to insure? Find out in four easy steps.
Get a quote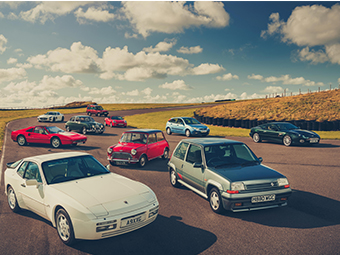 Things really took off for this segment in the mid-'80s, when the Austin/Rover Group, Peugeot and Renault offered a very limited run of production-built cars so that they could meet the regulations to build their highly modified Group B Rally cars.
The MG 6R4 (six-cylinder, Rally, four-wheel drive) was developed by the Williams Formula One team. Their V-6 engine used twin-camshaft cylinder-heads and four valves per cylinder.
Peugeot launched their hot hatch in 1983. The 205-16 Turbo was one of the most technologically advanced performance cars available at the time. Its 1,800-c.c. engine produced 200 horsepower.
Car number 117 of the 200 built sold in September at RM Auctions sale in London.The slightly milder 1980-1984 Renault 5 Turbo converted to a mid-engine and rear-wheel drive configuration produced 158-h.p. Nice examples of the 400 built sell today are sought after.
Silverstone Auctions in England offered at their November Classic Car Show auction in Birmingham a 'brand new' hot hatch icon, a 1980 Talbot Sunbeam Lotus.
This car is literally a brand new old one!
It has never been registered and has covered just 308 kilometres in its lifetime.
The left-hand-drive, time-warp car was discovered as part of a large private collection in Italy by the current vendor.
Every single aspect of the car is factory standard and as it rolled off the production line, finished in the evocative colour scheme of Embassy black with silver decals.
The Talbot Sunbeam-Lotus was born when Chrysler commissioned Lotus to produce an effective entrant for international Group 4 rallying. Lotus took a Sunbeam 1.6GLS shell and installed a 2.2-litre version of the Lotus 16-valve, four-cylinder engine and a five-speed ZF gearbox.
It proved very effective in rallying, winning the challenging 1980 Lombard-RAC Rally.
And it proved very effective at auction, as well, selling for £50,625, more than double its pre-sale estimate of £24,000-£28,000.