So the sun is out, the top is down and you are driving your drop-head or your motorbike down a gloriously-twisting British B-road. What could make this any more perfect? We've selected a few items that you may like to consider to make your convertible ownership absolutely top- notch.
The Aviator Flying Jacket
How much is your car to insure? Find out in four easy steps.
Get a quote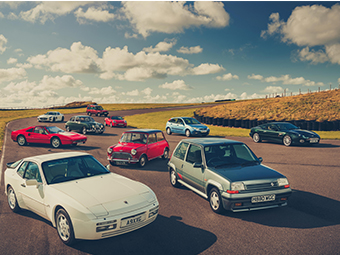 We all know that the British weather can't always be predicted, and that some sunny days are actually cold enough to chill you to the bone. But why let this curtail your convertible fun? With an Aviator flying jacket you'll not only keep warm (even in the depths of winter) but look the part too. We like this superb Holden Aviator jacket- it's made in England from Merino lambskin and is finished in stylish dark brown leather. With an RRP of £495, quote 'Hagerty' and you can get 10% off. Available from Holden Vintage & Classic www.holden.co.uk*
The Pedal Lock
Convertibles are great, but it only takes a second for someone to cut through the roof and they have access to the car. Steering wheel locks are useful but cumbersome. Locks that link the gearstick and handbrake are also fine unless your car has an 'unconventional' layout and the two levers are too far apart. One solution is to lock the pedals together, such as this small lock made by Tuthill Porsche for the 356, 912 and 911. It is small, light and easily attached, and seems like a great idea. If you want something more robust how about a locking pedal box? Designed for work vans, you can but a 'universal' box for about £160, although they are heavy and bulky and may not suit all owners. www.tuthillporsche.com
The Essential Buyer's Guide
To make sure you buy a great car that won't let you down, first buy one of Veloce Publishing's superb Essential Buyer's Guides. Covering a huge range of popular classic cars and bikes including the E-Type, big Healeys, Triumph Stag, MGB, and MX-5, they are packed full of really detailed and sensible model-specific advice, useful checklists and clear photographs. This week we read the Alfa Romeo Spider Essential Buyer's Guide by Keith Booker (ISBN 978-1-904788-98-0) and found it spot-on in terms of advice. Use discount code: EBG35 To claim 35% off any book in the Essential Buyer's Guide series until the end of the month. This exclusive offer to Hagerty readers is redeemable by quoting the discount code at checkout from http://www.veloce.co.uk or by telephone order (01305 260068). Offer ends 31 May 2015.**
The Boot Rack
If you have a tiny two-seater and want to do some proper touring this summer, you may need a bit more space for your luggage. One option is to fit a boot rack. With a selection of sizes and choices such as wooden, alloy or stainless bars, Ratsport have a wide range of boot racks to fit many classics, and with prices starting at £79.20 they won't break the bank. And, until 31st July Ratsport are offering a 15% discount to all Hagerty readers for all of their products (not just boot racks). Just quote HAGERTY (note capitals) when ordering at www.ratsport.com.
*T&Cs apply. Please contact www.holden.co.uk for more information.
** Offer is ONLY applicable to books in the Essential Buyer's Guide series for the time period stated above & excludes leather and limited editions, Veloce gift vouchers, Veloce eBooks & apps, other coinciding special offers, and non-Veloce products. P+P extra. Offer is strictly subject to availability & while stocks last.