My Series IIa Land Rover saw unusually little action this Easter weekend. In fact, it saw none. This weekend is often one of family drives, fresh air, and long evenings with open fires but not this year. Two races at Silverstone on Easter Day and the GRRC Spring Sprint at Goodwood on Easter Monday meant that any such plans were put on hold for another year.
I had been asked to drive Bonhams' 1958 Riley One-Point-Five saloon at Silverstone on Easter Day, competing with Julius Thurgood's HRDC (Historic Racing Drivers Club) grids. I was to co-drive with Bonhams' Mark Gold in a two-driver, 45-minute race in addition to a solo drive in a 30-minute sprint.
How much is your car to insure? Find out in four easy steps.
Get a quote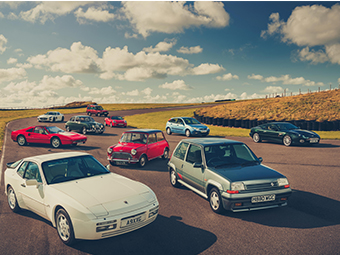 We were part of a BRSCC race weekend held on the National Circuit, headlined by the TCR Championship (UK). Other championships included the National Formula Ford 1600 and BRSCC Mazda, VW, Honda and Alfa Romeo Championships. This meant that there was plenty of good racing on track as well as old friends and acquaintances in the paddock.
Joey Foster, friend and former team mate, had won the FF1600 race from pole on the Saturday and I was keen to see if he could repeat this in the two races on Sunday.
Another name I was pleasantly surprised to hear over the tannoy was that of John Stack. John was a founding partner and driver of Team Jota (now Jota Sport) whom I had last seen drive an LMP1 car at Le Mans 24h! I had driven with John and Jota in 2002 and worked with them on their first Le Mans programme. Sadly, I didn't get to drive in the end but that's another story.
I hoped to have time to catch up with them and others if time allowed but first to work and the mighty Riley.
Signing-on was at 7.30am but at least it was a dry day and the roads were virtually empty on Easter Day so it was an efficient, stress-free drive from home. Scrutineering followed then a quick team talk before the first qualifying session.
The HRDC had two 37-car grids so getting a clear lap would not be easy. We had sufficient time for us both to qualify and weren't in a position to challenge for pole so went with a longer-term strategy.
Mark only started racing last year but has long been involved in motorsport, is improving every outing and most importantly is keen to learn. We therefore sent Mark out first so that he could settle in and re-familiarise himself with the car from the paddock to the assembly area before starting his qualifying laps.
I took over halfway through and completed the mandatory three qualifying laps plus a couple more before pitting. It was unlikely we could have gone faster given the traffic and some oil deposited and didn't see the point in wearing out the car unnecessarily.
We were second in class and ahead of the other Riley and the Wolseley so not too bad.
A quick debrief and routine check-over followed before heading out for the second qualifying session.
Again, I did the minimum laps (enough for Class pole) plus a couple experimenting with lines, both looking for time and racing options which I could discuss with Mark.
Part of my role is to help Mark learn and improve so first-hand references are always useful. Video and data analysis are also beneficial and precise.
All engine noise stopped for church break at 11am as Silverstone tradition dictates, then resumed for racing as scheduled.
The two-driver Coys Trophy was our first race but frustratingly the Riley wouldn't start. Gavin who runs the car set about checking the ignition, working through components methodically to trace the lack of spark; he changed the coil, distributor and leads but it did not resolve the issue in time and Mark and I watched the first few laps from the exit of Copse whilst Wayne Loveland, team manager and founder of Polygon Transport, diligently assisted Gavin.
Sadly, this denied Mark a race and his parents and sister the opportunity to watch, having driven from London. Motor racing can be cruel and I even discussed the possibility of Mark doing the second race instead of me but the team decision was to stick to Plan A.
My brother Rupert had also come only to watch that race but stayed on to warm up with us during lunch in the Paddock Café.
I used the chance to wander through the paddock and pits and catch up with some people in other races. I even got to watch some more racing before turning my mind back to the job at hand.
My second race was the single-driver "Allstars" race for GT and sports cars and saloons. The Riley was therefore up against Mustangs, a Falcon and even a Ford 289-powered TVR Griffith, so quite a mix.
There is always plenty of diversity of drivers with the HRDC. BTCC Champion Andrew Jordan was the quickest saloon, sharing with Take That's very quick Howard Donald whilst Chris Rea was in his Morris Minor Police car. Anthony Reid was in a very rapid Austin A30 and TT rider Maria Costello MBE was having another good race on four wheels having returned from two-wheeled success in Australia.
I started 19th out of the 37 entries but the car bogged down after a good initial start and I was passed by a few cars before the first corner. I regained all the places on the opening lap but then had trouble selecting second gear in traffic at Luffield allowing the other Riley back past. We swapped places twice again before I was tapped from behind at Brooklands on the second lap, spinning me around despite trying to correct the sudden oversteer. I caught the spin at 180° and steered backwards facing the cars approaching!
The entry to Brooklands corner is over 75mph so I was still moving at a fair speed. As soon as a couple of cars had passed and there was a small gap, I flicked the wheel to affect a J turn, selected first gear (by then speed had been scrubbed off) and resumed the chase without stopping.
Despite this excitement I had only lost three seconds, but it was enough to allow my main competition to get away. Some cars that had passed during the excitement were slower on a lap but faster in a straight line so it was very hard to make a pass stick. They weren't in our class, so after a few laps of swapping places I decided to settle for position; I could see no point in wearing out the car with heroics to gain nothing in the results. We ended up 2nd in class without further drama and received a beautiful chrome – enamelled car badge, and the Riley suffered just a tyre scuff in the drama, so is ready to contest the next round of the HRDC season at Donington.
Prize giving is always a part of the schedule, a chance for everyone to gather at the HRDC HQ the end of the day and swap tales of heroism or misfortune, as appropriate, with tea and cake – or beer. Trophies are beautifully made by Julius's friend and right-hand man Mick, along with laurel wreaths for outright winners and even a chocolate Easter bunny!
There was little time to stay and socialise however as there would be only eight hours at home before I had to leave for Goodwood. Snow was forecast, so I was pleased to be in a modern car with suitable tyres. With the Riley safely back in the box, we headed off in our respective directions.