Punters will have to curb their buying enthusiasm until the end of this month before the auction scene returns, but even those earliest sales have a sufficient offering to delight the most cynical or demanding buyer.
With the market likely to stabilise and adopt a more positive stance following the election (and with that the setting-in-stone of a Brexit date) both buyers and sellers should be out in bigger numbers than they were in the latter half of 2019.
How much is your car to insure? Find out in four easy steps.
Get a quote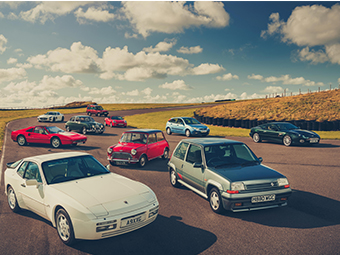 However, there could be fall-out, especially in terms of price and condition. It was clear throughout 2019 that only the best-condition cars would command the highest sums, and any car in less than exemplary condition would not be expected to.
That current market status could lead to even more cars being offered without reserve as sellers become more confident they aren't giving their car away for peanuts. Once the preserve of the worn-out classic or a project, no-reserve offerings should become even more commonplace throughout 2020.
The problem for auctioneers is finding enough cars to make a sale. All too often sales have been padded out with cars really should not have been entered because they were too young, but the ever-growing interest in modern classics means later motors can hold their own among the more traditional classics.
We've cast an eye over those early sales and picked out some tempters. Remember that many cars are entered late in the day so check relevant websites for the latest consignments.
January
SWVA: One of the indicators of just how well the market is performing can be found down in Poole four times a year with SWVA's sales. Popularity is often said to be because cars are driven through, but never going beyond the 80 lots mark, succeeds in offering a decent choice. Prices are consistently strong, with some dealers reporting they cannot compete, but from pre-war projects to modern classics, SWVA has it covered. Its January sale includes a restored 1938 Cadillac LaSalle saloon (est: £27,000-29,000), a 1950 Bentley Special built in the early 1970s (est: £40,000-50,000) and a 1930 MG Midget that is said to be 'ready to drive away.' Several Morris Minors and Triumph Vitesse convertibles fly the regular classic flag. Temptingly offered without reserve is a 1960 Rover 80 that has a comprehensive history file, including MoT test certificates back to 1979. Restored in 1999 to the tune of £5000 it surely warrants a closer look.
ACA: Since the King's Lynn auctioneer introduced seriously big sales (i.e., 200+ cars) others have followed suit, but it's ACA's drive-through sales that draw in the very biggest crowds. Its first sale of the year already promises rarities, the mainstream, the modern and the ludicrously low mileage. One of the sale's earliest consignments is a 1966 Auto Union DKW F11. If that wasn't rare enough this example, which has been in one family's ownership from new, has covered 713 miles from new, being used by its first owner solely to collect his pension. This pint-sized be-finned delight is estimated at £4000-6000. At time of writing a quartet of Ford Capris had been consigned, including a 1981 3.0 Ford Capri Ghia X-pack (est: £18,000-24,000) but if that's too rapid a same year 1.3 Ford Capri Cameo limited edition in beige (est: £3000-4000) might be more suitable. At the more upmarket end a 1986 Ferrari 412 automatic in desirable black over red is tempting at £25,000-28,000 and is said to be driving very well. A 1948 Bristol 400, recently re-painted and re-trimmed has a £30,000-40,000 estimate but for truly affordable old-school toffery a 1981 Bentley T2, MoT-tested until December and estimated at £6500-8500, is surely worth closer inspection. Expect a good selection of Jaguars, Land Rovers and Mercedes-Benz models too, along with MGs and Triumphs.
February:
Silverstone: Silverstone Auctions and Race Retro go together like cheese and pickle in a sandwich, and its first sale of the year has, at time of writing, an unsurprisingly notable competition and performance theme. A 1974 Porsche 911 Carrera 2.7 – one of the first 1975 model year cars built – should delight anyone wanting to 'have a go', having a roster of historic regularity rallies under its wheels while a unique 2003-built Alfa Romeo TZ2 recreation, built to FIA specifications represents a stunning opportunity. However, for those who feel a competition car needs a fabulous past an ex-Duncan Hamilton Jaguar XK120 Roadster ticks all the right boxes: an already desirable model, documented history and campaigned by a well-known, successful driver much associated with the Jaguar marque. Following on from Silverstone's success last November with a Triumph TR2 that ran in the 1955 Le Mans, interest in this 120 is likely to be high.
Charterhouse: Early days for the first 2020 Charterhouse sale, held at the Royal Bath and West Showground. As a rule its sales cover all ages and conditions but it has been successful with BMC- and BL-era Minis. The West Country continues to give up its old car secrets and many of them end up under the Charterhouse gavel. At time of writing just a handful of cars (1967 Jaguar 420, 1986 Jaguar XJ-S 3.6 FHC and 1966 Morris Mini), along with a 1942 Austin K2 tipper had been consigned.
We hope you enjoy the auctions. Tell us in the comments which car you're looking forward to seeing go under the hammer.