Thursday 17th December saw over 140 invited guests descend on Duke of London in Kew. They were attending a party to mark the first birthday of the company and the event, in the words of owner Merlin McCormack, "hopefully conveyed our slightly different, "unique" approach." As this incorporated a special batch of beer from their own micro-brewery, numerous bottles of Prosecco kept perfectly chilled in the workshop stainless steel sink and the running of a twin deck sound system out of the boot of a stripped Mercedes 190SL; I'd say that this hope had been fully realised. The stuffed lion, zebra and ostrich (presumably a permanent part of the eccentric collection of ephemera to be found distributed about the premises) equally seemed to be entirely in keeping with the spirit of things, despite having no obvious link to the world of classic cars.
Given the circumstances that led to the birth of the company this should come as no surprise. Merlin had started helping his father, Lance, who runs Romance of Rust next door in the converted stable block near Kew Bridge station when he was 8. A successful early career as a private equity broker was soon left behind as a wish to do something more fulfilling and enjoyable took hold.
How much is your car to insure? Find out in four easy steps.
Get a quote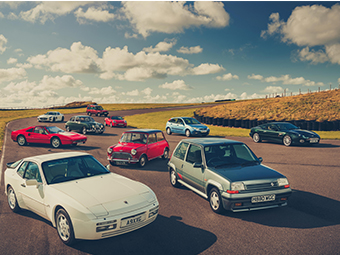 Initially this was via the purchase of vehicles through a fledgling e-Bay and selling them for a profit Now Duke have a stock of classic cars and bikes for sale, handle the sale of clients' cars, and source classics to a customer's specification. Naturally they often work with Romance of Rust to offer a complete package of purchase and restoration. A little luck in entering the market just as the interest in classic cars began another upturn helped, and they are currently in the enviable position of actively looking to recruit additional staff. If nothing else this may finally release manpower for Merlin's own pet project, the conversion of an Aston Martin DB4 to full GT specification.
Sadly it was about 8 pm when I turned up at the party, having aquaplaned my way up from the South coast. "Sadly" because, by the time I nosed my Chevette through the gathered petrolheads milling about outside the premises, I had already missed a number of guests and cars. The most irritating was a grey Gullwing Mercedes fleetingly glimpsed as I pulled into the yard – but which had left by the time I had my camera to hand. However this still left an eclectic mix of Americana, rising classics and small European sports cars; most with a bias towards the tastefully modified. A brace of Spiders, both Alfa Romeo and Fiat, sat at one end of the site with the more brazen confections at the other. These included a classically "rodded" deuce coupé, Plymouth GTX440 (ex daily driver of the McCormack matriarch) and sinister black Stingray. In amongst those less easy to pigeonhole were a very pretty BMW 2002 Touring and an immaculate Volvo Amazon estate. The latter was a car that Merlin was particularly pleased to see. As nice as it was I must admit to having been a little mystified until he explained "this is the very first car I was carried in as a baby." Once more it was obvious that this is one classic car company based as much in a deep-rooted enthusiasm as it is in the balance sheet.
The evening flew by as I chatted with friends about all matters automotive, occasionally breaking off to go outside and watch the regular turnover of cars arriving and leaving. The number of party goers impeccably turned out in mohair coat or bias-cut dress helped to create an atmosphere perhaps best summed up as "style over fashion." There seemed to me a shared appreciation of lasting quality, an appreciation which is at odds with transient modernity; an ethos in which both guests and host seemed perfectly in tune. As I left for a local hotel at around midnight the party was still in full swing. Returning the following day to pick up my car I learned that it had tailed off somewhere past 3 o'clock in the morning. I see I shall have to get in training should I be fortunate enough to be invited to the next one.
Duke of London is located at The Old Stables, The Railway Yard, Lionel Road South, London TW8 0JA, tel 07545 430813.