Whether you're a prince or a pauper, there's a convertible with your name on it. Here are 10 suggestions for the sunny side of the street

Open Two Seater – or OTS for short – defines the very best kind of summer day. It's best known as a Jaguar term, applied XK120 roadsters, but it fits any number of English sports cars, which is what we're going to do.
We'll divide our picks into Wooden Spoon and Silver Spoon categories in the key decades of vintage sports cars. Here are entry level cars, and those you might buy when you win the football pools.
How much is your car to insure? Find out in four easy steps.
Get a quote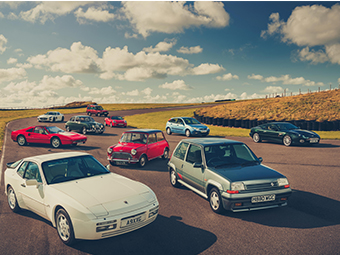 1920s

Wooden Spoon:
Austin 7 Sports/Super Sports/Ulster (1924-37): 10-24 bhp, 747cc, 4-cylinder side-valve engine, 3-speed gearbox, mechanical brakes.
Two-seater sports variant of iconic 1922-37 Austin 7, which borrowed the idea of a compact 4-cylinder car (as opposed to a cyclecar) from Peugeot's "Bebe" and "Quadrilette". Surprisingly sprightly and tuneable, including supercharged Super Sports. Sedans formed basis of innumerable "specials", but authentic factory two-seaters are more desirable. Ulster is the ultimate sports version, followed by 65, 75 and Nippy in the 1930s. Production numbers: 7,000 approx. Expect to pay: £15,000-£25,000.
Ideal owner: Thinks 65 mph is "jolly exciting."
Also consider: MG Midget M Type, Frazer-Nash, Alvis 12/50
Silver Spoon:
Bentley 3-Litre/41/2-Litre (1921-31): 92 bhp-200bhp 3-litre and 41/2 litre, 4-cylinder SOHC engine, 4-speed gearbox, mechanical brakes
The ultimate British Sports Car from 1919-30; huge, thundering 100 mph tourers, with a strap over the hood, Brooklands screens, 10-inch headlights and preferably, Van den Plas Le Mans-style bodies. Four-times Le Mans 24 Hours winners, but best-known supercharged "Blown" 4/12-litre models were not successful in competition. Nevertheless, they remain the lasting icon of "the Bentley Boys" era in racing. Production numbers: 1,500 approx. Expect to pay: £124,000-£1.7M, depending on provenance.
Ideal owner: Can't hear low-flying aircraft
Also consider: Vauxhall 30/98, Riley Brooklands, Lagonda Speed Model.
1930s

Wooden Spoon:
Morgan Super Sports 3-wheeler (1927-39): 28-40 bhp, 1100cc, J.A.P/Matchless/Blackburne OHV V-twin, 3-speed gearbox, mechanical brakes.
Iconic oddity, whose origins stem from three-wheelers being cheaper to license. A 1909 design that survived until 1952, (V-twins until 1939) with some improvements. The "mad dog" of the enterprise was the Aero Super Sports, built in the 1930s, which offered almost 100 mph from its 40 bhp air- or water-cooled V-twin, thanks to its 950-lb. weight. Morgan addicts claim it is one of the safest things on wheels; lesser mortals just think the addicts are very brave. Production number 500 approx. Expect to pay: £20,000-£50,000.
Ideal owner: Knows "nothing pulls crumpet like one of these" (Sir Stirling Moss)
Also consider: BSA 3-wheeler, MG PA/TA, Riley Imp, Singer Le Mans
Silver Spoon:
Lagonda LG45/ LG6 Rapide (1936-39): 100-185bhp, 4.4-litre OHV 6-cylinder or 4.5-litre SOHC V12 engine, 4-speed gearbox, hydraulic drum brakes.
When Lagonda went bankrupt in 1935, Fox and Nicholl had just won the Le Mans 24 Hours in an M45 Rapide. Alan Good bought the company from under Rolls-Royce's nose, and hired W.O. Bentley to rework the model. W.O. came up with the LG45, tweaking the motor significantly and adding streamlined bodies. W.O. capped the 1930s with the 4.5-litre V-12 LG6 in 1938, and Rapides finished third and fourth at Le Mans in 1939. Sadly the model did not return after the war, but Bentley designed the new Aston Martin when the company bought Lagonda in 1948. Production number: Under 500 of all variants. Expect to pay: £100,000-£300,000.
Ideal owner: Tells everybody at parties that W.O. designed his engine
Also consider: Jaguar SS 100, Bentley 4 ¼-Litre, Alvis Speed 20/25
1940s

Wooden Spoon:
MG TC (1945-49): 54 bhp, 1250cc, OHV 4-cylinder engine, 4-speed gearbox, hydraulic drum brakes
MG's 21st anniversary model in 1945 was a nostalgic pre-war TB roadster, with a wider body. U.S. servicemen took them home and MG gained an important export market. Of 10,000 made, many survive and parts are no problem. RHD only, fold-down windshield, slab gas tank, cut-down doors and minimal weather equipment. Quite charming and fairly reliable. Production number: 10,000 approx. Expect to pay £25,000-£40,000.
Ideal owner: Paid "list plus" in England and tells friends in Texas his dad brought one home "after we won WWII"
Also consider: MG TD (most LHD and went to U.S.), Triumph 1800, Singer Nine
Silver Spoon:
Jaguar XK 120 (1949-54): 180 bhp, 3.4-Litre, DOHC 6-cylinder engine, 4-speed gearbox, hydraulic drum brakes
Sensation of 1948 Earls Court show. Genuine 122 mph top speed, first 240 had aluminum bodies, the rest were steel. Followed by coupe in '51 and DHC in 53. Lots of parts availability, strong following, some rust issues. Timeless grace and hot rod performance. Production number: 7,391. Expect to pay £75,000-£100,000.
Ideal owner: Met his wife as a bridesmaid at a friend's wedding, when she said "You mean this is YOURS?"
Also consider: Aston Martin DB2, Healey Silverstone, Allard J2X
1950s

Wooden Spoon:
Austin-Healey Sprite Mk1 (1958-61): 43 bhp, 948cc OHV 4-cylinder engine, 4-speed gearbox, hydraulic drum brakes
Beloved "Frogeye" Sprite was based on Austin A35 mechanicals, and was as basic as the first MG Midget of 1929. Top speed of 83mph and over 40 mpg added up to almost 50,000 sales in three years. Pop-up headlights were canceled for cost reasons. Some rust issues; tilt nose, but no opening trunk lid, Mickey Mouse top mechanism. Good basic fun, lots of parts. Production number: 48,987. Expect to pay £10,000-£20,000.
Ideal owner: Grits teeth when people say it looks cute, and insists: "It's a SPORTS CAR!"
Also consider: MGA, Triumph TR2/3, Austin Healey 100/100-6, Sunbeam Alpine
Silver Spoon:
Jaguar C Type sports racer (1950-53): 204bhp, 3.4 litre, DOHC, 6-cylinder, 4-speed gearbox, hydraulic disc brakes
Designed to win Le Mans and did so in 1953. The first racing car to use disc brakes effectively. Birdcage tube frame with aluminium body. Brilliantly fast, with handling to match. Many were raced, others bought as bare-bones road warriors. Almost all survive and there are lots of replicas. Production number: 54. Expect to pay £2M-£3M, depending on provenance and originality.
Ideal owner: Says "we won Le Mans five times in the 1950s" as if he was involved.
Also consider: Jaguar D-Type/XKSS, A.C. Ace-Bristol, Lotus 11
1960s

Wooden Spoon:
Lotus Elan S1-S4/Sprint (1962-73): 106-126 bhp, 1558cc, DOHC 4-cylinder, 4/5- five-speed gearbox, hydraulic disc brakes
Colin Chapman's extremely compact and lightweight roadster (1,516 lbs) set the standard for 1960s, with all-round disc brakes, independent suspension, backbone chassis, fiberglass body and pop-up headlights. Much emulated, especially by the Mazda MX-5 Miata. Enormous fun, agile and very fast, but watch out for rust in the chassis. Production number: 9,150. Expect to pay £15,000-£30,000.
Ideal owner: Has signed photo of Emma Peel, possibly personalized
Also consider: MGB, Triumph Spitfire, Triumph TR3/4/5/6, Austin-Healey 3000
Silver Spoon:
Aston Martin DB5 (1963-65): 282 bhp, 3995cc DOHC 6-Cylinder, 4/5-speed gearbox, hydraulic disc brakes
Considered the most beautiful of the DB4/5/6 series. Covered headlights, 4-litre engine with three SU carbs, and from 1964, Vantage configuration with twin Webers and up to 325 bhp. 0-60 in 6 seconds; 155 mph top speed. First cars have 4-speeds, later ones got ZF 5-speeds. Hardtop immortalized by James Bond, DHC preferred by Prince Charles. Production number 123 (7 Vantage DHCs). Expect to pay £600,000-£900,000.
Ideal owner: Sniffs that James Bond only drove a saloon, and which one was the "real" movie car, anyway?
Also consider: Aston Martin DB4, DB6 DHC, 289 A.C. Cobra 289/427, Bentley S2/S3 Continental DHC