All across the UK on April 22, classic car enthusiasts took to the roads for the annual Drive It Day – and Hagerty were no exception, running an exceptional tour to the Bicester Heritage Sunday Scramble
All those poor souls without an interest in classic cars must surely have wondered what was happening on the sunny Sunday of April 22, when suddenly the roads were unexpectedly full of old cars.
How much is your car to insure? Find out in four easy steps.
Get a quote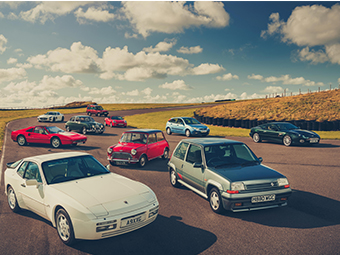 Little would they have known that is was Drive It Day, a brilliant concept overseen by the Federation of British Historic Vehicles Clubs. It takes place annually as close as possible to the date of the first ever 1000 Mile Trial from London to Edinburgh, which took place on April 23, 1900.
The anniversary of this pioneering event now seems the perfect prompt to wake our classics from their winter slumbers, if they haven't already been out by that point. It's the deadline that we all need, and most years the weather obliges – none more so than for this year, which turned out warm and sunny.
Some owners really did just go for a drive, which was the original idea of Drive It Day, but there are now scores of organised runs, some commercial, some by local and national car clubs. Many end up at car museums, such as Brooklands, The British Car Museum, The National Motor Museum, Coventry Transport Museum and the Lakeland Motor Museum – most of which provide discounts or free tickets to Drive It Day participants.
Others head for much-loved motorsport venues, including Goodwood Motor Circuit, Silverstone and Shelsley Walsh Hillclimb, where the Midland Automobile Club's MAC Classic run ends up, having started at various locations around the area.
We're proud to say that one of the very best of these organised events is the annual Hagerty Drive It Day run, which this year started at the new Jaguar Land Rover Classic Works headquarters on the outskirts of Coventry. Have you been there? It's impressive, the classic equivalent of a Formula 1 team base, all spotless and sparkling white.
Usually only the reception is open to visitors but for Hagerty Drive It Day, Jaguar Land Rover opened up the workshops as well, on the condition that no pictures were taken. So you'll just have to imagine the rows of Land Rover Defenders awaiting V8 conversions, XKSS and D-type 'continuation' models, Series 1 Land Rovers, Range Rover Classics and Jaguar E-types in for 'Reborn' restoration, and the small collection of Jaguar XJ220s undergoing repairs.
Meanwhile, 100 classics were parked up outside in readiness for the run. There were, appropriately, Jaguar XKs and E-types, but also cars as varied as Sunbeam Stiletto and Bristol 405, Escort RS2000 and MGC GT, Sunbeam Tiger and Reliant Sabre, Abarth 124 Spider and Chevette HS, and many, many more.
With the Jaguar Land Rover tour over, the cars set off one-by-one, to follow the set route through country lanes and villages, keeping up the Jaguar theme by passing Wappenbury Hall, former home of company founder Sir William Lyons.
Then on past the historic Castle Inn at Edgehill and 14th century Broughton Castle before heading into the middle of a record-breaking Sunday Scramble at Bicester Heritage in Oxfordshire roughly two and a half hours later.
A word of explanation for anyone who's not yet visited Bicester Heritage: it's a former RAF bomber base, which was mothballed not long after World War 2 and, incredibly, has survived more or less intact ever since.
In 2014 it was finally sold, to be restored and turned into a centre of classic car excellence. There are now more than 40 companies based there, including outposts of Porsche Classic and Mercedes-AMG Petronas Motorsport, along with a trimmer, an autoelectrician, apprentice training school, classic car dealers and restorers and a huge car storage facility.
Three times a year it holds a 'Sunday Scramble' event, for which this year there were more than 6000 visitors, 46 clubs and over 1000 classic cars in attendance. Of course, Hagerty were there too with the ever-popular Live Valuation Arena.
To drive into the middle of such a vibrant show was quite an experience for the Hagerty Drive It Day participants, and the feeling of camaraderie continued for just about everyone who'd taken part in a Drive It Day event, even at the end of the day – because it was almost impossible not to spot other classics on the road on the way home.
Funny to think that the inspiration for all this was those remarkable few who left London on April 23, 1900, to travel on dirt roads through Bristol, Birmingham, Manchester, Derby, Kendal, Carlisle, Edinburgh, Newcastle, Leeds, Sheffield and Nottingham, to return to London several days later. Of 65 starters, 51 were made it to Edinburgh and 35 survived all the way back to London.
Fortunately, the rate of attrition on 2018 Drive It Day was considerably less, so if you feel inspired be sure to book up for next year's Hagerty Drive It Day run in plenty of time.
For more information on booking your place on Hagerty's Drive it Day tour, visit this link: Drive it Day.