On a bit of a lark to see if the car's famous reputation for spotty reliability was deserved or not, three summers ago, I decided to make my Series I E-type FHC a daily driver. It went off my Hagerty policy and on to my daily use policy for four months and into daily service. I took a fair amount of grief for this, with dire warnings about being a frequent pedestrian and the wear and tear that I would visit on what was a fine, largely unrestored example of the most iconic Jaguar sports car. I'm happy to report that the experiment was a success and the E-Type enjoyed Toyota-like levels of reliability throughout the summer of 2010—and to this day, as I understand it from its current owner in Frankfurt, Germany.
The reactions of ordinary drivers to my use of the E-type as just a car were priceless. Whether it was going through a drive through window at a fast food restaurant or loading fence posts into the hatch, the E never failed to delight onlookers. I'm convinced that regular use contributed immeasurably to the car's reliability. Non-use really does constitute abuse with E-Types I think. When they sit unused for extended periods of time, brakes get sticky, seals dry out and leak, and clutch hydraulics fail. Driving them eliminates these sorts of issues.
How much is your car to insure? Find out in four easy steps.
Get a quote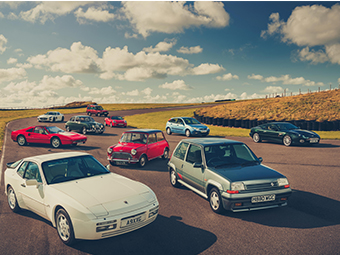 E-Types don't seem to tolerate "fools with tools" well, and while amateur mechanics with good intentions have "improved" more than a few E-Type wiring harnesses to the point of meltdown, smart updates done by competent mechanics can be a great thing. To wit, I was a big fan of the giant aluminium radiator and electric fan that the previous owner installed. They enabled me to laugh at sitting in traffic on 90-plus degree days. And having tired of replacing or rebuilding the Lucas alternator, I can also report that the GM single-wire alternator conversion sold by numerous Jag shops is a good thing, along with a new SU solid-state fuel pump. If you must have A/C, RetroAir in the US makes a system just for the E-Type. It's worth a look at www.retroair.com.
The bottom line is, if you happen to own one of these lovely cars, don't be afraid to enjoy it, it can be the best thing for both you and the car
The above story is the opinion of the author, Rob Sass, and does not necessarily reflect the opinion of the JCNA. To learn more about similar topics and to connect with more than 6,000 fellow owners and enthusiasts, visit our friends at the Jaguar Clubs of North America website at http://jcna.com/.