Why you want one: A man can't breathe over 60 mph anyway

Off-Road Trials are usually associated with specialized motorcycles, but the term traces back to Reliability Trials for both cars and bikes on primitive roads in the early 20th century. When those roads improved in the 1920s, trials went off-road and both cars and bikes were adapted to muddy, steep and rocky terrain.
Most 1930s trials cars were "specials" adapted by their owners from Austin 7 and Ford 10 sedans into ungainly two-seaters with high ground clearance and much of their weight over the back wheels. But after WWII, Ken Delingpole and Ron Lowe combined their names and considerable experience to build the Dellow from 1949-57.
How much is your car to insure? Find out in four easy steps.
Get a quote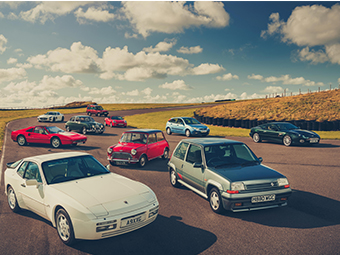 Though only about 250 cars were constructed, the Dellow Register has tracked 215 of them, and these Spartan roadsters represent a remarkable experience in what you might call "biplane" motoring. They are noisy, bouncy, hard to keep in a straight line at 60 mph (and take 20.6 seconds to get there) but are able to go absolutely anywhere and are lots of elemental fun.
The two constructors combined useful skills – Delingpole owned Delson & Co., which manufactured bolts, screws and fastenings, at Alvechurch outside Birmingham. Both were trials competitors, with Delingpole driving an H.R.G and Lowe his own special, derived from a wrecked 1934 Austin 7 sedan. Lowe fitted a 1172cc Ford 10 flathead engine and transmission and subsequently added Ford axles front and back. He drove his car daily and it was known as "Flipper" – which describes what can happen if you run out of power on a steep hill.
In 1947, the new company started to produce copies of Lowe's car. The construction was actually quite sophisticated (in its thinking at least). The first cars were rebuilt from Austin 7s and a tube steel frame was welded to the chassis and wrapped with an aluminum body, designed by Lionel Evans of Radpanels. The technique is referred to as "superleggera" (superlight) construction when it's applied by Bertone, Pinin Farina and Scaglietti.
By 1950, Dellow had advanced to frames built from 3¼-inch tubes formerly used by Hawker Typhoons and Bristol Beaufighters to fire rockets at tanks and trains in the recent unpleasantness in Europe. The company was also agent for Wade-Ventor superchargers, which added useful power, and 60 cars were sold that year.
The MkII was introduced in 1951. It had a lower bonnet and a redesigned rear suspension to include coil springs for more travel than the previous quarter-elliptics. It also located the rear axle more firmly, for directional stability. Doors were now optional. The road-going MkII was still reasonably competitive, but trials cars were getting more specialized and when Walter Waring won the RAC Trials Championship in 1951 it was in a radical special with the engine set far back in the frame. Nevertheless, 1951 production reached a high of 72 cars.
Looking to broaden their base, Dellow launched the four-seater MkIII in 1952, though an extra 12 inches in wheelbase meant it was not handy in the woods. And at 1,214 pounds, it was 64 pounds heavier than the MKII and cost a hefty £841 10s – more than double the price of a Ford Popular. Only 24 cars were sold that year, but 10 were MkIIIs.
In 1953 a slew of new sports cars hit the market and hit the specialists very hard. The Austin-Healey 100 and the Triumph TR2 were genuine 100-mph road cars with major factory support. The fact that Dellow won the Daily Express Rally and twice won the Circuit of Ireland Trial didn't help sales, which continued to skid.
Returning to their first love, Lowe and Delingpole built another serious trials car for works driver Tony Marsh, with coil springs all round and a lower body. It reached production as the MkV, but did not get the 1508cc OHV Ford Consul motor that the makers hoped, due to problems with availability and high costs. Dellow had to settle for the 100E 1172cc side-valve engine, though an inlet-over-exhaust valve Aquaplane head and twin SU carburettors could generate 42 horsepower. The MkIV four-seater didn't help, and while a foray into the American market brought good reports, only 15 cars were sold in 1955.
In January 1956, Dellow was sold to trials enthusiast Neville Nightingale, who ran into the same problems. He could still sell MkIIs, but he didn't make much money, and the cars weren't competitive or very streetable. So he divided his efforts by building a pure trials car, which turned out not to be practical, and the MkVI, an aluminum-bodied streamlined roadster which didn't appeal to Dellow fans. The business soldiered on until 1960, mostly providing spares and service.
Dellows represent an enjoyable alternative for the "goggles and gauntlets" enthusiast. They are simple – the mechanical parts are cheap and easy to find – and the overall concept is sophisticated enough to reward tuning. The Dellow Register (http://www.dellowregister.co.uk/) is encyclopedic in its knowledge and care of members, and events are well-attended. Best of all, perhaps, the cars have a specialised purpose, and if you've never entered a trials, you've missed a lot. As they say: don't buy a working dog unless you have a job for it to do.
Dellows remain relative bargains, if not very easy to find. A very nice MkI sold for £10,442 at H&H Auction in Buxton in April 2009, and the auction reporter deemed it a good buy for a clean, competitive trials car.
Dellow MkI-V Trials Specials
Years built: 1949-57
Production: 250 approx
Engine: 1172cc SV and IOE 4-cylinder
Horsepower: 35-42 hp at 4,500 rpm
Top speed: 65-74 mph