DERMOT BAMBRIDGE had long planned to build a Jaguar C-Type replica, when he attended a Coys auction in 2000, but he thought, 'I want something I don't have to make excuses about. Which only partly explains why he left the sale as the new owner of a multi-colour 1953 Jaguar XK 120 drophead rolling chassis with a seized engine and many boxes.
A 'sucker for doing the work myself', Dermot soon had the XK engine running, although it smoked initially. He had to replace all rubber on the car, including suspension, engine mounts, belts and hoses. Dermot also addressed the suspension and tackled the bodywork and paint, as well as replacing the exhaust system.
How much is your car to insure? Find out in four easy steps.
Get a quote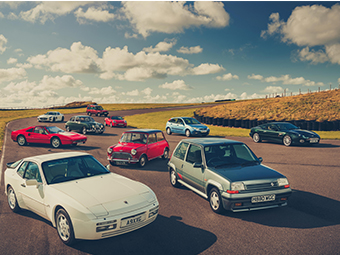 Although the odometer showed only 40,000 miles, the Jaguar had been badly neglected and sitting since the late 1970s. Inside, the leather seats remained serviceable and Dermot only attended to the woodwork, replaced the carpets and recovered the interior panels as well as the rest of the leathercloth trim.
Only the hood frame was missing, which took two years to find. With that in hand, he sent the car to Mick Turley to have a mohair hood fitted. Although it constituted the largest single expense, he was delighted with the result.
Dermot's biggest thrill came with the first drive and 'knowing I'd done it myself and it all worked'. Since then he's used the car for weekend trips to the Cotswolds, classic car runs — some of which he organises — and yearly trips to Goodwood.
Almost 15 years after he returned the Jag to the road, the leather finally crumbled and the seats are out of the car for new foam and biscuit leather, while the wood trim is with Classic Woodwork for repair and refinishing. Soon the car will go in for minor rust repair and a respray, once again in the original British Racing Green.
Dermot admits that he's had a couple of breakdowns with stuck carburetor floats and a radiator leak, but thanks to some fettling and a new aluminum radiator, those issues are in the past. He doesn't mind, though, as he firmly believes that 'half the fun of old cars is experiencing them as they were in the day'.