At Hagerty we know every classic car owner shares the same passion for their car, whether it's an elegant Aston Martin DB5 or a plucky Mini Cooper. That's why we decided to celebrate some of the overlooked classics at our recent Festival of the Unexceptional and meet the people who still love them. This week's Q&A comes from Eamonn Fountain who we met at the festival and is the proud owner of a Morris Marina Coupe 1.8.
During its prime, the Morris Marina was one of the most popular cars in the UK, appealing to the British public's fondness for the understated and uncomplicated. This fact makes it all the more disappointing that so few are left on the road. Of the 800,000 Marinas that were sold in Britain, only around 640 are still around. It's a sad fate that is all too common amongst British Leyland cars of the 1970s and 80s.
How much is your car to insure? Find out in four easy steps.
Get a quote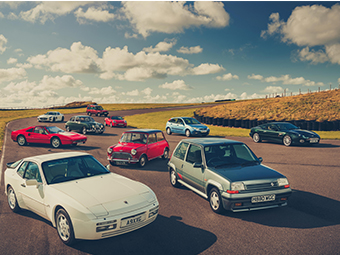 Thankfully some people want to keep the Marina alive and we found out from Eamon what makes this car special to him.
What was your first car?
It was a Riley Elf
Tell us about your love of classic cars
They remind me of my younger days, seeing all the same cars I saw as a kid takes me back.
Which classic car(s) do you currently own?
– Morris Marina 1.8 Coupe
– 5 Morris Marina
– Bedford TA in Burgundy 55 M6F
What do you love about your classic car(s)?
Again, it reminds me of my youth – I used to go courting in my Morris Marina coupe when it was new.
What is your dream car?
Morris Marina Coupe
Are you a member of a car club?
Yes, I'm a member of the Morris Marina Club and the National Association of Street Clubs (NASC)
If you would like your classic car to feature in our next article please complete our Q & A form