When Fidel Castro seized power in 1959, the playboys left – but without their toys
Just 90 miles south of Key West, Florida, Cuba remains on the dark side of the moon for most Americans. In fact Wayne Smith, director of the Cuba program at the Center for International Policy, says Cuba has the "same effect on U.S. administrations that the full moon has on a werewolf."
How much is your car to insure? Find out in four easy steps.
Get a quote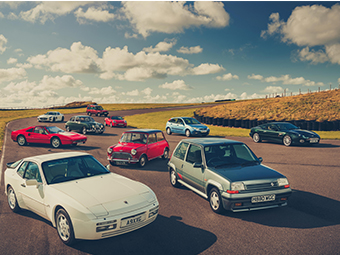 For years, car guys have been speculating about the automotive treasures hidden away on the Communist island. And we're not talking about the 1958 Chryslers and 1955 Chevrolets that hide in plain sight on every side street in Havana. No, we're talking about the rare stuff — the playthings of the former moneyed elite of Cuba. True vintage exotic cars.
Finally, there's something more than rumor and innuendo. These images clearly show a Mercedes-Benz 300SL Gullwing (with several spare doors and hoods begging the question, where is the car they belong to?). There's also a Mercedes 300SL roadster (complete with Volkswagen Beetle tail lights), what appears to be an Abarth Zagato 750 Double Bubble, and a 1951 Frua bodied Maserati A6G Spyder with portholes and Borrani wire wheels. These Cuban cars are barn finds in the true spirit of the phrase: rough and somewhat incomplete.
Could one, two, or more of these cars have been the former property of Cuban dictator Fulgencio Batista? Batista, who counted among his friends infamous American mobsters like Meyer Lansky and Lucky Luciano, was a well-known fancier of expensive cars. But since Cuba is an island, he certainly didn't have the ability to take anything with him (other than a reported personal fortune of £186 million from bribes and payoffs from mobsters) when he fled to the Dominican Republic in January of 1959. Ironically, fellow infamous dictator and car admirer Rafael Trujillo declared Batista persona non-grata when he arrived in the Dominican Republic. Batista died in exile in Spain in 1973, never having seen his cars again.
What is more likely is that these are the cars of the moneyed elite who escaped Cuba after Fidel Castro's revolution.
Cuba in the 1950s
Cuba was a playground for the rich and famous for decades. With frequent cruises and flights from the United States mainland, Cuba had a Sodom and Gomorrah-like reputation in the 1930s, '40s and '50s, an anything-goes party atmosphere where music, booze, and gambling mixed with the hot tropical sun to form an antidote to the staid morals back in the United States. There was money to be made, and it should come as little surprise that in the 1950s, Cuba had a market for the exotic cars of the day.
Everything changed on January 1, 1959, when Batista hastily left, never to return. Many who were Batista supporters and cronies were executed by firing squads. The new Cuban government under Castro's control moved, slowly at first, to nationalize the holdings of corporations and even the Catholic Church. Many Cubans, seeing the handwriting on the wall, took any route possible to leave their homeland and start new lives elsewhere.
There was little or no time or opportunity to sell or bring personal goods from Cuba. The personal property of those who left might have stayed within the family, been abandoned on the streets, or just left for some future time when things would return to "normal."
The Photos
These photos were given to Hagerty's Cars That Matter by a friend of our price guide. We have no further information about these cars. We do not know if they are still in Cuba, their location in Cuba, if they are for sale, if there are more, or how to get in touch with the owner(s). It is illegal for American citizens to do business in Cuba, which is good news for collectors everywhere else – especially those with good Spanish.
The Cars
The following cars are seen in the photographs we have posted here:
Mercedes-Benz 300SL "Gullwing." Produced from 1954 to 1957, the 300SL "Gullwing" (so nicknamed for the look of its upward-opening doors) is instantly recognizable worldwide. The two-seat, front-engined, six-cylinder sports car is highly sought after by collectors. For the full 300SL Gullwing gallery, click here.
Mercedes-Benz 300SL roadster. Produced from 1957 to 1963, the 300SL roadster is the "continuation" of the Gullwing, sharing the same basic mechanicals with some evolutionary refinements. Like its Gullwing sibling, the 300SL roadster represents the state of the art of 1950s automotive engineering. For the full 300SL roadster gallery, click here.
Abarth Zagato "Double Bubble" coupe. It is not possible to positively identify the engine size or a number of other factors from the photos we have; however, this particular car appears to have been produced by Italian specialty builder Abarth with "Double Bubble" (twin roof bumps) coachwork by Zagato. In its day, the rear-engined Abarth Zagato Double Bubble was tremendously competitive on the track, winning several high-profile events, and it is now desired by vintage racers and collectors alike. The Abarth Zagato cars were built in relatively small numbers and are rarely seen today. For the full Zagato Double Bubble gallery, click here.
Maserati A6G2000 Frua Spyder. This is one of five Spyders built by Italian coachbuilder Frua between 1950-52. Frua built bodies for Ferrari, Maserati, Aston Martin, and other top-tier marques in the 1950s. They also built bodies for a number of other makes, both larger and smaller. The distinctive door handles and porthole fender trim are among the visible cues that identify this car. Like most of the vintage Cuban cars, this roadster has a non-original engine as it currently carries a small-block Chevy motor. This car's potential value — won't be determined until somebody puts a LOT of money into it but fully restored examples can run north of £495,000.
For a gallery of all cars, click here.
The Values
As these exotics are all "barn finds," there are many missing parts and pieces to each car. We can assume that major work would be involved in recomissioning them to be runners, and we can also assume that many of the original parts will never be found. "Barn finds" are one of the current rages in the collector car world, and they often sell for more than the top value of similar restored cars because of their original nature and interesting story. While not attempting to value these cars, here are listings for three of the four cars as found in the current issue of Hagerty's Cars That Matter price guide.
The current issue of Hagerty's Cars That Matter values the 1957 Mercedes-Benz 300SL "Gullwing" in four condition ratings, #1 (an absolutely perfect show car) at £418,000 to #4 ("driver") condition at £301,000.
The current issue of Hagerty's Cars That Matter values the 1957 Mercedes-Benz 300SL roadster in four condition ratings, #1 (an absolutely perfect show car) at £349,000 to #4 ("driver") condition at £238,000.
The current issue of Hagerty's Cars That Matter values the 1956 Abarth 750 Zagato SI Double Bubble coupe in four condition ratings, #1 (an absolutely perfect show car) at £99,000 to #4 ("driver") condition at £55,700.
Hagerty's Cars That Matter regularly publishes stock market -style indexes that illustrate how various sectors of the collector car market have performed over time (not taking the Frua Maserati roadster into account. Applying the same exercise to the vehicles found in this collection, our data indicates that the average #2 condition value of these vehicles has increased by nearly 70% during the past four and a half years. This rise in value is shared by all three cars, with the Gullwing increasing in value 38%, the SL roadster gaining 112%, and the Double Bubble appreciating at 119%.