Last weekend's second running of the recently-revived Chateau Impney Hill Climb – originally established in 1957 at the quirky French-inspired hotel and spa resort near Droitwich, Worcestershire – promised some close competition, with a fine selection of pre-1967 competition cars and historic tourers.
Competing against the clock on the twisty and challenging 1,000 yard Chateau Impney hill climb course – double the length of the original 1950s track – were more than 230 cars, split into 18 classes, and divided by vehicle type, age and engine capacity.
How much is your car to insure? Find out in four easy steps.
Get a quote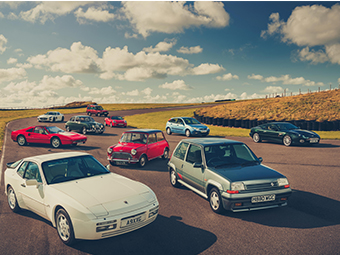 The competing cars ranged from an impressive selection of pre-war machines, including thundering aero-engined Edwardian titans, the Fiat S76 'Beast of Turin,' miniscule Austin Sevens and imposing Bentleys, Bugattis and Vauxhall 30/98s, through to svelte post-war single-seaters, ex-Formula 1 racers, GTs, American sports car specials, and a number of 1950s and 1960s sports cars, including Jaguar C-Type and D-Types, plus the intriguing one-off Owen Jaguar 3.4-litre coupe special of Peter Newman, which resembled an E-type, but was actually built two years before the iconic sports car from Browns Lane was launched!
The Chateau Impney course record was pulverised as a hard-fought three-way battle ensued for the fastest time of the day (FTD). It was Brabham BT21-B driver Martin Jones who reigned victorious as he took almost two seconds off the existing course record, set last year at the inaugural revived hill climb event, following a 50-year absence.
The timed Sunday morning session saw a trio of drivers emerge as clear contenders for the Chateau Impney crown, with Callum Grant's first run of the day in a Merlyn Mk 5/7 Formula Junior providing the catalyst for a day of high drama. Taking to the testing course for his first ever hill climb, the 21 year old from Bolton knocked almost one second off the existing course record of 42.42 seconds, with a time of 41.69.
Gloucestershire man Martin Jones then upstaged the youngster with a blistering drive, completing course in just 40.50 seconds – almost two seconds quicker than the time set by last year's winner Jack Woodhouse.
"I was very surprised to win. I have been hill climbing for over 30 years but this is the first fastest time of the day I have secured," said Jones, who is also currently leading the Bugatti Owners' Club Championship. "I decided to be cautious in Saturday practice as it was a course I have never driven. But when the sun came out this morning, I thought this might be the best weather we will get today and I went for it" Jones added.
Sandwiched between the runs of Grant and Jones was Mark Woodhouse in his Lotus 20/22. He also beat the inaugural track record with a time of 42.07, which on any other day would have put him at the top of the standings. While it was not quick enough to secure the FTD, it was good enough to give him family bragging rights in the Woodhouse household, at least until next year's event.
In all, five different drivers beat the existing Chateau Impney record across the competition day. As well as Jones, Grant and Woodhouse, David Gidden in a Lotus 23B and Malcolm Wishart in a Lotus 41C also enjoyed the honour of being record-breakers, recording times of 42.14 seconds and 42.20 seconds respectively.
In total, more than 200 drivers took part in the Worcestershire event, with the full list of class winners as follows:
Class 1: Simon Blakeney-Edwards – Frazer Nash Super Sports – 50.81
Class 2: Ewen Getley – Bentley 3 Litre – 49.36
Class 3: Greg Lerigo – Riley 12/4 Special – 49.18
Class 4: Brian White – Frazer Nash TT Replica – 46.84
Class 5: Mark Walker – Darracq 200Hp – 51.75
Class 6: Winston Teague – Hardy Special II – 47.25
Class 7: Rob Cobden – Riley Falcon Special – 45.13
Class 8: Nick Topliss – ERA R4D – 44.40
Class 9: Julian Grimwade – Frazer Nash Norris Special – 44.98
Class 10: Peter de la Roche – Cooper Mk V – 44.71
Class 11: Mark Woodhouse – Elva 100 FJ – 42.68
Class 12: Peter Joy – Lotus Elite – 44.03
Class 13: Malcolm Thorne – Lotus Buick – 43.88
Class 14: Rod Jolley – Lister Jaguar Monzanapolis – 46.37
Class 15: David Gidden – Lotus 23B – 42.14
Class 16: Callum Grant – Merlyn Mk 5/7 Junior – 41.08
Class 17: Martin Jones – Brabham BT21-B – 40.50
Class 18: David West – Austin Mini Cooper S – 46.87
Nick Topliss scooped the awards for the Fastest ERA and Fastest Pre-1940 Car with a time of 44.40 seconds. The award for the fastest Post-War/Pre-1967 Sports Car went to Adam Jones in his Chevron B8, thanks to a strong time of 43.93 seconds.
Other notable Chateau Impney performances were recorded by Bob Dyke and David West, but for different reasons. Dyke took the honour of being the first driver in 100 years to pit a steam car against petrol cars at a competitive motorsport event. His entry comes following his campaign to have a ban on steam cars at historic motorsport events overturned.
Meantime, David West eventually ended "fifty years of injustice" by finally securing his name in the Chateau Impney record books, following a mix-up in 1967 when his class win wasn't recorded properly. He also picked up the award for the Fastest Production Saloon Car in his Mini Cooper S with a time of 46.87 seconds.
Away from the hill climb action, the busiest area of this informal and relaxed event was the open paddock, where spectators could view all of the competing cars and meet the competitors and mechanics. A dedicated parking area for classic cars was too tucked-away to attract many visitors, despite a decent cross-section of older road cars on display, but H&H Classics' specialist car auction on Sunday looked to be well supported.
Despite clashing with the British Grand Prix and the Le Mans Classic, the 2016 Chateau Impney Hill Climb enjoyed a healthy attendance, with a laid-back atmosphere and some genuinely interesting cars. We look forward to the third running of this revived event in 2017.