Hawkins Motors in St. Stephen traces history back to 1934, bike by bike
Many car dealers started by selling motorcycles, although current staff seldom know the firm's history. But there's always an exception to the rule, and one such is Hawkins Motors Ltd. in the village of St. Stephen, Cornwall. It has revisited its history by incorporating a small motorcycle museum into its Peugeot dealership.
How much is your car to insure? Find out in four easy steps.
Get a quote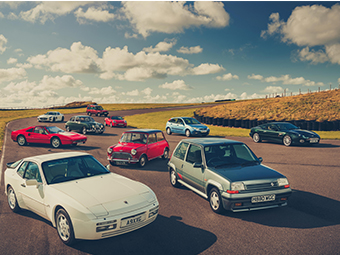 John Hawkins senior is the son of the founder, who started the village business in 1934. That shop now serves as the local 'chippy,' but not far away, Hawkins' car dealership is one of a chain run by John and his sons.
Part of their customer care program includes a café at the rear of the showroom on the A3058, which leads to St Austell. Along with a cup of tea and sandwiches, those waiting to collect their vehicles can view a selection of motorcycles charting both the history of the British motorcycle industry and Hawkins Motors.
Fittingly, the exhibition was opened last year by local resident Peter Williams the former Norton works rider and development engineer. A large sign that reads, 'Memories,' is flanked by Union Jack flags, announcing the collection. Under the words 'Where legends live on,' Velocette, Norton and BSA bikes are mounted on plinths above a line of bikes on the floor, including a Vincent twin, Ariel Square Four, BSA Gold Star and Matchless.
The collection extends into another area, flanked by images of the village through the years, while the bikes tell the story of the dealership's motorcycle franchises (and Fordson tractors) before it took on cars in 1962.
Some bikes even have the original dealer plates attached to the front mudguards and a BSA C10 has just come in from an 80-year-old man who bought it new from Hawkins. In fact the very last bike Hawkins sold was a BSA A65 to a Mr. Neale from nearby Bodmin. It now sits alongside the other bikes, complete with original invoice.
Not all the bikes have been restored, and on loan from a friend is Gordon Jackson's works competition AJS Model 20 from 1955 — in original condition. A Triumph Trident is on loan for the winter and Hawkins says loans and donations mean that space is rapidly becoming a problem.
Pride of place in the centre of this room belongs to a Speedway J.A.P. racer and memorabilia from local speedway and grass track riders. Many rode for the now defunct St. Austell team, along with stars Glyn Chandler and Trevor Redmond. Photographs and programmes tell the story, while laminated sheets describe various bikes.
Despite having examples of AMC, Douglas, Triumph and more, Hawkins is still lacking a Panther and was checking out a Bonhams sale at Bristol in the hunt for one when we spoke.
"As a boy my bedroom was above the motorcycle showroom and I could always smell Castrol R, so bikes have always been in my blood," he said. Once a competition rider, Hawkins is still involved through his grandchildren, who race.
Local engineer Les Williams undertakes restorations, as Hawkins is busy with the car business. "Many of these bikes were taken in part exchange and put away for me to restore when I retired, but I still seem to be still working," he said with a sigh.
One recent restoration that John is particularly pleased with is the Scott that his father bought new in 1927 that was recently rescued from a hedge in a sorry state. His father paid the princely sum of £70 for the bike, but sold it in 1934 to raise money to start the business. Still with its original number plate, it's the first thing visitors see when they walk in.
Thanks to Hawkins and his sons, customers can trace the history of the dealership from its two-wheeled beginnings to modern cars. "When BMC pulled out, local people could not pronounce Peugeot. Now look. It makes you wonder what I could have done with some 'foreign' motorcycles," he said.