A few years ago when car collector and enthusiast Richard Colton's wife died, it prompted him to speak to his friend Simon Hope, of H&H Auctions. Colton told Hope he was thinking of leaving his two Ferraris to the RNLI, and asked what he thought they would be worth. Hope replied that they would probably buy a lifeboat.
Sadly, Richard Colton died in March this year, but not without remaining true to his word and leaving his Ferrari 250 GT short wheel-base ('semi-comp') and Ferrari 275 GTB/4 to the RNLI in his will. Fortunately for the beneficiaries, values of these Ferraris have gone up quite a bit over the last few years, and Hope now believes they could make enough money for three lifeboats when H&H auctions them at Duxford in October.
How much is your car to insure? Find out in four easy steps.
Get a quote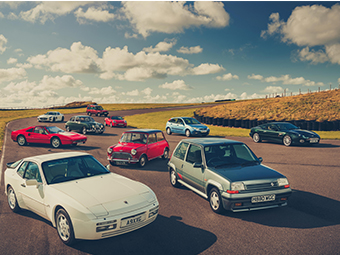 The 1960 Ferrari 250GT SWB, chassis 1995GT was one of the first two cars imported by Colonel Ronnie Hoare to start Maranello Concessionaires. Fitted with a competition engine, high-lift cams, 40 DCOE Weber carburettors and other refinements such as competition seats, it boasts most of the 'Competizione' refinements without the alloy body. But despite its rarity (and value) Colton did not shy away from using it- in the 40 years of his ownership, he put well over 50,000 miles on the car.
Colton's 1967 Ferrari 275GTB/4, chassis 10177 was also a Maranello Concessionaires car, being used as their demonstrator. Like the 250GT, the 275GTB/4 is a very rare right-hand drive, UK-market car. Colton bought it in 1974, and used it regularly until just before his death.
Up close, both of these cars are in superb condition. We were treated to a close inspection as they were unveiled on 23rd July by H&H and the RNLI. Parked unpretentiously on a London street, they drew the attention of car enthusiasts and passers-by alike.
So what value may be realised by these two great Ferraris? The Hagerty Price Guide shows a condition 1, steel-bodied Ferrari 275GTB/4 at £2.47m. The 250GT SWB is harder to price- the Hagerty Price Guide shows the value of a condition 1 true 'Competizione' model as £10.4m, with the standard SWB much lower. Colton's car probably falls somewhere between the two, but with such superb history, who knows how much someone will pay? The last time a nice old Ferrari with a good human interest story came up for sale, the ex- Alain Delon Ferrari 250GT SWB California Spyder made £12.1m including commission, a whopping £5m over the guide price.
With H&H forgoing their usual commission to ensure this sale makes as much as possible for the RNLI, we can only hope that the two cars sell very well.
For more information on the Colton Ferraris and H&H's Duxford Sale, please visit www.handh.co.uk All bidding enquiries should be directed to Damian Jones, Sales Manager at H&H Classics, on +44 (0) 1925 210035, email damian.jones@handh.co.uk