Founded in 1980 by Richard Knight, The Imp Club promotes the enjoyment and preservation of the Hillman Imp range of cars and its derivatives. Our core aim is 'Keeping the Imp Alive!'
The club now has around 1200 members worldwide who range from those who are not old enough to drive yet, to those who owned an Imp when the Imp was still in production. The club hold a wide range of events throughout the year and sends a full colour, monthly magazine to the membership. It also sells spares and regalia. The Imp club supports all of the Imp variants as well as Imp based cars such as Clan Crusaders, Ginetta G15s and Davrians. The clubs website is www.theimpclub.co.uk.
How much is your car to insure? Find out in four easy steps.
Get a quote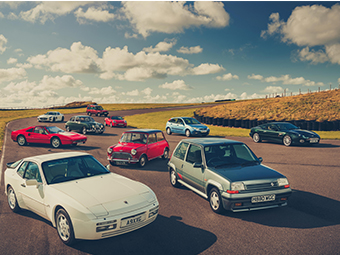 We are affiliated to the Association of Rootes Car Clubs (ARCC) and the Federation of British Historic Vehicle Clubs (FBHVC). The club produces a full colour, award winning monthly magazine called Impressions, which is free to all members.
The Imp club has had a change of Chairman recently. Graham Anderson has stood down as chairman of The Imp Club after being in the role for 6 years. In addition to the day to day chairman responsibilities, Graham led the club through the Imp's 50th anniversary celebrations in 2013 as well as organising two National Weekends. Graham has not stood back completely though as he is organising the 2016 Imp National Weekend.
'The National' is our annual rally which is generally acknowledged as the highlight of the Imp year. Held in early August every year 'The National' is hosted by a different area centre at a venue local to them. It always attracts a strong following of owners who it seems will travel anywhere to be part of this great event. Many members from abroad make this an annual holiday in the UK.
The 2016 National weekend is to be held in August at Hatton Country World near to Warwick, with four full days of Imp related actives.
We have a large network of area centres in the UK, and overseas contacts in many countries. Most area centres have a monthly meeting where Imp Club members and any interested parties can come along to socialise and also talk Imps.
The club also provides a while range of parts to help with keeping the Imp alive.
Hagerty love the Hillman Imp- quirky, great fun and still very affordable. Click here to read more about the Hillman Imp classic car insurance cover that we offer.
All pictures and words provided by James Henderson, Imp Club Chairman.