On any given Sunday, as you pass through countryside and village, the local pub garden will probably be thriving with the sound of enthusiastic banter and the smell of ale (just a half, I'm driving of course). Equally, the adjacent pub car park is likely alive with the sound of passionate chatter and the aroma of fuel, old metal and aged leather. Such is the time-proven format for a meeting of machines. As the years have passed, motoring groups have evolved from bushy beards leaning in under the bonnets of Rileys, Rovers and the club chairman's prize-winning MG, to men with hipster beards snapping shots for Instagram stories. I'm embellishing, of course; but all things change. What is captivating about all enthusiast groups is the underlying shared passion for the vehicles, the journeys and the stories.
Beyond a few like-minded mates gathering in the garage for a tinker with their current project, the next-level forum is a staged meeting. I find greater interest in the mixed marque events rather than single-make meetings, and as a snapper, a complementary backdrop certainly adds to the appeal.
How much is your car to insure? Find out in four easy steps.
Get a quote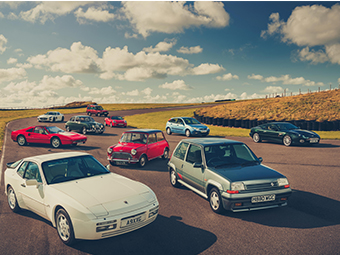 It was during one such gathering that I first met PJ Gibbons, and air-cooled aficionado with an enviable car CV, a job as an event director and an all-round thoroughly lovely guy. We did the usual top trumps of our chequered car history and after sharing thoughts on the event we found ourselves at, we soon moved onto discussing automotive events in general. We threw around our collective experience of motoring meetings, what the essential ingredients were, and which spices you might add to make a stand-out signature dish. With a strong family history in the auto trade, it's little wonder that PJ's aspirations for a stylish and tasteful event moved on promptly from scribbled ideas to detailed plans for a distinctive gathering of enthusiasts, cars and clubs.
The result is Classics at the Clubhouse (CATCH). The clubhouse refers to the Sandford Springs Hotel and Golf Club, nestled among the trees and natural springs of some of Hampshire's most captivating countryside. While CATCH 2020 is set for further development due to year-on-year growth, late 2019 saw the introduction of a monthly meeting at the same venue, dubbed the 'Roll Up'. The last Thursday of each month plays host to a relaxed evening, where classic car and bike enthusiasts can rock up and join the chat and mutual admiration.
Late in 2019, as I was heading out to my first Roll Up, under a warm summer's evening, it seemed only right to take a soft-top roadster so I grabbed the Mazda MX5 keys and took the scenic route from south to north Hampshire. As promised, a laid-back get-together was underway, with varied makes and models showing up throughout the evening: from enviable air-cooled Germans and British motoring icons to French and Italian elegance, plus quirky custom classics. Given that any Roll Up is at the hands of last-minute decisions by potential revellers, the quality, volume and mix of machines is an exciting lottery. On arrival, PJ was perfectly executing his role as the welcoming host, showing guests to the parking area and refreshments truck (a split-screen VW Type 2 bus, naturally). Having noted on arrival at least three air-cooled beauties (a stunning box-arch modified Porsche 914, Porsche 911 and VW Beetle) and a line-up of Minis, I quickly elected to position the MX5 in a at a respectful distance.
After an admiring roam through the Roll Up, I spent some time with PJ as he gave me the full whistle-top tour of the golf club and grounds – literally whistling at pace in a golf buggy, through the trees and past tees, fairways and greens. Reviewing the revised show area of the Woods Course that will play host to CATCH 2020, it was evident that time, planning and personal passion is being poured into the well-established foundations of this annual gathering to fulfil the aspirations of a concours d'elegance, akin to the likes of Pebble Beach.
Bold as such a comparison may sound, what has been achieved to date by PJ and his team is impressive and with Hagerty as Official Event Partner for CATCH 2020, take it as a tip off to firmly mark the 28th June in your calendars.
In the meantime, you can get a casual fix of petrol and pistons at a regular Roll Up and with the first of 2020's monthly meetings around the corner (23rd April), it'll be intriguing to see the eclectic turn-out of classics. Maybe 'catch' you there?
Classics At the Clubhouse (CATCH) 2020 will take place on Sunday 28th June at the Sandford Springs Hotel and Golf Club, Kingsclere, Hampshire, RG26 5RT. For tickets, please visit their ticket page here.