In 1938, Ford S.A.F – the French division of the Blue Oval's vast pre-war global production empire – prepared a new purpose-built factory at Poissy, less than 20 miles downstream of Paris along the River Seine, to distance itself from its Strasbourg-based post-Mathis minority-partner Matford, which it had formed an alliance with just four years earlier.
Eighty years on, and over a half-a-dozen different vehicle marques later, the Poissy plant still exists, now owned by Groupe PSA, and churning out small Peugeot, Citroen and DS Automobiles hatchbacks by the truck load.
How much is your car to insure? Find out in four easy steps.
Get a quote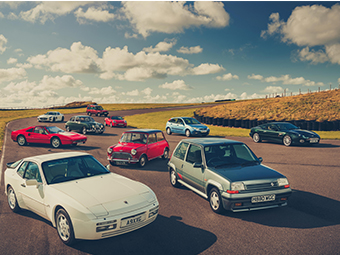 The story of vehicle production at Poissy, and the confusing variety of makes and models built at the plant, is told simply but effectively at CAAPY, an acronym for 'Collection de l'Aventure Automobile à PoissY' (the Poissy Automobile Adventure Collection), based on-site within a dedicated museum, just across the river from the main PSA factory.
Founded in 1984, the CAAPY museum aims to save, enhance and educate the history of the many vehicle brands built in, or associated with, Poissy over the decades. Its main roots stem around the Simca marque and its bewildering family tree, from early 1930s Fiats built under licence by Simca, via war-time German occupation, Matfords, French Fords, Someca and Unic trucks, and plenty of post-Fiat-era Simcas, Chryslers, Talbots, Matras and Peugeots.
Although moderately-sized, the CAAPY museum contains around 70 emblematic vehicles at any one time, spanning Poissy's 80 years, with a frequently changing display. The vehicles are supplemented by an engaging exhibition of marque-related materials, ranging from old Ford, Simca and Talbot parts, engines and advertising documents, through to period factory production machines and overalls, rarely-seen scale model prototypes and an extensive archive.
After paying the modest five Euros per person entry fee, you are immediately greeted by a pair of the Poissy plant's most prolific production models: an early Simca 1100, plus a more recent Peugeot 206. The museum then follows a logical anti-clockwise historic path; the first Poissy-built model, a four-door Ford F-472A (an update of the late-30s Matford 13CV), being displayed along with a bare chassis, plus some contemporary Matfords, Unic and Ford S.A.F. trucks and tractors.
Opposite are an intriguing selection of early Nanterre-assembled 1930s Fiat-Simca models rarely seen outside of France, including the 6CV and Topolino-based Simca 5 in various body configurations, joined by their larger 6 and 8 siblings.
Other post-war French Fords include a charming Facel-bodied Monte Carlo Comete V8 coupe, plus the original pre-Simca Vedette that spawned the early V8-powered Versailles model when Simca acquired the Poissy plant from Ford in 1954. An extravagant Simca President, plus the two-tone Marly V8 estate used by ex-Grand Prix driver Jean-Pierre Beltoise in his early racing days are also displayed, along with the lesser four-cylinder Ariane that broke the 200,000 km endurance record at the Montlhery autordrome in the mid-1950s.
Almost every incarnation of the vast 1951-64 Aronde range – the car that put Simca firmly on the map with over 1.4 million examples produced – is represented, from the early base 9 model, right through to the final P60, via a perplexing proliferation of names and the stylish Sport coupe and cabriolet variants, as well as the many pillarless hardtop coupe, break, van and pick-up derivatives, plus a pleasing one-off 1953 Figoni 9 two-door coupe.
The full line-up of 1960s Simcas can be seen, with a number of 1000, Bertone Coupe, 1300-1500 and pioneering 1100 variants, supplemented by a sporting Simca 1000-based CG 1200, plus two interesting still-born prototypes; the urban 1963 front-wheel-drive 937 city car, plus a functional 1100-based Fourgonette panel van from 1967.
An initial alliance, and eventual full acquisition, of Simca by the American Chrysler Corporation in the 1960s led to the Poissy facilities being re-branded as Chrysler France, with its famous Pentastar monogram replacing the Simca 'swallow bird' logo just ahead of the launch of Poissy's new Chrysler-branded 180 saloon in 1970. This, plus other 1970s Chrysler-era Simcas, the 1307 (Chrysler Alpine in the UK) and Horizon are displayed at CAAPY, along with the latter's American cousin, the Dodge Omni.
Simca's 'niche' Matra affiliate is also represented, with examples of the '70s Bagheera and Rancho, plus a later Murena, as is the Talbot marque, which was originally acquired by Simca in 1958, and revived in 1979 when the failing Chrysler Corporation sold its stake in Simca (plus its British and Spanish interests) to Peugeot's Groupe PSA, which re-launched all of the European Chrysler/Simca products under the Talbot banner.
Talbots exhibited at CAAPY include an imposing 1923 DC Berline, a superb 1939 Talbot-Lago T150, 1948 T26 Grand Sport and a Simca Versailles V8-powered 1959 Lago América coupe.
PSA-era Talbots on display range from production Solaras, Horizons, Tagoras and Sambas (including the unique 'Copacabana' 1983 Paris Salon show car) through to the 1981 F1-season Talbot Ligier J5, plus a one-off mid-engined Group B rallying Horizon prototype and the (British-built) ex-works Sunbeam-Lotus rally weapon of Jean Todt and Guy Frequelin.
Following Talbot's second demise in 1986, Poissy produced its first Peugeot, the 309, with examples of this model (originally planned to be called the Talbot Arizona), plus later Peugeot's also displayed, such as a road-going 205 Turbo 16 Group B homologation special, built on site, plus a wall-mounted 1992 2-litre 905 Spider competition barquette.
Conveniently close to Paris and easily accessible, the interesting dual-language CAAPY museum is recommended for any classic car enthusiast and at just 5 Euros per person (under 10s free) it won't break the bank. As a cautionary note though, it is usually only open two days a week, with a number of closures planned for 2018, so it is advisable to double-check its website before planning a visit, as detailed below.
L'Aventure Automobile à Poissy – CAAPY
212 Boulevard Pelletier, 78955 Carrières-sous-Poissy, France http://www.caapy.net