"I was putting the kettle on, thinking, f***ing lovely car, that. I'm gonna get one of those, one day…"
The next thing Noel Gallagher knew, the person unloading a 1967 Jaguar MkII (chosen for the year Gallagher was born), converted by specialists Vicarage into a drop-top, was knocking on the Oasis star's door to deliver his car.
How much is your car to insure? Find out in four easy steps.
Get a quote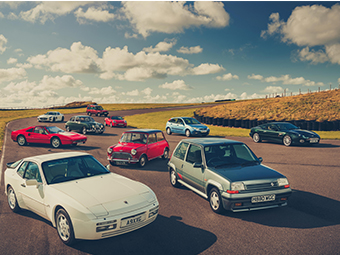 The interview with Radio X is well worth a watch, with Gallagher describing the car as his 'most expensive mistake'. We're used to seeing large pricetags attached to carefully restored cars and restomods, but it's not the price alone that made this car a mistake for the star – it was the fact he bought it and never got a driving licence in order to justify the purchase.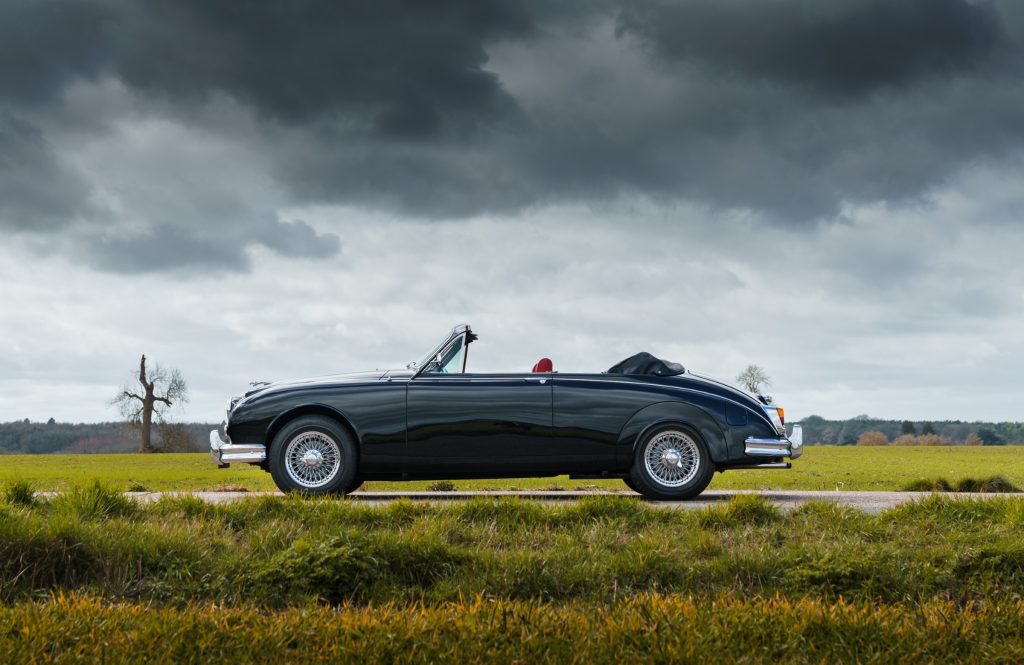 So while Gallagher has money, musical talent, and umpteen million record sales to his name, I've done one thing he never has: driven his Jaguar MkII. And I'm sorry to tell you this Noel, but you've really been missing out by never getting that licence – this Jag would have been a hell of a thing in which to get papped by tabloid photographers.
The company responsible for the conversion, Wolverhampton-based Vicarage, has specialised in Jaguar restoration since 1984, and in particular the MkII. You can buy parts they've developed over the years, or commission them to restore a car, but there's also the scope for something more dramatic, and for Gallagher, that was a full drophead conversion.
The work is seriously impressive in the metal, to the extent you'd be hard-pressed to tell it wasn't factory if you didn't already know Jaguar never made a MkII drophead itself. The body sides are as smooth as glass and the front doors expertly lengthened into the space vacated by the rear ones – and they open and shut with a precision that would have done Browns Lane proud, and come with the benefit of central locking.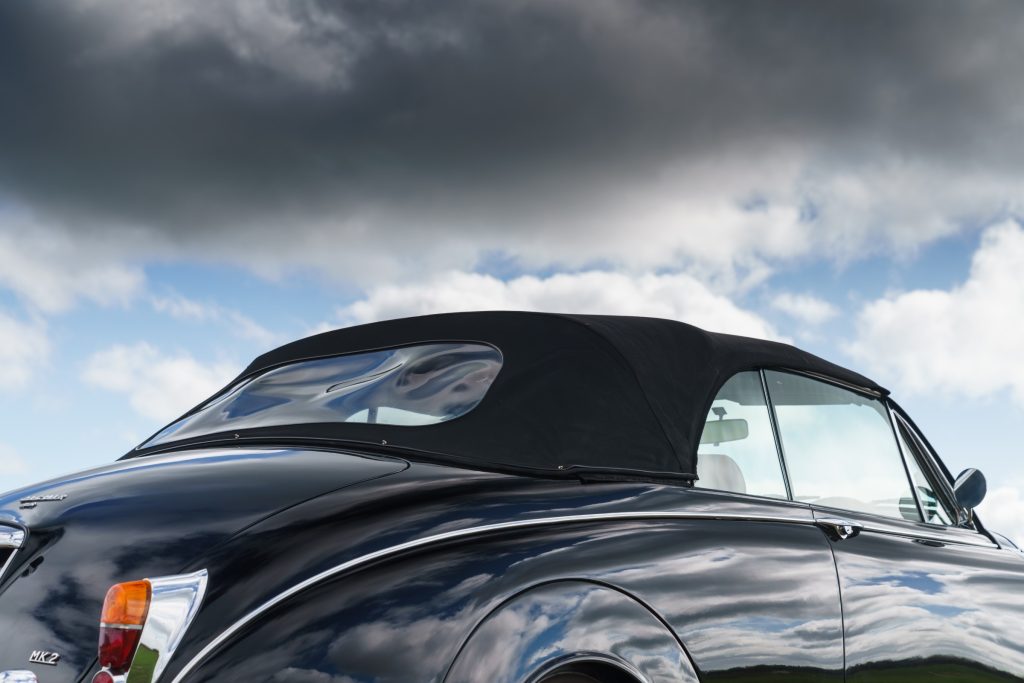 Then there's the hood, which fits snugly against the header rail and neatly replicates the original roofline, and once you undo the catches either side of the rail, is electrically retracted, ready to be hidden by a tonneau cover. Roof up there's some wind rustle but it's far from excessive (particularly given older cars are rarely silent to begin with), and roof down, it's less blustery than you'd credit given, once again, the car was never designed for such an arrangement.
Vicarage retrimmed the cabin in a vibrant red to contrast with deep black exterior paintwork – a proper rock'n'roll combination, I reckon. With the Ford-sourced electric window and roof switches, a modern single-DIN headunit and a three spoke Personal steering wheel (the only element I'm not overly keen on, with its faux-carbonfibre centre) there are clearly non-original touches, but the driving environment with those large dials, four smaller gauges and rows of toggle switches (subtly and handily labelled), still feels suitably vintage.
And while Vicarage overhauled the car's 3.8-litre mechanicals, including the fitment of an automatic gearbox (having driven a 'Moss box' MkII in the past, I'll happily take an auto here…) and power-assisted steering, there's no sign to the lay enthusiast that anything is out of place or non-original, even when you pop the bonnet and see your reflection in that gleaming chrome rocker cover. Externally, the only real clue is the oil cooler you'll spot behind the grille – one of Vicarage's touches to improve reliability.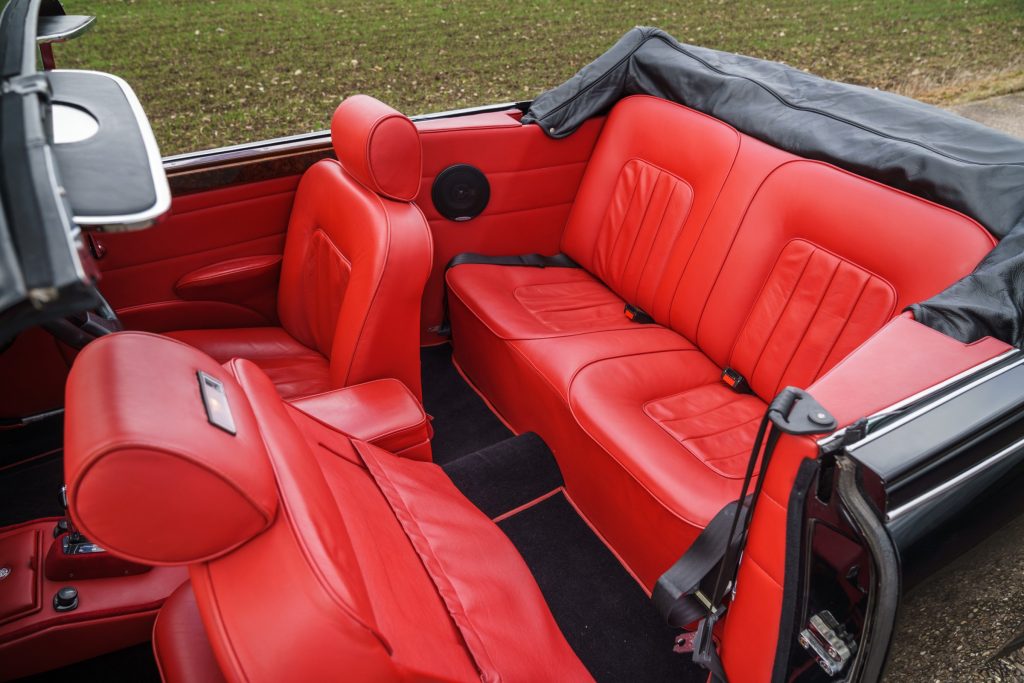 The alterations certainly make familiarisation an easy process. When I pick up the car from Jaguar Land Rover Classic in Coventry, the engine is already warm, so there's no need for the choke to help rouse it, and the inline-six fires near-instantly on a press of an innocuous black starter button.
The floor-hinged throttle pedal might be taller than my foot is long but the action is relatively smooth, though pulling out of a parking space I quickly rediscover one of the MkII's limitations: a turning circle the likes of which only Clio V6 owners will truly empathise with. That'll be fun when manoeuvring for photographs later…
Today we're probably stretching the MkII's legs more than it's had the opportunity to for a while. Gallagher only took the car for a spin once during his ownership, with wife Sara MacDonald at the wheel. "We just happened to be near the garage it was in," he told Radio X. "It was like going to visit an old auntie!"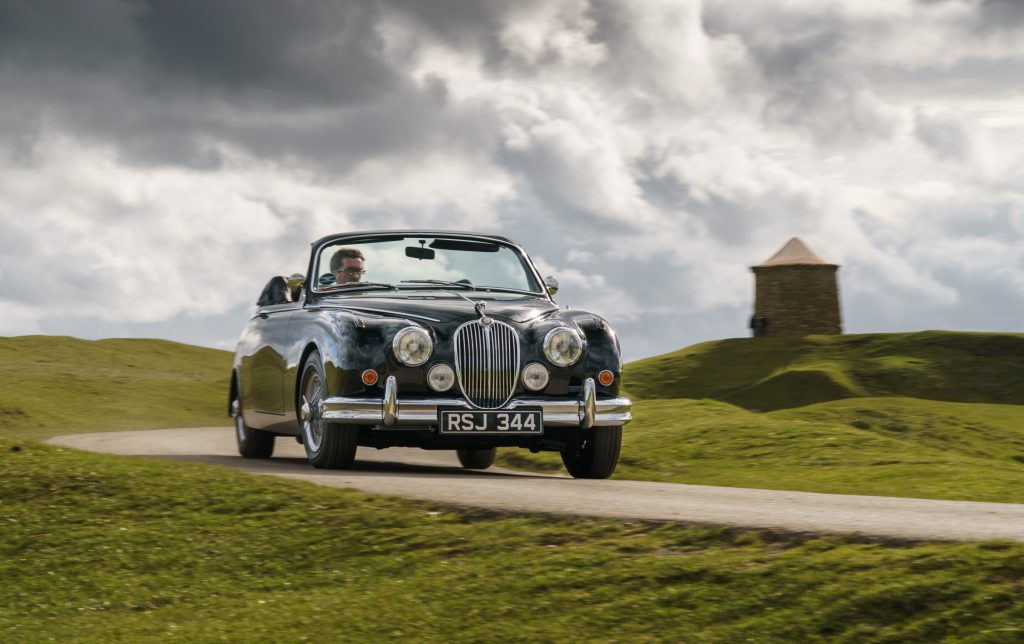 More recently, Jaguar Land Rover Classic acquired the car in 2022, and it was used in Her Majesty the Queen's Platinum Jubilee celebrations. There's a piece of paper in the car's centre armrest cubby confirming its attendance, along with a small, red leather-bound A-to-Z, matching the interior trim. Further poking around reveals the owner's handbook, though amusingly, the largest handbook inside the car is the one for operating the stereo.
Speakers hidden in each corner of the interior hint at reasonable audio quality, but it's the straight six's twin tailpipes that provide today's soundtrack. It's surprisingly vocal, particularly as it echoes off parked cars, tunnels, and other roadside furniture, though the auto 'box and long gearing take some of the urgency out of both the engine note and the performance – this is definitely more of a cruiser than the MkII's reputation as a sports saloon. It's brisk enough though, with a deceptive turn of pace when leaving 30mph zones and joining national speed limit roads.
And it won't shirk wiggles in the road either. Perhaps the biggest surprise of this drophead conversion is how solid the car feels, with minimal scuttle shake, and how faithfully it tracks around corners. The ride quality helps, not just the car's tall vintage-style tyres but also the suspension upgrades fitted by Vicarage, including coil springs over dampers in place of the factory leaf springs. Keeping up with traffic is no problem at all, power steering making (wide turning circle aside) junctions, roundabouts and other curves a doddle.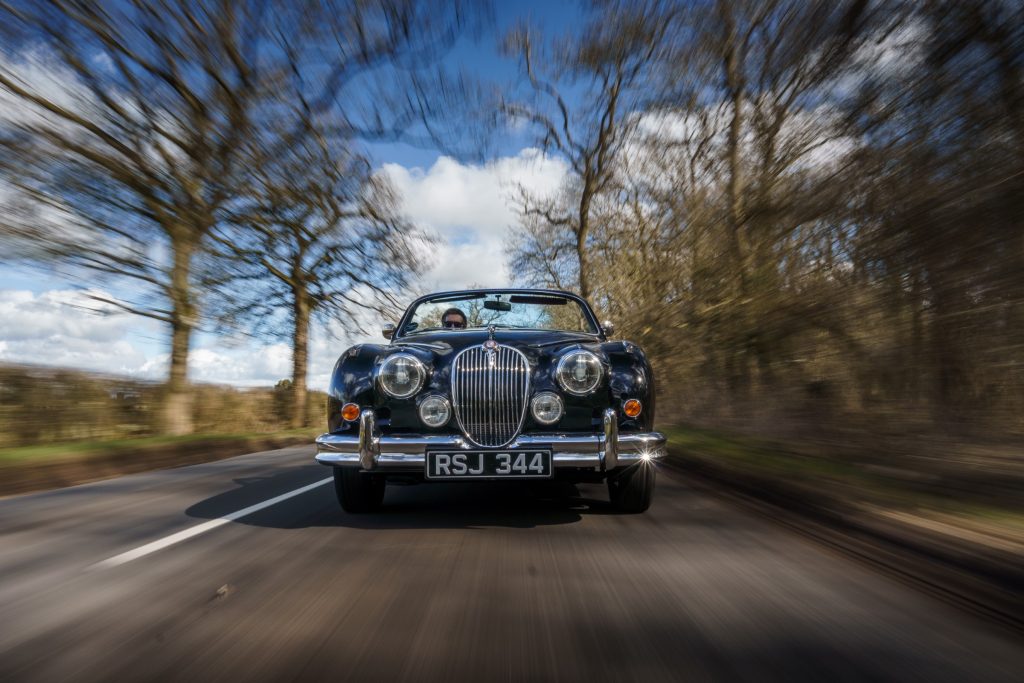 It hangs on through quicker corners too, though what the assistance gains in usability, it does absorb in potential feedback. Avoid Goodwood-style antics and it's much easier to appreciate how easily you're able to clip along with minimal effort – very Jaguar.
Gallagher's loss will soon be someone else's gain. The star spent around £110,000 on the car back in the late 1990s. It then sold for around £125,000 in 2022, and with Jaguar Land Rover Classic it's up again, wearing a tag of £144,950 – still less than the near-£200k, inflation-adjusted, that the singer paid.
And even if Noel Gallagher never drove it himself, he's been driven in it and even sat behind the wheel, perhaps questioning his sanity. Not only that, it's had another celebrity bum in its driver's seat: Dr Who star Matt Smith was seen behind the wheel in the music video for 2021 single Flying On The Ground, from Noel's current band High Flying Birds. The custom work makes it difficult to place on Hagerty's Power List, but this Cool Britannia cat is so much more desirable than any inflated-value Elvis Caddy or Elton John Rolls…
Check out the Hagerty Media homepage for daily news, features, interviews and buying guides, or better still, bookmark it.