We drew to a halt, my face spattered with mud and my previously clean jeans dotted with oil spots. My hands ached from gripping the huge, wooden steering wheel and my face hurt from grinning. This was a good way to earn a living, I found myself thinking. Suddenly, the cacophony subsided as Tom Hardman, my passenger, switched off the engine, my ears still ringing with the noise.
A few weeks previously, I had written a story for Hagerty about the pre-war car market noting that, on the whole, values were pretty healthy and the demand for good cars that could be used for competition was strong. A few days later, Hardman rang me. "I have a great car you should try out," he told me. "It's a bit different." I had been meaning to visit his eclectic showroom in the stunning Ribble Valley near Clitheroe for some time, so it was just the excuse I needed.
How much is your car to insure? Find out in four easy steps.
Get a quote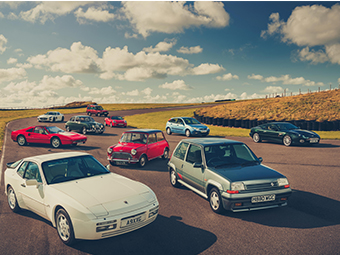 Different is an understatement. The original remains of this 1908 Brasier were found in Australia in 2003 and brought to the UK where, along with other parts sourced mostly in the car's native France, it was rebuilt in the style of the Brasier racing car driven by Léon Théry to victory in the Gordon Bennet Cup races of 1904 and 1905.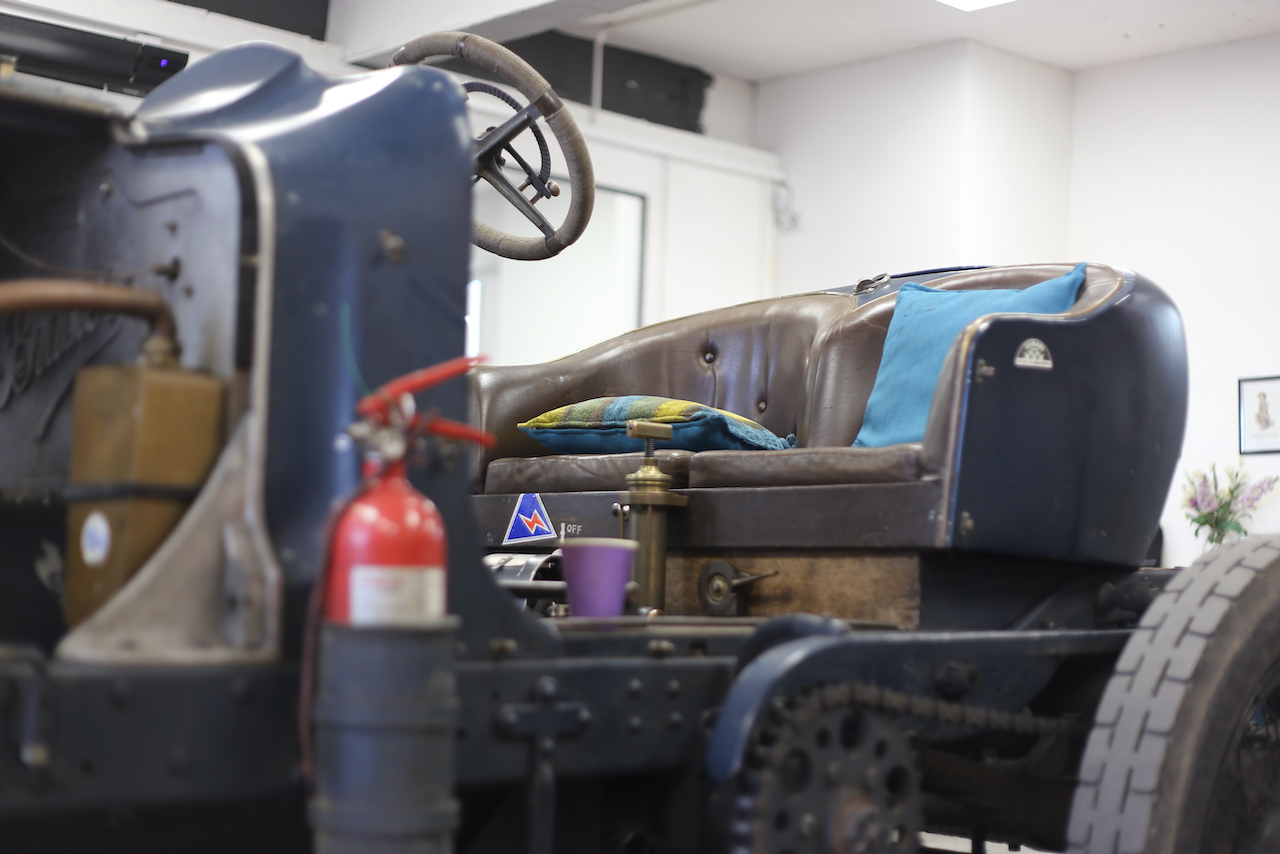 The trickiest part was the engine, the original four-cylinder, 11 ¼-litre having long since disappeared. Instead, an 11.7-litre V8 Hispano-Suiza aero engine of a type made under license by Brasier was found and the bodywork, slightly scaled up to encase the new motor, was finished off.
The result is spectacular. As many original parts as possible were sourced and the rest have the sort of patina that's either the result of a remarkable survival story or which are reproduced at great cost. From the wooden plank floor to the erratically-dancing rev counter, it all just feels right.
The beast of an engine spits fire from its eight stub exhausts and spins huge, exposed chain drives that threaten to entangle any limbs, pets or loose clothing that stray too close. The original 90bhp engine would have been tame in comparison to this 220bhp beast that – with the right gears – will top 140mph, and it's clear to see why it has been such a popular competitor at Le Mans Classic and Goodwood.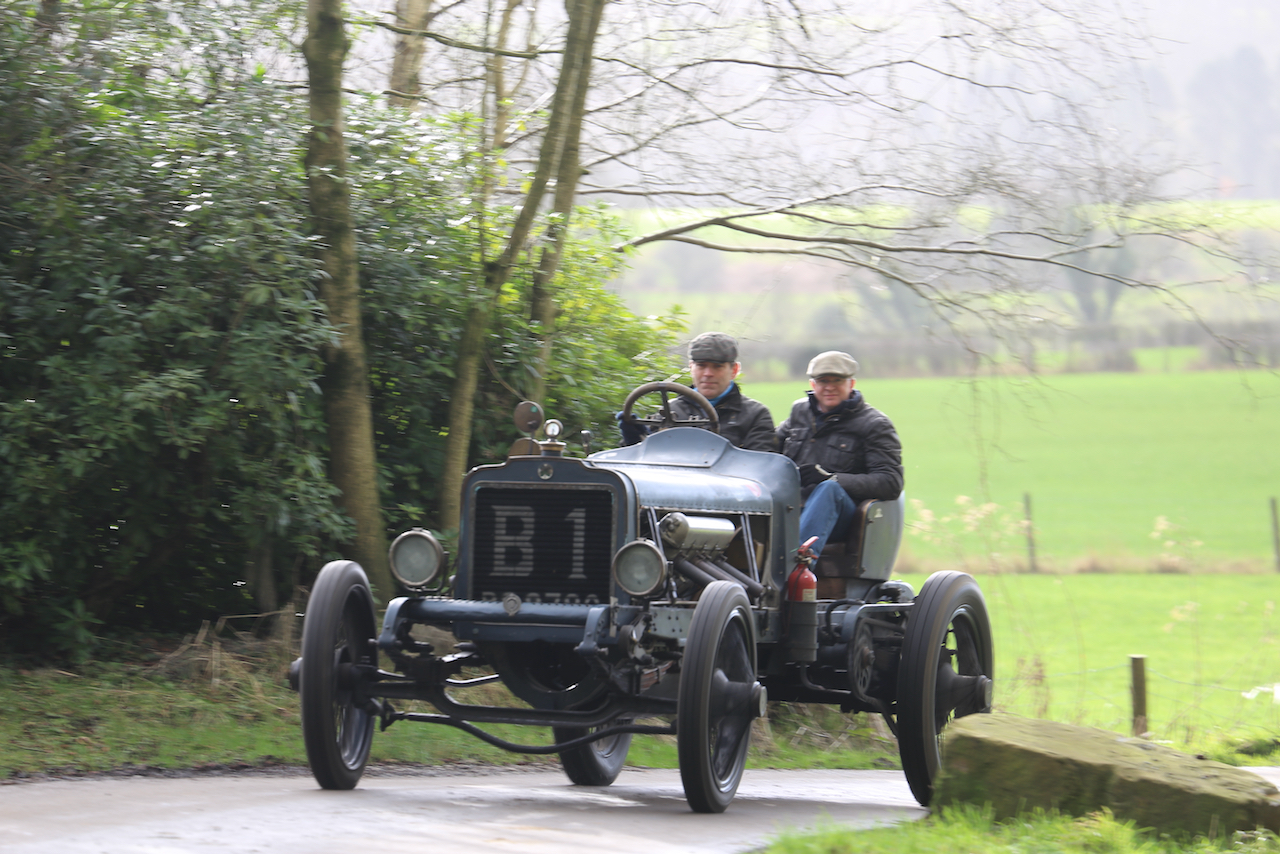 Then there's the drive. After a few passenger runs, Hardman handed me the wheel and I gingerly set off. Despite the steampunk orchestra that accompanied me, I was surprised to find that it wasn't too difficult: the pedals were all in the correct place, the steering and brakes worked as they should and the gearchange wasn't too tricky. Very quickly, I found I was able to relax and start to explore what this wonderful old car could do. Through tree-shrouded lanes and along riverside roads we thundered, drawing waves and smiles from the surprised ramblers we passed along the way.
It's fair to say I fell in love with this old racing car. Yes, it boasts big numbers, but the point is you feel every one of them: every mile-per-hour gained feels like ten, every compression cycle of the engine pulses through your body in shockwaves. When you brake, you feel what each tyre is doing as they skitter on the road. It gives a pure, unadulterated motoring experience like nothing else I've driven.
I also loved it because of what it represents. The original Brasier was built at the dawn of motor racing, a time of innovation and expansion for the motor industry, and, frankly, it required sheer bravery on the part of its driver.
The Gordon Bennet Cup of 1900 to 1905 was an extraordinary competition: a course of between 340 and 400 miles of mostly unpaved roads in Europe and Ireland where national teams of three cars would race against each other. It was a phenomenal test of endurance for both drivers and cars: conditions were sometimes so appalling that wooden duckboards had to be laid across fields and the winning time was often in excess of six hours. Having driven this Brasier for only a very short time, I can only imagine what those intrepid competitors felt like at the end of the race.
Could I see myself owning such a car? Actually, if I had a healthy enough bank account and adequate storage, I really could. Hardman tells me that the previous owner used it to tour Europe, and whilst it's not quite as practical as my decidedly more modern Porsche 944, it's surprisingly usable. Plus, I'd love to leave a few boy racers in the dust as I pulled away from traffic lights.
As a racing car, too, what a vehicle. There's a good reason why the S.F. Edge Trophy is regularly said to be the most popular spectator race of the Goodwood Members' Meeting: these cars look and sound awesome. Imagine being part of a grid of these behemoths. Maybe I should start saving.
Read more
Your Classics: Peter Graham and his love for building vintage specials
Ageing pre-war cars draw a younger crowd
What it takes to keep a vintage Bentley on the boil for 100,000 miles around the world