The first big auctions of the year are always occasions to watch. First there is the American excess of Scottsdale, Arizona, then a few weeks later the roadshow moves across the Atlantic to Paris, and the Retromobile auctions.
On the face of it, 2017 was a more muted affair at both locations than in the previous few years. In Scottsdale, although high-quality cars were still being contested the really frenzied bidding activity was reserved for models priced $50,000 to $100,000 and below. Two areas were particularly strong: pickup trucks and vintage SUVs.
How much is your car to insure? Find out in four easy steps.
Get a quote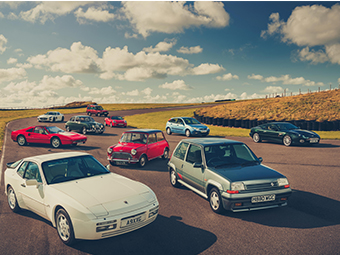 In Paris, there was a different story. Here the big movers were top-quality cars worth over $500,000 (£402,000). The number of cars in this price range being offered increased by 46%, with a very healthy sell-through rate of 89%. This drove up the median sale price for all cars 36% over last year's figures, despite there being an overall 10% drop in the number of cars being offered. Compare this to Scottsdale, where the number of $500k+ cars dropped 17% over 2016, and those cars had a sell-through rate of just 67%.
At first glance it could be considered strange that two very large auction events, each attracting an international audience, are showing such different sales trends. However, what we are seeing could be a differing response to the same problem. Uncertainty is rife- we've discussed the impact of Brexit, the Trump presidency and worldwide economic turbulence before- but so far classic car values have remained relatively buoyant. Whether this will continue is anyone's guess, but it is possible investors may presently be taking a little more care with their purchases.
In Europe, the trend seems to be one of consolidation: try to reduce the number of assets and keep or buy the best you can find. That way, if there is a market correction, your chances of your car maintaining value are high. In America, the trend for less expensive cars could be collectors minimising their exposure should prices fall, but it could also be people wanting to buy cars they can drive and enjoy at a time when a little happiness can come as a great relief.
Do these trends mean that a big market correction is coming? It is possible, although a 'crash' is unlikely unless there is a dramatic change in the worldwide security situation. More likely is a continuation of what we have seen over the last 12 months or so- a slowing of certain areas of the market, with others (notably more modern classics) remaining very healthy. True, in the UK the Government is starting to take a little more note of classic cars as investments than they have done in previous years, but with their focus on Brexit it is unlikely that there will be major changes to the tax status of classic cars in the short term at least- the one thing that could quickly change the market.
Overall, it has been an interesting start to 2017. We look forward to the next few months and seeing how the UK classic auction scene develops.
Do you agree? Tell us in the comments below!