It's been a while since anyone has been accused of cheating in top level motorsport, but we can probably all recall stories where cheating has been alleged and, often, proven. The closest I ever got to a proper cheat was, of all places, at the Goodwood Festival of Speed, not that the venue or event had anything to do with it. Names have been concealed to protect the guilty.
I'd just driven an old racing car up the hill and was sitting there when the door opened and a familiar face leaned in. 'Hello Andrew, mind if I just reach down here?' With which said person thrust a hand between my legs, under my seat and pulled out a substantial length of rubber tubing with a triumphant 'aha!'
How much is your car to insure? Find out in four easy steps.
Get a quote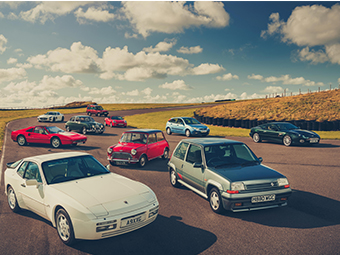 'Glad to see it's still there,' said the one-time racer of this very car. What on earth was it I asked? So he told me. When the drivers came in in at the end of a long race they were always exhausted and everyone presumed it was because of all the hard work they'd done behind the wheel. Not so. In fact they'd spent their slowing down lap blowing furiously into this tube, inflating a bladder within the over-sized fuel tank so when said tank was checked by the authorities it held not one litre of fuel more than prescribed.
There are many stories like that. I particularly like the one about the team who fielded two cars as one. One entirely compliant car would pass scrutineering while a completely bent but visually indistinguishable car would be kept under cover until it was swapped just before the race. Leading by miles as it would inevitably be, the car would pit ostensibly to be cleaned for its victory lap only to be replaced by the legal car which took the flag and attended post-race scrutineering as if butter wouldn't melt.
Sadly, I know no better than you if it's actually true.
There is another story whose veracity, taken as gospel for decades, has been called into question. And because it involves the greatest motor-racing cheat of all time, where not just one car or one team was involved, but the entire front end of the grid and some of the greatest drivers who ever lived, I shall retell it here, not least because whichever version you believe, there was definitely skulduggery afoot. The question is how much.
The event was the 1933 Tripoli Grand Prix. Back then Libya was an Italian protectorate and Tripoli North Africa's answer to Monaco, and with its own Grand Prix to prove it. If this race is remembered at all, it is because it was the event in which Britain's fastest driver, Sir Tim Birkin, burned his arm on the exhaust of his Maserati, contracted septicaemia and died just weeks later. If legend is believed, he was one of few top drivers not in on the game.
The game, simply, was to rig the race. Why? Because there had been a lottery resulting in 30 tickets being won by members of the public, each one carrying the name of a specific driver, and whoever held the ticket for the driver who went on to win, won the lottery. Which was big. About £850,000 big in today's terms. Now if that driver were known before the race…
But how do you do that? It's really very simple: you fix the result. The story has it that the man who had Achille Varzi's ticket contacted the great man who in turn contacted his chief rivals, Tazio Nuvolari, Giuseppe Campari, Louis Chiron and Baconin Borzacchini and agreed to split the lolly if he, Varzi, were allowed to win. Birkin was a threat too, but the Englishman was not part of the Grand Prix establishment and, by reputation, more likely to blow the whistle on the conspiracy than join it. They would have to take that risk.
It all looked like it would go horribly wrong when Birkin shot into the lead on the first lap. Key to the plan was not to stress their cars by going too fast in the hellish heat, because if Varzi's engine went up in smoke, the whole grubby plan went up with it. But now there was no choice and Birkin must be hunted down. Which he duly was.
But even with the Englishman's threat neutralised, problems remained. Varzi's Bugatti got sick but was revived by a fresh set of plugs then, later in the race, his engine started to misfire as he tried to switch from the main to reserve fuel tank. All the while the most famous names in Grand Prix racing had to manufacture their own problems in order to go sufficiently slowly for Varzi still to be in with a shot of winning. What was always a pantomime rapidly turned into a comedy of errors.
In the end Varzi did win, by 0.2sec from Nuvolari, but the charade had fooled no-one and at a meeting of the ruling body the following morning there were calls for the licences of all those party to the scam to be withdrawn.
It never happened: the cost to Grand Prix racing of losing its brightest lights was just too great. Even so, out of main players named – Varzi, Nuvolari, Chiron, Campari, Borzacchini and Birkin – just two would return to Tripoli in 1934 where Varzi won once more with Chiron in third. Of the remainder, Nuvolari was injured, and Birkin, Campari and Borzacchini already dead, the Englishman from blood poisoning, the Italians from tangling and overturning in the Italian Grand Prix.
The source of the story is the autobiography of the great Mercedes-Benz team manager Alfred Neubauer, and to say there are inconsistencies is putting it mildly, the most obvious being that Chiron wasn't in Tripoli in 1933.
But what seems beyond dispute is that at least three of the main men – Varzi, Nuvolari and Borzacchini – did indeed meet with their respective ticket holders in the days before the race. It is also quite clear that some kind of 'arrangement' was reached between the six, which did indeed involve sharing the winnings among them. But instead of a winner being agreed, it was determined that if any one of the three drivers were victorious, the fund would be shared between them all. Far from being in on it, Campari was excluded from the deal and so incensed it is claimed he teamed up with Birkin to drive harder than ever to scupper it.
One more thing. There have been few rivalries in racing history greater than that which existed between Varzi and Nuvolari – Prost and Senna is probably closest – and given that the fund would pay whoever won, there was no guarantee they'd not end up driving each other off the track in their efforts to outdo each other: pride was still at stake. So the matter was settled in advance with a flip of a coin, which came down Varzi-side up, which probably explains the 0.2sec gap at the flag between them more than anything else.
So what actually happened in Tripoli in 1933 may have been slightly less scandalous than originally suggested, it may even have been legal, but that doesn't stop it being one of the most disreputable days in the history of Grand Prix racing.