There is a statue of Charles Stewart Rolls in Agincourt Square, outside the Shire Hall in his home town of Monmouth. It was sculpted by Sir William Goscombe John and unveiled by Rolls' grief-stricken father Lord Llangattock in 1910.
It is said that John Allan Rolls never got over the death of the youngest of his four children, and he lived just two more years. This at least meant that, unlike Lady Llangattock, he was spared seeing his other sons also die young – John on the Somme and Henry of influenza, both in 1916.
How much is your car to insure? Find out in four easy steps.
Get a quote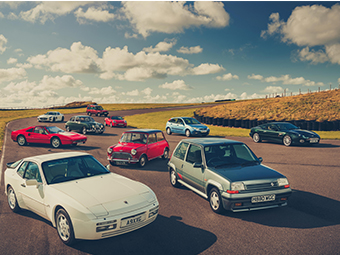 The statue stands in pride of place in the town to this day, in front of that erected to honour that other child of Monmouth – one Henry V – and depicts a tall, strong Rolls holding a machine in his hands. But it is not one of the automobiles which bore his name and that of Henry Royce and which, even by 1910, were already known as 'the best car in the world.' In fact, he's holding an aircraft, a primitive biplane similar indeed to the Short Wright biplane in which he would become the first Englishman to lose his life in an aircraft accident.
When asked just before his death why he insisted on taking such terrible risks during those pioneering days of early flight, his reply was simple and reveals as much as we will probably ever know about this most remarkable of young men. It is also extraordinary: 'All good engineering calls for casualties, so why not?'
I grew up with an entirely binary view of Charles Rolls, and it wasn't that positive. In my ignorant world, Rolls provided the money while it was Royce, the engineer, who provided the magic. But in any event, Rolls-Royces didn't race, so frankly I wasn't that interested in either.
Then, about 30 years ago, I got to drive the greatest car to bear their combined names: the original Silver Ghost. If I can be allowed to go fleetingly off topic, I wonder if you knew who owns that car today? The most valuable Rolls-Royce in the world and perhaps the most valuable road car in the world is owned by… Bentley. Astonishing as it seems, when BMW bought the right to call a car a Rolls-Royce in 1997 it appears to have overlooked the company's most famous asset. Were Bentley to sell it to Rolls-Royce they might justifiably ask £40 million for it, the same sum BMW paid for those very rights 22 years ago…
But I digress. Young Charlie Rolls was obsessed by speed, machinery and those new-fangled contraptions known as self-propelled carriages or autocars for short. He bought his first, a Peugeot, in 1896 while he was still a teenager. His first meaningful drive was from London to Cambridge University, which took nearly 12 hours at an average of just over 4mph. The following year he graduated to a far quicker Panhard et Levassor which still took almost 2½ days to take him home to Monmouth from Cambridge.
He started racing the Panhard in France in 1899, using it to win the Bordeaux-Biarritz race at the heady average of 27mph. The following year he was awarded the Gold Medal in the inaugural 1000 Mile Trial despite his replacement Panhard catching fire, a tyre bursting and his riding mechanic falling out of the car mid-corner. Then, in 1906 he won the second Isle of Man Tourist Trophy race in a Rolls-Royce. Charles Rolls a TT winner? In a Rolls-Royce racing car? Who knew? For years and years, certainly not me.
He was also fascinated by early attempts to set a Land Speed Record, so in 1903 he thought he'd take a crack at it himself in a terrifying-looking Mors. The venue was Clipstone Park on the Duke of Portland's estate, where he was duly timed at over 82mph for the flying kilometre. But the run was judged to be downhill, with a following wind and on an unaccredited course so was not allowed to stand. Rolls was livid. But record or not, what no one disputes is that on that day, Charles Rolls drove faster than had any man before.
By then the Wright Brothers had still to take off from Kittyhawk, but this didn't stop Rolls indulging his fascination with flight. Ballooning had become a great sport among wealthy daredevils across Europe and Rolls was no exception. He made his first ascent in 1898 and would complete over 170 more in the 12 short years of life that remained to him.
But it was the prospect of powered flight that increasingly occupied his mind. I think another little-known Rolls fact is that even had he lived, his involvement in the car company that bore his name would likely to have been minimal. Having failed in 1907 to persuade Royce to design an aero engine (ironic given that today Rolls-Royce PLC is the world's second largest aero engine manufacturer), in 1909 Rolls resigned as Technical Director from the board of Rolls-Royce Ltd and though he would remain a non-executive director, his eyes were now wholly focussed on the sky.
Although he knew Orville and Wilbur Wright and had hoped one of the other might teach him to fly, the Wrights were too busy so Orville advised him to buy a glider while he waited for his own aircraft, a Wright Flyer made under licence by Short, to be equipped with an engine. By September 1909 he was a competent glider pilot and ready for powered flight.
He flew for the first time on October 2, 1909, accomplishing several short hops before attempting a proper flight and promptly crashing. It then took a month of near continuous flying before he managed a quarter of a mile before landing safely. But by the end of the year, he had made flights of nearly an hour.
And now he had his eyes on a prize. In July 1909 Louis Bleriot had made the first successful powered flight across the English Channel so there seemed only one thing for it: to cross the channel as had Bleriot, but then turn around and cross it again. On June 2nd, 1910 Charles Rolls became the first person to complete a return trip across the English Channel by air, not only flying twice as far as Bleriot, but into the wind in one direction too. Six weeks later he was dead.
No-one knows for sure what caused his Wright Flyer to break up in mid-air over Southbourne aerodrome during the Bournemouth International Aviation meeting, though it seems that while trying to correct a steep angled dive he over-stressed the flimsy airframe causing part of the tail plane to break off. From that moment and some 80 feet above the ground, Lord Llangattock's third son was doomed. He was not quite 33 years old.
You can find the grave of Charles Rolls in the cemetery of the tiny Llangattock-Vibon-Axel church, where he lies next to those of his parents, near the family seat at The Hendre. The church is not that easy to find, but if you're looking for an excuse to exercise your classic, a visit to rural Monmouthshire is well worth it. As I hope I've been able to illustrate, Rolls was so much more than one half of a successful car company. He was a giant of the pioneering age of personalised powered transport, both on land and in the air. And had he lived, that is exactly how he would be remembered today.