Welcome to Lamborghini Legends, a series of stories to mark the Italian brand's 60th anniversary. In each instalment, Nik Berg gets behind the wheel of one of Sant'Agata's all-time greats. Here, he rekindles a decades-old love affair with the Diablo.
Before I attempt to convince you that the six-litre Diablo is the best Lamborghini ever made, I should come clean. Some 20-odd years ago, when this car was new, I was invited to the Nardo test track in Italy to discuss the Raging Bull's approach to safety. The conversation took place with me behind the wheel, traveling north of 200mph.
How much is your car to insure? Find out in four easy steps.
Get a quote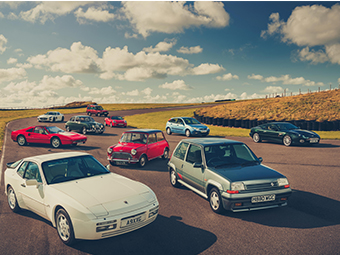 Thus, the car and I have history. History that may imbue me with a degree of bias.
To this day I have no recollection of any safety talk beyond then-Lamborghini boss Giuseppe Greco advising me, "It's very windy. We would like you to stay below 240 kph (150 mph)."
Maybe he was serious, or maybe he delivered that message with tongue pressed into cheek. As far as I was concerned, driving a Diablo in such a context was a once-in-a-lifetime chance to top the double-ton. Easier to ask forgiveness than permission, no?
The oval circuit at Nardo is 7.8 miles long, gently banked to allow a "hands-off speed" of 152 mph. It is a seemingly never-ending straightaway with four lanes; at Greco-vetted speeds near 150 mph, the Diablo felt like it was barely at a canter.
Here's what I wrote for Top Gear magazine at the time:
"I floor the accelerator and the Diablo surges forward notching off personal bests all the way. The speedo zips past 300km/h. At 320km/h I have to concentrate harder as the wind is beginning to jostle the car around. At 340 the steering goes momentarily light over a bump and the car steps a foot or two to the right. Then at the 8km mark the wind shifts to behind me and the car stabilises. Foot firmly to the floor the speedo needle continues to creep round. It runs out of places to go at 360km/h – that's a shade over 220mph in real money. The rev counter is just a few rpm short of the red line. This car will not go any faster."
The Diablo, then, is responsible for my personal Land Speed Record, and for that alone I will always adore this car.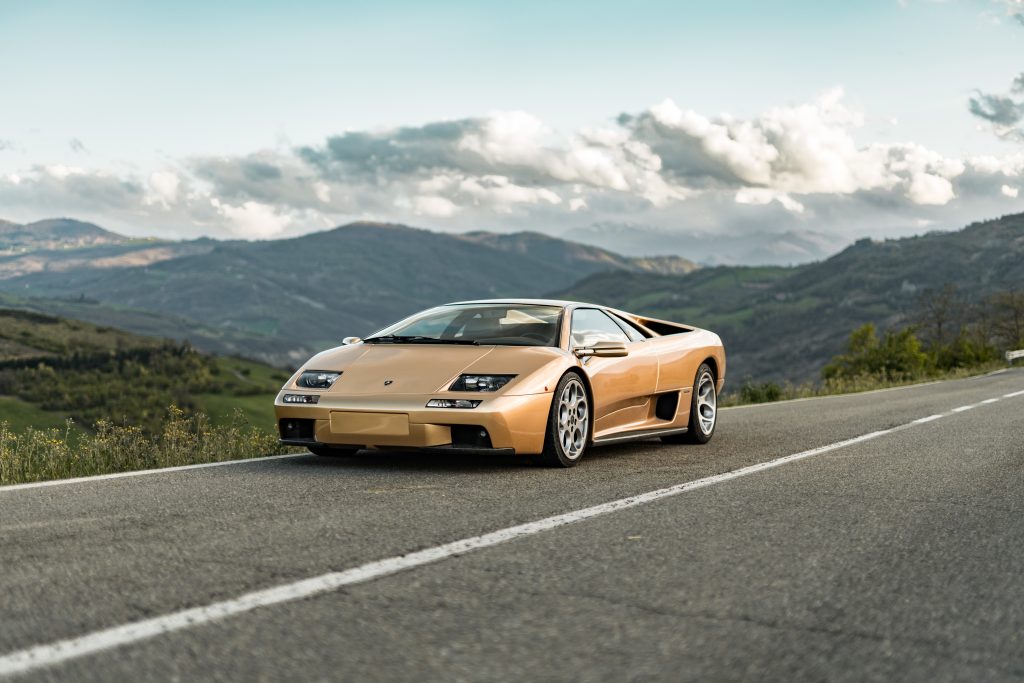 Dropping myself into the 6.0 again after two decades is an opportunity to rekindle the love affair. It's already been an extraordinary day that's seen me take the wheel of the 400 GT, a Miura SV, an Aventador Ultimae, a Huracán Tecnica, a Gallardo, and a Countach; it doesn't take too long to realise that my old flame, the Diablo, might be the best of them.
When it launched in 1990, the Diablo was almost as hardcore as the Countach it replaced. There was no power steering, for example, and the 5.7-litre V12 drove the rear wheels without any driver aids. However, by the end of its run, with Audi now at the helm of Lamborghini, the Diablo had metamorphosed into a civilized, yet no-less staggering supercar.
***
The 2001 Diablo VT 6.0 I'm presented with, painted Oro Elios, is the gold standard for this model. It's one of the very last produced and went straight into Lamborghini's collection. Giotto Bizzarrini's blueprint for the V12 had been tweaked to 5,992 cc in capacity and fitted with electronic fuel injection to deliver 543bhp, only now all that rage could be sent to four wheels via a Viscous Traction (VT) all-wheel drive system.
The bodywork was given a makeover by Luc Donckerwolke in 1999, with the original pop-up headlamps replaced by faired-in units and the use of carbon fibre to save weight.
Carbon fibre makes a big splash inside the vehicle, too, where it's deployed on the instrument panel, center console, and kick plates, along with plenty of dark leather hide. The weave look might seem a little passé to modern eyes, but it was a truly rare material back in its day, so it's easy to understand why Lamborghini wanted make sure customers noticed.
Audi-sourced switchgear is a notch above what came before it and, based on my experience, this seems to be the first Lamborghini in which ergonomics were a genuine consideration.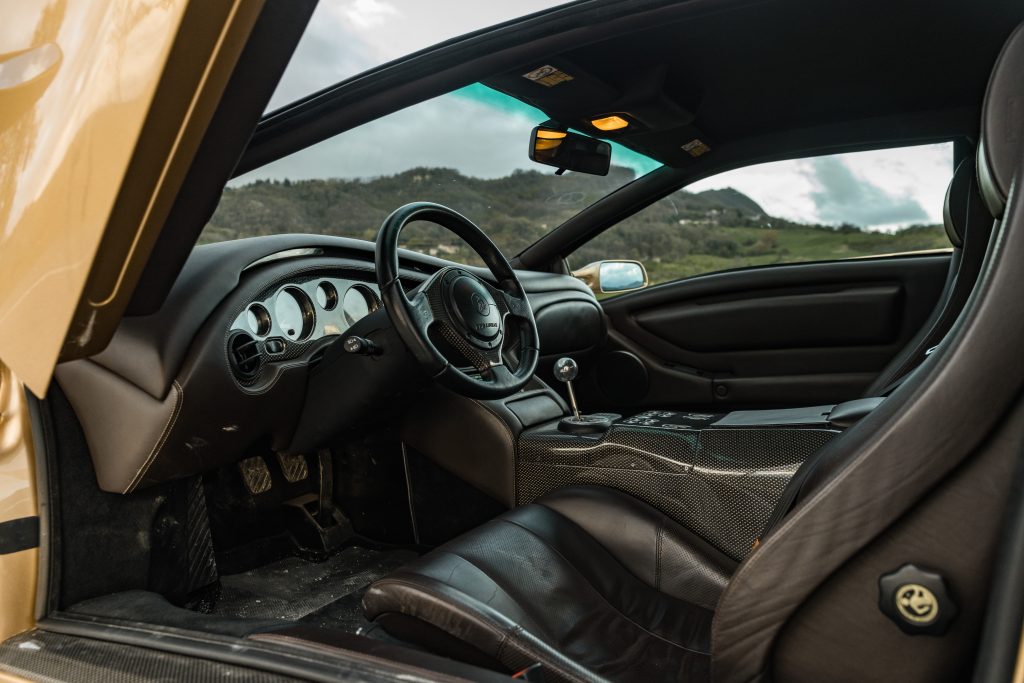 It's easy to find a comfortable driving position, and the visibility is good, making every drive a far less daunting proposition than with the Diablo's predecessors. There's even power steering, ABS, and electronically adjustable suspension. The VT system normally sends power to the rear wheels, but as soon as any slip is detected, up to 20 per cent of torque is transferred to the front wheels.
On the road it feels lighter than its 1,600kg, with that assisted steering proving nuanced and fast. Direction changes need none of the Herculean effort that the Countach demands, and the brakes are modern-day powerful.
With the high-rev demand of the V12, which asks 7,100rpm for full power, driving the Diablo requires making good use of that beautiful, gated gearshift. Though it cannot match an MX-5 for slickness or speed, shifting here is immensely satisfying. Each throw rewards the driver with an unparalleled sense of mechanical connection – an initial clunk into first gear followed by a lovely metallic click-clack as you scale up the gears.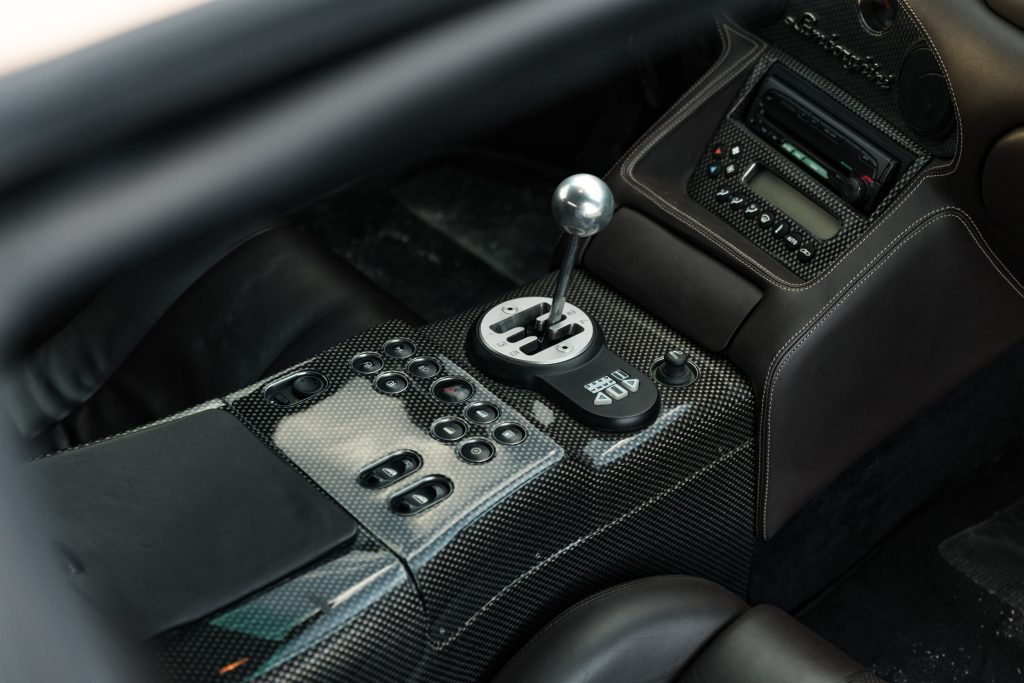 My drive is a short but passionate affair, over a mix of fast and flowing, hill-hugging roads and tighter twists and turns. It is nevertheless utterly involving and visceral, without being vexing in any way. The Diablo's neck-snapping good looks and the glorious acoustics of a naturally aspirated V12 only add to the list of reasons why this is, in my mind at least, the absolute pinnacle of Lamborghini.
The market may well agree with my assessment. Concours-condition (#1) Diablo VTs of this vintage are on the up, and valued by our experts at around £200,000 on average. That means I will never own one, to my deep disappointment. But like any long-lost love, it is the time we spent together I will always treasure.