In the middle of her 1985 Private Dancer tour, considered to be one of the best comebacks in musical history, Tina Turner hauled a 24-year-old Canadian singer on stage. His name was Bryan Adams. Eight years later and by then a megastar, Adams released a greatest hits album called So Far So Good, featuring his duet with Turner, It's Only Love. On the back of the album was a picture of Adams, hands casually folded, sitting on the roof of his beloved – and very unusual – Land Rover Defender.
The Land Rover Defender – the boxy, vintage one, not the current Playmobil Space Adventure machine – has had a long association with social status. In the 2000s, they became known as "Chelsea tractors," a phrase that combined the name of the hoity-toity London neighbourhood with the Landie's agricultural roots. Much like the Mercedes-Benz G-Wagens that clutter Beverly Hills' Rodeo Drive, these 4x4s rarely saw so much as a mud puddle. They were outdoorsy athleisure machines, designer rubber wellies for urbanites.
How much is your car to insure? Find out in four easy steps.
Get a quote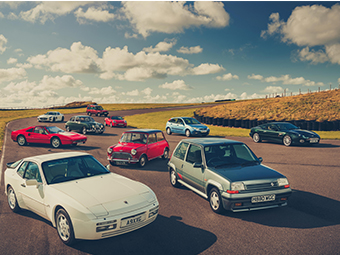 It's not clear exactly when Bryan Adams fell in love with Land Rovers. Perhaps they reminded him of his father, who served in the British Army, or of his own time spent recording in a London studio. Whatever the reason, he fell hard. In 1989, when his career was at its peak, Adams heard about a rare, hybrid Land Rover known by its number plate: TEW. It was a 100-inch Defender – something the factory never made.
For years after its initial introduction, you could buy one of two Land Rovers: a long- or a short-wheelbase model. By the early '80s, these were officially known as the 90 and the 110, the latter colloquially called the "one ten." JLR still uses the nomenclature to distinguish its two- and four-door Defender models.
Conventional wisdom states that the short-wheelbase 90 should be a more nimble off-road machine and that the long-wheelbase 110 is a more comfortable choice for cruising to the trailhead. But what if you could have the best of both worlds?
In 1987, such a mutt was bred. Known as "TEW," the truck combined the chassis of a Range Rover Classic with parts from a Series II and a Series III Land Rover. The truck's rear overhang was significantly reduced, but thanks to the longer wheelbase, TEW had more cargo capacity than a 110 and a much less choppy ride than a 90. Though the name of its original builder has been lost, TEW was owned by the editor of the UK's 4×4 magazine, which gave it some notoriety.
Adams' commission, inspired by that 1987 hybrid and completed by Paul Clark at Dunsfold in Surrey, was slightly different. Like TEW, his used a 100-inch Range Rover chassis, but where TEW used Series II and III parts, Adams' truck used bits from a 200tdi Defender. Instead of a thirsty, Range Rover–sourced 3.5-litre V8 and four-speed manual gearbox, which TEW retained, Adams' truck used a specially prepped 2.5-litre turbodiesel. The brakes were a mix of Range Rover and Defender. A winch and bullbar were fitted, along with air conditioning. The build started in late 1992, and Adams' 100-inch Land Rover was hitting the trails by early 1993.
When he'd first heard of TEW, Adams had dubbed it "The Vehicle of Doom." He quipped that when the Grim Reaper arrived, he'd be at the wheel of a 100-inch Land Rover. Thus, the license plate on Adams' custom truck: VOD100.
Fittingly, as a sort of "Land Rover's greatest hits" package, VOD would be the cover model for Adams' So Far So Good album. Its 33-inch tyres were hand-lettered in white paint with "Bryan Adams" and the album's title. No Photoshop, just paint and a brush.
VOD100 wasn't Adams' only Land Rover dalliance. It turns out he happens to be an excellent photographer, and several years ago he did a photoshoot for Jaguar's XF sedan. He's shot everything from celebrities to the cover of Rammstein's 2022 album ZEIT.
One of Adams' most compelling portraits features Amy Winehouse at the wheel of one of Adams' other Land Rovers, a vintage Series II. On a trip to the Caribbean island of Mustique, Adams gave Winehouse her very first driving lessons. He later said it was lucky that the handbrake was accessible; Amy never really figured out how to slow down.
Thirty years after posing with VOD100, and forty since his first singles hit the airwaves, Bryan Adams is still touring, recording, and taking photos. If he still has his Defender tucked away somewhere, he keeps quiet about it. His latest tour features shots of him sitting at the wheel of a slightly decrepit Corvair.
Over the summer, he paid tribute on social media to his late friend, Tina Turner. You have to wonder, since the two were close for so long, if the Queen of Rock 'n' Roll ever got behind the wheel of the vehicle that represented the success of her protege.