Why DeLorean?
Having owned a string of classic cars for over 40 years, I decided I wanted a distinctive, comfortable, reliable car that didn't rot! Hence the DeLorean. I've now had 13 of them!
Where did your love for DeLorean start?
When I visited the NEC 18 years ago and was made very welcome by the club members, who couldn't do enough for me.
How much is your car to insure? Find out in four easy steps.
Get a quote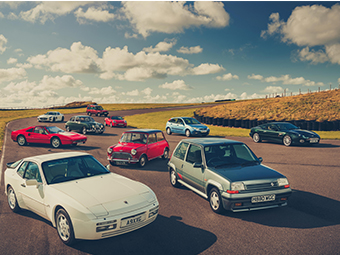 What is your favourite classic car event of the year?
Our annual club event (which moves around the country), plus the NEC Classic Car Show.
How many members does the DeLorean Club (UK) consist of?
About 250 members (not all have cars… yet!)
What's the best thing about being a member of the DeLorean Club (UK)?
The helpfulness and enthusiasm of the young membership who's average age (thanks to the 3 BTTF films) is only 28!
What does membership of to the DeLorean Club (UK) involve?
Anyone can join for an annual sub of just £25 and get 4 full colour glossy mags as well!
How can one sign up to the DeLorean Club (UK)?
Look online and follow the instructions www.DeLoreans.co.uk
If you would like to feature your classic car club please email us