The Ferrari 355 was a nailed-on classic from the moment it arrived, yet its objectively superior 360 Modena replacement has taken a long time to grow into its handsome skin. While the 355 can rightly claim to have turned around Ferrari's fortunes in the mid-1990s, it was 1999's 360 that ushered in full aluminium construction, electronically controlled suspension and, perhaps most importantly, an ease of ownership that meant Ferrari owners wouldn't face yet-another-joke about Italian build quality from fellow petrolheads.
That latter point is relative as no supercar is ever going to be cheap to buy, run or repair, but the 360 made a mighty fine stab of it and getting on terms with the Porsche 911 that was squarely in its sights at launch. Ferrari developed the 355's V8 engine into a 395bhp 3.6-litre unit offered with either a six-speed manual or 'F1' paddleshift gearbox carried over from the 355. The latter transmission outsold the manual when new, but it's the manual that is now the more sought-after for an extra dose of driver involvement.
How much is your car to insure? Find out in four easy steps.
Get a quote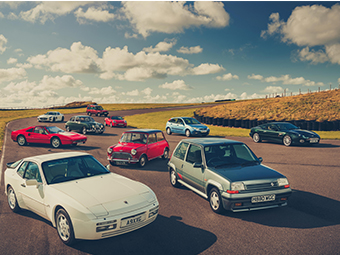 Using aluminium for the 360's body meant this bigger, roomier car was only 40kg heavier than the 355 it replaced, and the 360 came with a good deal more crash safety built into its design. The bigger cabin made the 360 a more practical machine, or at least as practical as mid-engined supercar could be. And it was a supercar by contemporary standards, with 0-62mph in 4.5 seconds and a top speed of 183mph.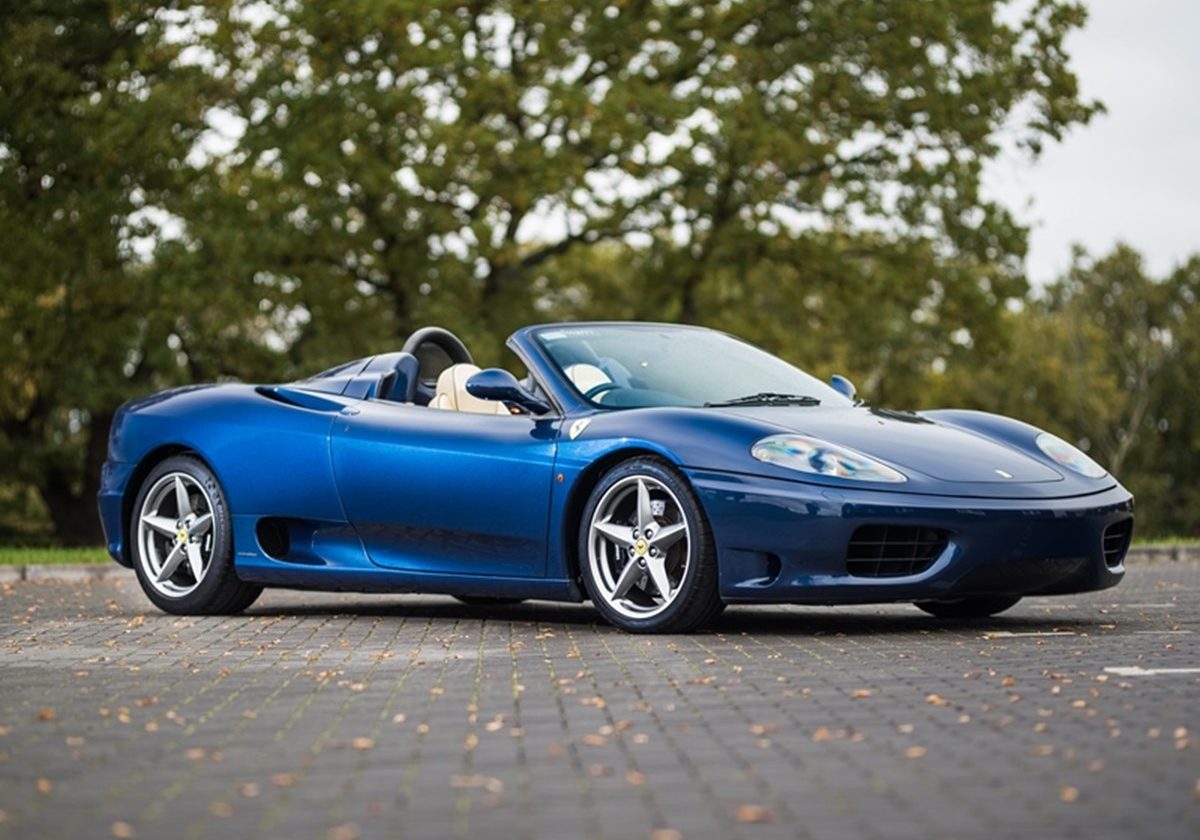 With all of this in it favour, why did the 360 Modena receive a slightly lukewarm reception at the Geneva motor show in 1999? A lot was down to the looks, which did away with pop-up headlights due to safety legislation, and some reckoned it was a little 'jelly mould' in design. Such a shift in style was always going to risk upsetting Ferrari's loyal fan base, but beneath the 360's curves was a wind tunnel-honed shape, producing more downforce for improvements in stability and handling. Now, more than two decades since the 360 was launched, it has grown into itself and the hearts of enthusiasts who recognise it as a great driver's car and something of a bargain in today's market.
Ferrari broadened the 360's appeal with the launch of the Spider convertible model a year after the Modena coupé. Best of the lot came late in the 360's production when Ferrari introduced the pared-back Challenge Stradale. This coupé was up to 110kg lighter than the Modena, though to achieve the full weight saving meant ticking every low-mass option, from the Lexan side windows with racing-style sliding openings, to Alcantara trim rather than leather. The Challenge Stradale also came with a modest 25bhp power increase, giving 0-62mph in four seconds flat, and carbon ceramic brakes for lower unsprung weight and improved endurance.
The 360 Challenge Stradale is now a collector car in its own right, with prices around double what you'll pay for a Modena coupé. Don't dismiss the standard 360, though, as it offers nearly all of the thrills of the CS in a simple to maintain package, and at prices that right now seem too good to last for ever.
What's a Ferrari 360 like to drive?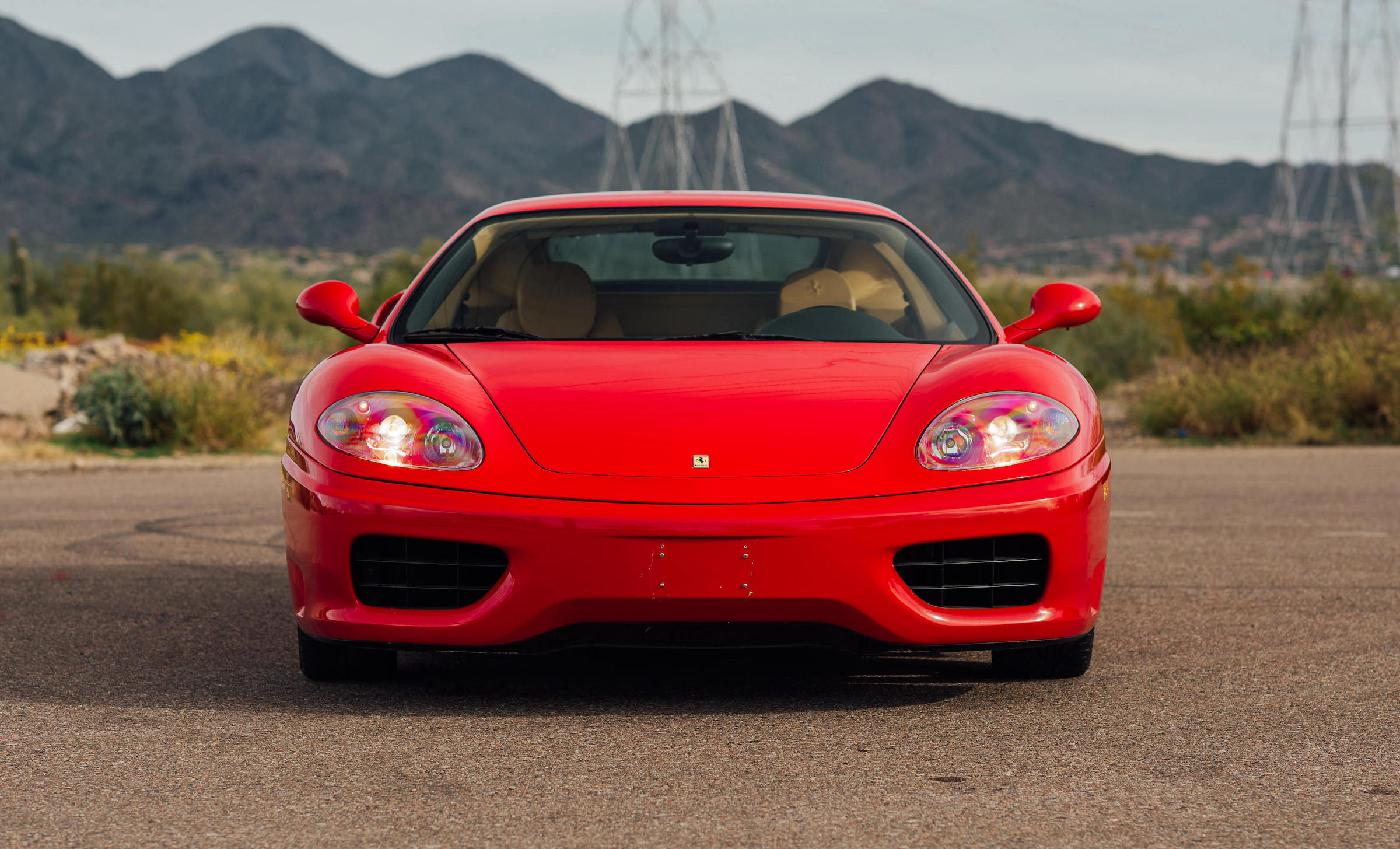 There was a lot of new tech crammed into the 360 but, unlike in today's supercars where this is very much to the fore, the Ferrari plays it down to keep the focus on the driver's ability. As a result, the 360 relies more on pin-sharp throttle and steering response than driver aids to deliver its feel and poise, though there are Normal and Sport modes for the suspension. There is traction control to keep things in check in normal driving conditions too, but it's quickly turned off for track excursions. Some find the 360's on-limit handling more demanding than the previous 355's; smoothness is key to extracting the best from the 360 at track days.
On the road, the Modena coupé and Spider both handle with a precision and level of grip that will see off almost any contemporary Porsche 911, bar the most hardcore versions from Stuttgart. This is helped along by suspension that is firm but far from crashy, and you don't have to wince every time a pothole appears just ahead of the Ferrari's low-slung snout. There is enough clearance for most speed humps, too, so the 360 can be driven around town without fear, and this is underlined by power steering that is not heavy at lower speeds and reasonable forward and side vision. Gazing through the back window of the 360 is more trying, but as a relatively compact car it's not especially tricky to park.
Reversing in a car with the F1 automated manual gearbox can be more testing until you're dialled in to how this transmission works. The gears and clutch are the same as the standard six-speed manual's, but they are operated by electrohydraulics in the F1, with the clutch engaging as you press on the throttle.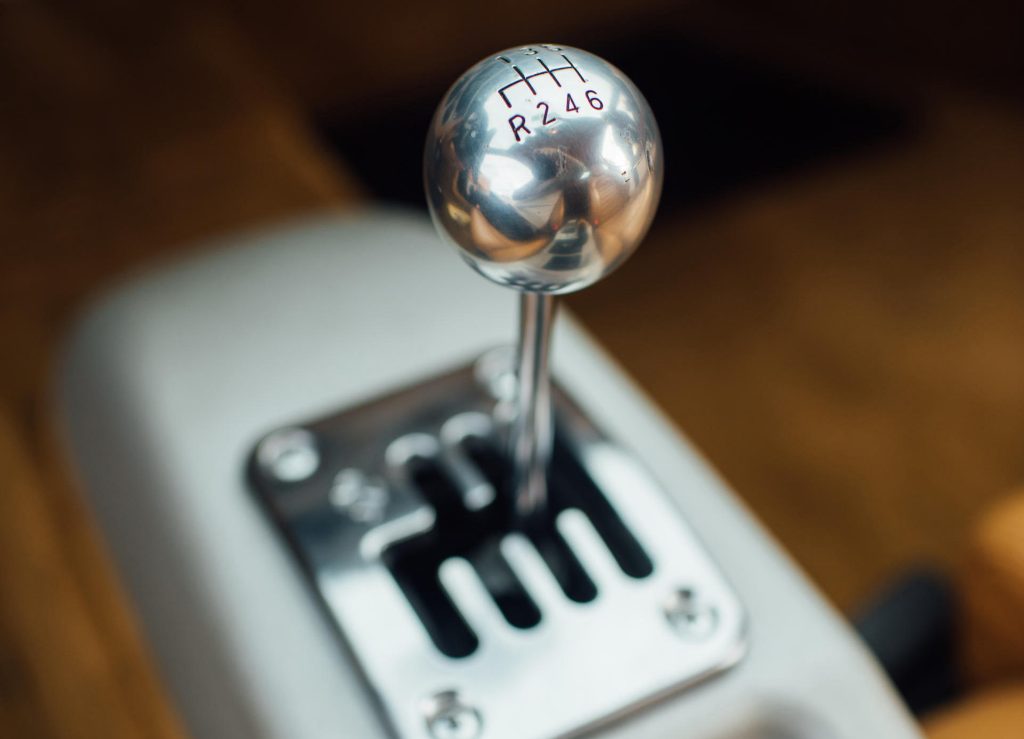 With some familiarity, you can drive these 360s perfectly smoothly and avoid the horror stories of short clutch lifespans. Again, learning to use this gearbox also lets you get the best from the paddle shifts, which are best with a slight lift of the throttle as you select an upshift. As for the standard manual, it's a pleasure to use and comes with the classic chromed selector pattern.
Power for both transmissions comes courtesy of a 3586cc naturally-aspirated V8 engine. It's a real delight to stretch this motor to its 8500rpm rev limit and it sounds just how you imagine a Ferrari should at full tilt. At lower revs, it makes itself known in the cabin but not obnoxiously so when cruising or driving in town. Throttle response is instant, which can make slow speed driving a little jerky until you learn to modulate your right foot's inputs appropriately. As the Ferrari 360 demands the driver to adapt to it to some extent, it gives the car the sense of being an old-school supercar, where the 430 that followed it was easier to drive day to day.
In the Spider, you get all of the same driving experience with the added fun of an open-top (we should note at this point that unlike the 355, there is no targa-topped 'GTS' with the 360). The electro-hydraulic mechanism is quick to let in the sun (or keep out the rain), and makes the cabin decently snug when raised. In the Challenge Stradale, a lack of sound insulation means a raw and occasionally painfully noisy drive, but the reward is potentially even greater, with a darty nose and surprisingly mobile tail. What really marked out the Challenge Stradale are its carbon ceramic brakes, which offer immense retardation, though there's nothing wrong with the standard ventilated steel discs of the Modena and Spider.
How much does a Ferrari 360 cost?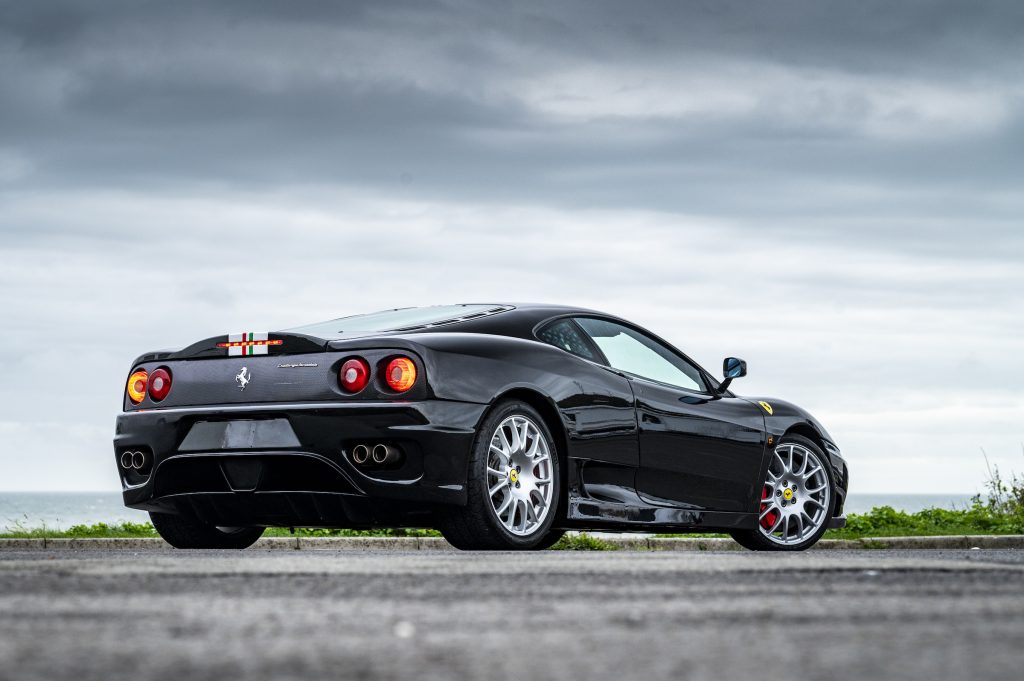 Given the 360 marks a significant turning point for Ferrari's technical development, it remains surprisingly affordable for a car with this badge. There is a hierarchy, though, that starts with the Spiders fitted with the F1 gearbox at the bottom. Look hard and you can still find these at auction with full service records and reasonable mileages from £50,000. Not much more will bag you a Modena in the same spec, so budget £55,000 and you could park a 360 coupé in the garage at home.
Mileage is less of an influence on 360 prices than with most other Ferraris. This car's reputation for being usable makes owners more likely to get out and drive them, so don't be put off a car with way more than the usual 2000-miles per year of most Ferraris. Several specialists reckon higher mileage examples that are used routinely are a better bet for reliability, especially as items like seals and rubbers don't get a chance to dry out and shrink.
A manual gearbox can add as much as £15,000 to the price of a pristine 360, so an immaculate Modena or Spider will set you back up to around £85,000. Beyond that, you're into the realms of the Challenge Stradale, which will cost from £140,000 – though a budget of £160,000 is more realistic.
What goes wrong and what should you look for?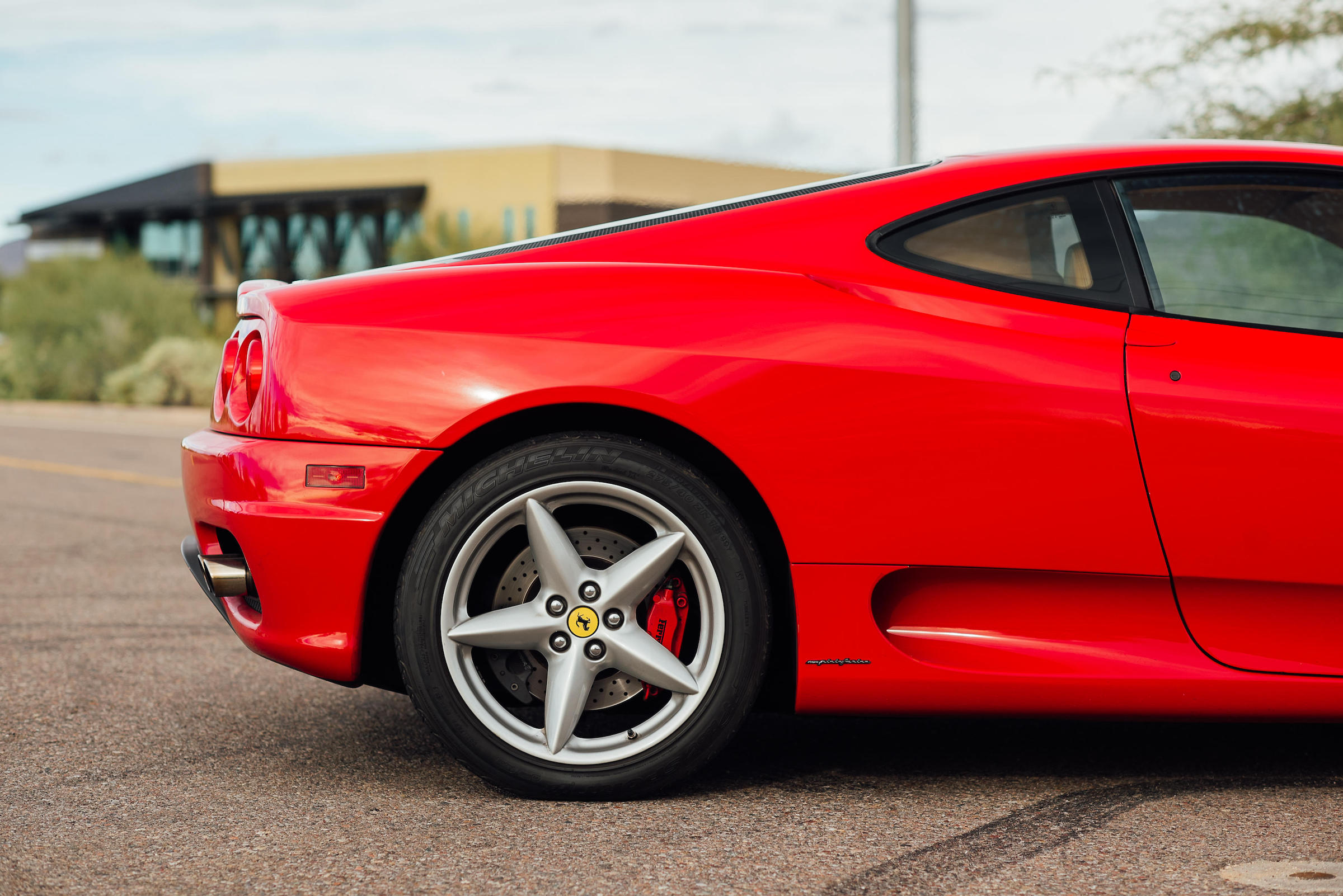 Much of the Ferrari 360's reputation for being easier and cheaper to run than the earlier 355 comes from the fact the later car's engine doesn't have to be removed to carry out important maintenance work.
With the 360, the cambelt is accessed through a service panel in the rear bulkhead, which saves many hours and pounds in labour, as well as meaning this all-important job is much less likely to have been skimped by a previous owner. Reckon on changing the cam belt every three to five years depending on use.
Engine oil changes should be at 6000 miles or once a year if the car covers few miles, while a clutch can last up to 30,000 miles in either the manual or F1 cars. Any noise from the engine's tappets should disappear when it's warmed up – if not, they'll need to be replaced. Cars built up to 2001 suffered from failing camshaft variators, but these should have been replaced by now so just check the service records for evidence.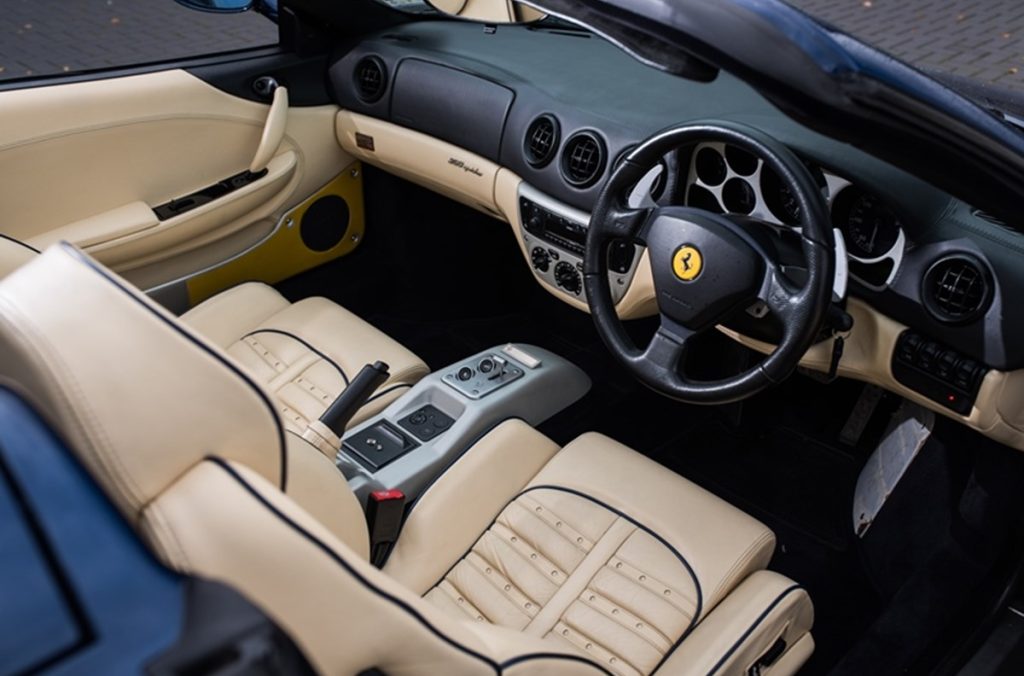 With the F1 gearbox, its hydraulic actuators can fail with age, so check it selects gears smoothly and promptly. Beyond this, the only major engine bay worry is cracked exhaust manifolds, which many owners choose to replace with aftermarket items. Budget £2000 per year for maintenance for the 360 and you shouldn't encounter any unexpected bills.
As many 360s will spend a lot of their lives in the garage, a battery trickle charger is essential to avoid minor electrical niggles. Make sure all of the cabin electrics work. With the Spider, look for any oil leaks from the roof's hydraulic motor by stopping the roof half way through its operation. Any damage to the fabric roof can be pricey to fix, so be certain it's in good nick. Also on the inside, the rubberised finish on many of the switches becomes tacky and peels off, but this can be replaced at reasonable cost.
The last thing to look for with the 360 is the condition of the bodywork. Aside from looking for any dents, look for any signs of aluminium corrosion that will show up as bubbling and a white powder residue. This can occur anywhere there's been a stone chip, but also most notably around the front bulkhead and windscreen frame.
Which is the right Ferrari 360 for you?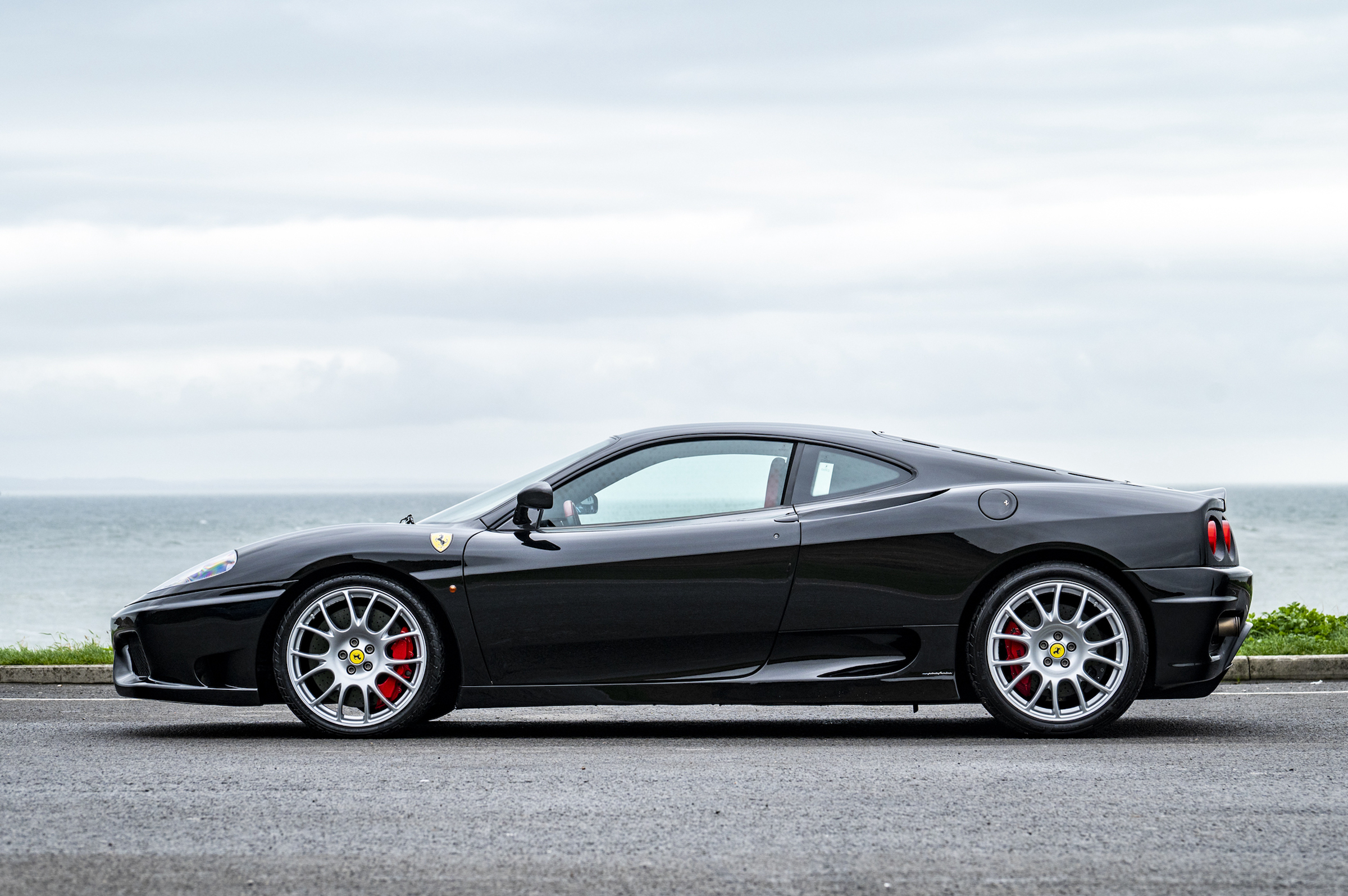 If you want the ultimate Ferrari 360, only the Challenge Stradale will fit the bill. It's an exhilarating car to drive with all of the special feel that a track-focused Ferrari should have. However, it's also usable on the road, so it is in many ways a better car to own and enjoy than some of the more extreme cars that have followed from Ferrari.
However, for most drivers, the choice will be between 360 Modena and Spider versions. Whether you want a closed coupé or open-top model is entirely down to personal taste, and there's not a great deal of difference in value. Also, Ferrari sold Modena and Spider versions in roughly equal number, so there's no trouble finding good examples of either.
What is more important for many buyers now is the type of gearbox fitted to the car. Most want the straightforward manual for its purer appeal, and it is a joy to use. Don't discount the F1 automated manual with its paddle shifters, though, as there is pleasure in learning to get the best from it. However, the best of the standard 360 models is the Modena with manual gearbox, which is why it's the most prized among buyers today.
Read more
Join the club: Ferrari Owners' Club
Buying Guide: Ferrari 308
Ferrari 458 Italia video: "Just glorious" | Hagerty UK Bull Market List