1954-55 Triumph-based, Swallow Doretti roadsters have a loyal, worldwide following, and 200 of the 276 that were built are still on the road

The Swallow Doretti is an interesting footnote among early '50s British sports cars. Only 276 were made in 1954-55, but around 200 of those survive, with a loyal following. If you see one, chances are you will identify it by what it's not, until you are close enough to see the badge. The grille looks like a Ferrari, the cowl and tail resemble a Healey 100.
The company that built the Doretti roadster is the same Swallow Sidecar Company that William Lyons and Fred Walmsley started in 1922, which evolved into SS cars in 1933 and eventually became Jaguar. The Swallow Coachbuilding Co was sold in 1945 and bought by Tube Investments in Staffordshire.
How much is your car to insure? Find out in four easy steps.
Get a quote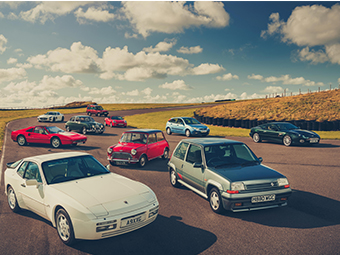 Meanwhile in 1950 Los Angeles, California, engineer Arthur Anderson was running his own thinwall tubing business. He and his daughter, Dorothy Deen, were driving English sports cars but were unable to find the accessories they wanted. So the two began making them, and Dorothy ran the new company, called Cal Specialties. The accessories included such items as wind wings, luggage racks, wood-rimmed steering wheels and aluminum valve covers, and the line was called Doretti – an Italian-sounding confection based on Dorothy's name.
Dorothy was blessed with movie star looks – in period photos, she resembles Doris Day – but she was a car guy, and an extremely sharp businesswoman. As the company prospered, her father went to England to discuss a new form of pipe production with Eric Sanders of Tube Investments. Both were sports car enthusiasts and Sanders introduced Anderson to Sir John Black, who ran Standard-Triumph. The two hit it off and Black agreed that Anderson and his daughter could distribute the new TR2 roadster in the U.S. – along with Sanders' own Swallow Doretti roadster. Sales would begin in January 1954.
The Doretti was designed by Frank Rainbow, of Tube Investments, who had worked for Bristol Aircraft. It was based on a very strong frame of Reynolds 531 chrome moly tubing, using the Triumph TR2 engine and running gear and covered with an aluminium body.
The Doretti was sturdy and well-finished, but heavier than the TR2 and not as quick. It was also expensive at £1,158 compared with the TR2's £887. With overdrive, the Doretti was capable of a genuine 100 mph, according to a 1954 test by The Motor, and 0-60 mph came up in 12.9 seconds with gas mileage of 27.9 mpg. At under $3,000 in the U.S., the Doretti competed head-on with the Healey 100 but cost $400 more than the TR2.
In 1954, Dorettis were being built at the rate of one a day by the 18-strong Swallow workforce, and Rainbow was working on the Mk II, called the Sabre. Three were built, two convertibles and a coupe. Meanwhile Tube Investments was hearing grumbles from other car manufacturers that the company was competing with firms to whom it was supplying parts – including Jaguar – and Doretti production was halted suddenly in February 1955.
Ironically, the Swallow Doretti lost its biggest fan when dynamic Sir John Black was injured in the crash of the first Doretti. Black was a passenger with Standard-Triumph's test driver Ken Richardson when a lorry pulled out in front of them not far from the factory. As Black recovered from his injuries, he was ousted in a coup.
In 1955, California racer Max Balchowsky fitted Buick V-8s into several Swallow Dorettis. The cars were fast, and he offered a $3,700 turn-key conversion, but as Carroll Shelby found out later with the AC Cobra, more power overwhelmed the front suspension and the brakes. The Buick Doretti was a short-lived experiment.
These days, surviving Swallow Dorettis are scattered as far afield as Australia and New Zealand, but the "Patron Saint" of the marque is probably Tom Householder of Lancaster, Ohio. Householder began with the Vintage Triumph Register, and has the best parts connections and the most information about the location and condition of the surviving Dorettis.
"Doretti mechanicals are TR2 and you can get just about everything for them," Householder says. "There are three major suppliers and you can still find stuff at a tractor store in a pinch. Body panels are the big stumbler for the Doretti, but the aluminum is easier to straighten than steel. I make the grilles, bumpers and floors and other sheet metal that's unique. I needed them for my own cars and I provide patterns for the trim and pieces."
You can reach Tom at trhouse@columbus.rr.com and his Web page is http://www.doretti.com/, which will connect you with Swallow Doretti parts, sources and technical information
Hagerty Price Guide lists Swallow Doretti values as ranging from $14,700 to $59,900, but the principal problem is likely to be finding one for sale. The combination of individual elegance, healthy performance and rarity guarantees you'll be welcome at any sports car meeting, and enjoy the trip there.