Why you want one: Eye-grabbing concept that was produced without compromise
Years built: 1968-73
Production: 103,373
Engine: 1,078cc OHV/1897cc OHC 4-cylinders
Horsepower: 60/90 bhp
Top speed: 95-115 mph
First shown as a concept at the 1965 Frankfurt Motor Show, the Opel GT was immediately hailed as a mini Corvette. It foreshadowed the third-generation 1968 Corvette, with more elegance. Despite being from GM's German satellite Opel, some very heavy hitters at Detroit were involved from the start, like Clare McKichan, who designed the iconic '55 Chevrolet, and Chuck Jordan. The underpinnings might have been from the lowly Kadett, but the finish and execution befitted the beautiful shape, with the bodies built by Brissonneau and Lotz in Paris.
How much is your car to insure? Find out in four easy steps.
Get a quote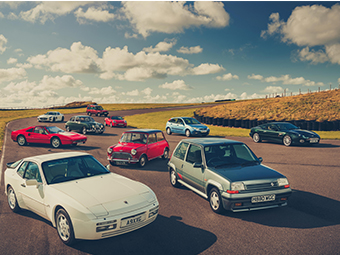 The Opel GT was launched in 1968, with an 1,110cc OHV motor and an SOHC 1,900cc unit, which gave it considerably more get-up-and go, at the expense of only having a 3-quart sump (so don't forget to check the oil). The layout was conventional, with transverse leaf independent front suspension and live axle located by trailing arms and Panhard rod at the rear. Brakes were disc/drum and the GT had rack-and-pinion steering. The engine was set far back, to achieve 54/46 perecent weight balance.
The hidden headlights were manually retracted with a console-mounted lever that flipped them over sideways. There were four round taillights in the rear but no opening boot lid, in the interests of structural rigidity. The exhaust led back to a lateral silencer, with dual outlets, and while it seems a bit clunky, the location enabled it to be raised somewhat, and besides, nobody has ever come up with a better arrangement.
Visibility was generally good, despite the low stance; the two seats were comfortable; and there was a fair amount of interior space behind the seats, where the spare wheel and jack were hidden by a vinyl curtain. Gauges resembled the Corvette C3, though the Opel GT had a cool row of rockers switches, while the Corvette did not. With only 90 bhp, one might not expect much performance from the Opel GT, but you'd be surprised. Even though 0-60 only comes up in about 10 seconds, the wind-tunnel research at the University of Stuttgart really pays off at higher speed, including surprisingly little wind noise. Top speed for the 1900cc model is listed at 115 mph, but I've seen 130 mph from a car that had not been treated kindly.
Handling was deemed 'mostly harmless,' which is faint praise; however, lateral Gs in a slalom vary quite a bit from left to right, with only the driver in place. In search of more power, many owners substituted Weber carburetors, but though this improves 0-60 times, the original Solex 32/32 setup was designed to have a ram-air effect, with an intake low in the nose, contributing to the high top speed.
The cars suffer from rust, though breakers are surprisingly reluctant to actually scrap them, so parts can be found. Electronic ignition is a good upgrade, as the 1900s are hard on points. Also check the wiring harness around the headlights. The rollover motion of the lights is inclined to crack older wiring, with inflammatory results.
More than 70,000 of the 103,373 Opel GTs built between 1969 and 1973 were sold in the United States, but the daft U.S. bumper regulations for 1974 doomed the design. While not uncommon on the continent, the lack of RHD renders them an oddity in the UK.
A pathetic auto transmission option was available, and many nice survivors are so equipped, but it's possible to switch back to a manual gearbox — or even better, find a ZF 5-speed. The Datsun 240/260Z was the GT's principal competition and benefitted from a six-cylinder engine. However the Z's super-thin sheet steel was even more drastically affected by rust, and ironically, good survivors are rarer than good Opels.
Every obscure model with something going for it has its patron saints. If you can't find what you're looking for in the UK, try the Opel GT Source of (non-rusty) Sonora, Calif., (www.opelgtsource.com), which also reproduces hard-to-find parts like taillight lenses.
As mentioned above, the Opel GT was only built in left-hand drive, and there was only one convertible Aero GT show car made in 1969. The 1,100cc OHV engine is hard to find, but apparently capable of truly remarkable mileage figures — in the high 40s — and practically unburstable. Performance predictably suffers with the smaller engine.
If you're interested in building a wolf in wolf's clothing, be aware that the later Bosch fuel-injected Manta 2.5-liter is a relatively easy transplant, if you can find an engine. There was also a Turbo Manta sold in the UK, but never in the U.S.
Having stoked the fires, here's why you might consider such a project: Check out Virgilio Conrero's race record in the early 1970s. He had been tuning Alfa Romeo 1,300cc and 1600cc coupes and dominating his classes, so GM asked him to give the Opel GT a try. Conrero punched out the engine to an even two-liters, bumped compression to 11:1 and fitted Weber 45 DCOE carburetors.
With racing exhaust, power jumped to 190 bhp, 0-60 time fell to 6 seconds and a quarter mile was cut to 15 seconds at 150 mph. Top speed was somewhere north of 170 mph. By the time Conrero had finished with the suspension, the baby Corvette won the GT2.0 class at the 1970 Targa Florio and came in 9th overall. If you get the tuning bug, contact Conrero at: www.conrero.com/en/the_company.htm