Why you want one: The best two-seat sports car ever built and an ideal first collector car

Years built: 1989-2013
Production: 900,000 (Feb 2011)
Engine: 1.6L/1.8L DOHC 4-cylinder
Horsepower: 116-167hp at 6,500 rpm
Top speed: 115-127 mph
The Mazda MX-5 can claim to be the most successful sports car ever built. Certainly it's the most successful roadster, as despite their 59-year production, many Chevrolet Corvettes were coupes.
How much is your car to insure? Find out in four easy steps.
Get a quote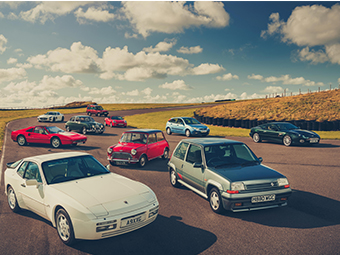 The Miata, as it's known in America, was a mid-'80s project, with teams working on the idea in both Japan and California. The Japanese team was fixated on front engine, front-wheel drive or mid-rear engine, rear-wheel drive, but American designer Tom Matano and his design crew had grown up with European sports cars and favored the front engine, rear-wheel drive approach.
"Three of us drove sports cars in college," he told me in 1990. "An MGB, a Triumph Spitfire and a Fiat 124, and we thought, 'Wouldn't it be great to have one that actually worked?'"
Their model, and the most obvious one when you think about it, was Colin Chapman's brilliant Lotus Elan, with its 1600cc, twin-cam Ford engine, spine frame and independent suspension all round. Happily the Mazda team upped the dimensions, so an average American could enjoy driving the car, and planned to build the car out of steel instead of integrating Lotus's fragile and troublesome fiberglass body. The pop-up headlights remained. At the time, the only remaining traditional roadster in serious production was the Alfa Romeo Spyder, also a twin-cam four-cylinder.
The Miata – it actually IS a word, by the way, meaning "reward" in old high German – is actually credited to Motor Trend magazine writer Bob Hall, speaking with Mazda executives Kenichi Yamamoto and Gai Arai, head of Research and Development at Mazda in Tokyo in 1976. Yamamoto and Gai Arai asked Hall what kind of car Mazda should make in the future; Hall suggested a "bugs-in-the-teeth, wind-in-the-hair, inexpensive British roadster." In 1981 Hall went to work for Mazda U.S., and when he met Yamamoto again, he was given the go-ahead to look into his idea.
When the first generation (NA) MX-5 launched as a 1990 model, it boasted at 1.6-liter, 116 bhp motor, with a 5-speed transmission, rack-and-pinion steering, independent suspension, disc brakes all round and a brilliant top which could be raised and lowered with one hand. The first cars were red, white or blue, with an optional hardtop, and weighed only 2,150 lbs. They were sold as the Miata in North America and Australia and as a separate line, the Eunos, in Japan. In 1994, the engine was increased to 1.8 litres and power increased to 130 bhp. Be aware there was also a feeble 90 bhp model offered only in the UK from 1995-98.
The original cars were very simple, with steel wheels, no air conditioning or power steering, and wind-up windows. They sold in the U.S. for $13,995 (£8881) at launch. The "A Package" added power steering, a leather-wrapped steering wheel, aluminum alloy wheels and cassette stereo. The "B Package" included power windows, with cruise control and headrest speakers, while the "C Package" included a tan interior and top and leather seats.
The "R Package" was for racing, and annual special editions were "M Editions." These included all of the luxury options from the "C Package" as well as special paint and special wheels. In the UK, to celebrate Mazda's Le Mans win, Mazda built a special edition of the MX-5, with the winner's color scheme and Brodie Brittain Racing turbo conversion. This is one of the most sought-after special editions.
The NA MX-5 was phased out with the 1997 model year with the exception of 400 limited edition Berkeley models sold in the UK and 1500 "STO" ("Special Touring Option") versions made for the U.S.
The NB of 1998 can be recognized by its fixed headlights, and the significantly restyled NC followed in 2005, gaining a retractable hardtop in 2009. The original NA models have the most charm, and there are many around to choose from.
The MX-5 is relatively bulletproof, the only essential maintenance, apart from oil changes and brake pads, being replacement of the timing belt every 80,000 miles, or about five years. Do the water pump at the same time.
Expect the vinyl soft top to last about 5-7 years, and replace it with one with the later glass rear window, which will mean you don't have to unzip the plastic window when you drop the top, or risk a dull wear strip where it rubs while folded.
It's not uncommon for lifters to tick at cold start, though that could mean the oil needs changing, so check how clean it is. Don't forget that 1990-92 cars will have R12 Freon in the air-conditioning and the seals will need to be changed before you can charge it with R134.
Rust can be a problem in maritime climates or places where roads are salted, but it's pretty obvious and will show up in rocker panels and wheel arches. Also check that the drains in the back fenders are not blocked. The back panel around the trunk and license plate is one piece and is expensive, so check it's not broken. Also check the trunk floor to make sure the battery hasn't leaked and rusted it, and see that the tools and jack are in place.
MX-5s in good condition are delightful to drive, tight and not squeaky, with light clutch, positive brake feel and very smooth transmission. With 50-50 weight distribution they are extremely forgiving and can be thrown around with abandon on twisty roads.
Many MX-5s were bought as second cars and have been garaged all their lives, so check postal codes and try to buy from prosperous sellers. There's a fairly narrow range of colors with a few nice options like BRG and bright yellow but beware of repaints and color changes and start looking for crash damage and checking rocker panels with a magnet. Standard colors for the NA are red, black, white, blue and silver. For the NB colrs are red, green metallic, bronze, silver and black. Original hardtops always match the body color.
Cheap sports cars are always a bad idea. Buy the best you can afford; one owner or at least one family. Do your homework: Read The Essential Buyer's Guide to the MX-5 Miata by Carla Crook; 64 pages £9.99, www.velocebooks.com.
A good way to buy any specialist car is to contact one of the clubs and see if there are any good cars for sale. Quite often, cars become available when a real buyer appears. Try Club Roadster (www.clubroadster.com), Mazda MX-5 Community (www.MX-5.com), MX-5 Owners Club UK (www.mx5oc.co.uk), MX5nutz (www.mx5nutz.com) and Miata.net (www.miata.net).