The Jensen Interceptor was as much an artifact of the late 1960s and early 1970s as go-go boots cologne and quadraphonic stereos. It was built to cruise across any continent with paved roads in absolute comfort and safety.
Jensen employed the Italian styling house of Touring of Milan to design the car, and bodies were initially built by Vignale. The Interceptor saloon's giant opening-glass rear-hatch/boot presaged the similar feature on the Porsche 924 by more than 10 years; it was the only styling element of the car that was controversial. Build quality and rustproofing by Vignale, however, left much to be desired.
How much is your car to insure? Find out in four easy steps.
Get a quote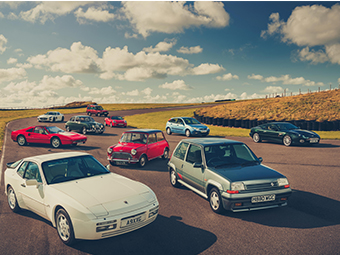 Mark I and II Interceptors were powered by 383 cubic inch (6.8 litre) Chrysler V8s. These were the most powerful and best-performing cars. Later cars acquired the low-compression 440 (7.2 litre) V-8, which became steadily emasculated by U.S. emission controls as the 1970s dragged on. Almost every Interceptor came fitted with a Chrysler TorqueFlite 727 automatic transmission.
Interiors came in three basic designs — Mark I cars had the main instruments set in binnacles and included indecipherable Italian switches. Mark II cars had rather plain but handsome black vinyl-covered fascias with full instrumentation, no wood trim and a rather cool drilled steering wheel. Early Mark III U.S.-market cars added a bit of wood to the center console and a new padded two-spoke "safety" steering wheel that seemed to have no purpose other than to stimulate Nardi and Moto-Lita sales. Late Mark III cars added more wood to the main fascia.
All were comfortable and covered in enough Connolly Brothers cowhide to make a sofa, a loveseat and several chairs. Because of the expense of re-doing an Interceptor interior versus the values of the car, many people skimp and use vinyl. It just kills the character of the car. Try to find one with a well-preserved original interior.
Mechanically, the Interceptor was obviously not as sophisticated as a Ferrari or Aston Martin of the day, lacking the overhead cams, exotic sounds and independent rear-suspension of A-list exotics. However, unlike a Ferrari or an Aston, many of the mechanical parts are as close as the corner auto parts store or available inexpensively from the U.S..
Jensen introduced a full convertible in 1974 and an odd notchback coupé for 1976. The convertible — which makes a truly credible alternative to an Aston Martin V-8 Volante — along with the ultra-rare all-wheel-drive FF and 440 SP models (three twin-choke carburettors) are the most collectible Jensens.
The two most frequently cited problems with an Interceptor center around wiring and under-the-bonnet heat which can put tremendous strain on the forward section of the harness.
Interceptors are complicated cars with air conditioning, power window lifts, and Lucas rocker switches for everything, including dual-tone horns. You would do well to check the wiring thoroughly on any Interceptor.
Other issues are leaky power steering racks and brake calipers, worn-out brake servos and rampant body rust. All should be rather obvious. The racks can be easily rebuilt; and calipers and brake servos, which are Girling parts, are reasonably available.
While most mechanical parts are dead simple to find, things like wheels, minor trim and non-windshield glass can be a little challenging to source, although there are several specialists in the UK who can supply new parts and regularly break rusty or wrecked cars. Richard Appleyard Part & Service, Ltd. is an excellent resource. You will, however, pay a fairly tidy sum for unique to Interceptor bits– heaven help you if you need a back light for a coupé or a set of tail lamp lenses. Body rust is another issue entirely. Some Interceptor paneels are available, but it's best to avoid a rusty car to begin with.
Under-the-bonnet was paint-bleaching fierce on these cars. The louvered bonnets of post-1972 cars alleviated things somewhat but unchecked, the heat could cause some severe problems. Engine compartment fires were not unheard of, the result of heat-perished petrol lines. Interceptors were also known for boiling in traffic. An oversized radiator and modern efficient Bosch electric fans timed to stay on after shutoff are a big help, as is relocating the battery to the boot.
Until recently, there had been little interest among collectors in the Interceptor. Part of the reason is the fact that decent ones were rarely seen at public auctions. On the rare occasion that a good saloon or convertible shows up, bidders will respond with respectable bids of the high teens to low 30s for a saloon and about twice that for a convertible. The ultra-rare coupés can bring near convertible money. Cars with significant needs can still be found for well under £8,000.
It makes little to no sense to try to restore an Interceptor from top to bottom — the cost of paint and interior alone will put you far underwater. Spend a little more and get the best one on the market — it will be far cheaper in the long run. A fine Interceptor can be expected to appreciate moderately while costing very little to maintain.