Well-preserved Canadian-built fighter is one of only 12 survivors still flying. Having just flown to Russia and back, it's still making history as it comes up for sale in England
It's hard to put a price on history, but Bonhams is looking to do just that on December 3rd. A 1942 Hawker Hurricane fighter Mk IIa #5711 (G-HURI) is scheduled to cross the block in a Collector Car and Automobilia auction at Brooklands race track in Surrey.
It's estimated to bring £1.4-£1.7 million ($2.25-$2.73 million), which seems like a bargain compared to a £20 million ($30 million) Ferrari GTO. The last Hurricane to come to market was an airworthy 1940 Mk1 offered by Bonhams and Goodman in New Zealand in September 2009. It stalled at £1.3 million ($2.1 million), just short of its reserve.
How much is your car to insure? Find out in four easy steps.
Get a quote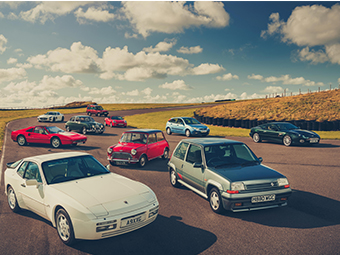 The Hawker Hurricane and the sleek Supermarine Spitfire made history in the summer of 1940, when a mere 463 Hurricanes and 286 Spitfires held off the 2,500-strong German Luftwaffe, as they attempted to bomb Britain into submission. Britain was the last Western European country to hold out against the Nazis, and as Prime Minister Winston Churchill famously declared: "Never in the field of human conflict has so much been owed by so many to so few."
Ironically, Brooklands is now known as Mercedes-Benz World – the company whose engines powered the Dorniers that bombed England in WWII – but it's a suitable venue for the Hurricane sale. Brooklands is the spiritual home of the single-seater fighter designed by Sidney Camm in 1935. More than 3,000 Hurricanes – almost one fifth of the 14,533 in service from 1937-44 – were actually built on the site of the old race track.
Nowadays, a Hurricane is much rarer than a Spitfire, about 50 of which are flying (and 24 more of which have recently been found in Thailand, unused and stored underground). Only a dozen Hurricanes are airworthy, which may be partly due to their construction. While the Spitfire was an all-aluminum monocoque, the Hurricane retained a fabric-covered, wood-braced fuselage and tail, over its separate frame. This actually made it more durable when shot at, but more susceptible to the ravages of time. Such construction was obsolescent by the start of WWII, and the tough old fighter was gradually transferred to other theaters, as the Typhoon tank-busters, and Tempest, Typhoon, and American Thunderbolt and Mustang fighters arrived.
Of the 8,406 Hurricane Mk IIs built, 2,952 were sent to the Soviet Union, and the Canadians developed skis for operating in winter conditions. The Fleet Air Arm used Sea Hurricanes with arrester hooks for flying off aircraft carriers, and there were even catapult-launched Hurricanes on ships guarding the Atlantic convoys against the long-range, four-engine Focke-Wulf Condors, which would transmit convoy locations to submarine wolf packs. Alarmingly, this meant the pilot had to ditch in the sea, but after a few Condors had been shot down, the presence of the fighter proved to be a deterrent. The Allies eventually cracked the submarine radio codes, and the hunters became the hunted.
Not as fast as the Spitfire, the Hurricane was considered by pilots to be much more forgiving, with a sturdy wide-stance undercarriage that folded inwards, as opposed to the Spitfire's narrow outward-folding wheels. It also had a much better forward view, so the pilot didn't have to "weave" to see around the nose when taxiing. With a 316 mph top speed, the Mk 1 Hurricane wasn't as fast as the 346 mph Spitfire, and the Battle of Britain plan called for Hurricanes to attack the German Heinkel 111, Dornier 217 and Junkers JU 88 bombers, while the Spitfires held off the 348 mph Messerschmitt Bf109 fighters overhead. Radar also gave the British pilots warning of German raids, and they were often waiting for the aggressors.
One of the Hurricane's key advantages came to light at this point, as a ground crew member of both Spitfires and Hurricanes observed: "If we'd had nothing but Spitfires we'd have lost the fight in 1940. The turnaround time on the ground was critical, and relatively so poor on the Spitfire that 'Jerry' could not have failed to get us. The Spitfire I and II took 26 minutes to turn around, compared to a Hurricane's nine minutes maximum. That is, complete service – re-arm, refuel and replenish oxygen – from down to up again."
Fortunately, both British fighters could out-turn their German opponents, which were also operating at the limit of their fuel range and could only spend about 20 minutes in a dog fight. Flying over their home country also meant that if RAF pilots bailed out unhurt, they could get back to their airfield and into another plane, instead of heading for a POW camp.
The Hurricane produced a number of fighter aces during the Battle of Britain, including the legless, legendary Douglas Bader, an enthusiastic proponent of the 12-gun variant's added punch and 'big wings' of multiple squadrons. Bob Stanford-Tuck and 'Ginger' Lacey also scored many victories in Hurricanes.
Czech RAF Hurricane pilot Josef Frantisek downed at least 17 enemy aircraft during September–October 1940. Wing Commander Frank Reginald Carey CBE, DFC & Two Bars, AFC, DFM, claimed 28 while flying Hurricanes 1939–43. Squadron Leader William 'Cherry' Vale DFC & Bar, AFC, downed 20 over Greece and Syria, while the Greek Campaign saw the Hurricane 'ace of aces' emerge as Squadron Leader Marmaduke Thomas 'Pat' Pattle, DFC & Bar, with a score of 35, before he was shot down. Another Czech ace was Flt Lt Karel Kuttelwascher, with 18 victories.
Most notably, Fighter Command's only Victoria Cross of the war was awarded to Flt. Lt. James Brindley Nicolson, who shot down a Messerschmitt 110 in his burning Hurricane. Nicolson then bailed out, only to be shot at by home guard troops. He survived, but died in a crash in India on 2 May, 1945, two days before Germany's surrender. He was 28.
The rugged Hawker Hurricane's ability to absorb combat damage became legendary and many returned from combat as badly shot up as American Boeing B17 bombers in unescorted daylight raids. Some pilots trusted the plane's toughness so much, they rammed their opponents when they'd run out of ammunition.
Pilot Officer 'Ken' McKenzie returned with the starboard wing-tip of his Hurricane missing after he used it to break off the tail off a Messerschmitt 109, while Sgt. Ray Holmes rammed a Dornier 17 and bailed out over London on 'Battle of Britain Day' – 15 September. The Luftwaffe's 1,000-plane raid on that date led to such losses that Goering gave up daylight bombing.
The Nazis turned to night raids and by 1941, the Blitz was in full swing. Fortunately the up-graded Hurricane II had arrived with a two-stage supercharger and either 12 machine guns, or four 20mm cannon. Hurricane pilot Flt. Lt .R. P. Stevens DSO DFC was the most successful RAF night fighter of the Blitz, using exceptional night vision to down 12 German bombers.
By 1942, up-rated Spitfire MkVs and the new Mk IXs were battling Focke-Wulfe 190s and Messerschmitt Bf190Gs over Europe, and the Hurricane was shifted to other theaters of war, such as Africa, Malta, Russia and the Far East. The plane on offer comes from further afield, being one of 1,400 Hurricanes built under license by the Canadian Car & Foundry Company, in Fort William, Ontario. It was exhaustively researched by historian Doug Nye.
Hurricane 'G-HURI' – identified structurally as '5711' and '72036' – was built in Canada in late 1942, and records indicate it was retained for home service. On 18 August 1943, it was with 123 Squadron, based at Debert, Nova Scotia, and designated as an army co-operation training squadron. In late 1943, 123 Squadron was transferred to RAF Wellingore, Lincolnshire, England, but left its Hurricane aircraft behind. Number '5711' was transferred to 127, then 129 Squadrons at Dartmouth and finally to No. 1 Operational Training Unit, at Bagotville. It flew defensive patrols along Canada's eastern seaboard, but unfortunately no photographs exist. Hawker Hurricane '5711' was 'Struck off Charge' by the RCAF in 1947.
At this point, it appears to have been acquired by a farmer in Saskatchewan, reportedly for its engine. The story bears a remarkable resemblance to that of another Canadian Hurricane, '5667', which was bought for $100, dismantled and stored in a Saskatchewan barn from 1947-65, with the wing towed by the farmer behind a tractor to break up dirt clods. In 1965, '5667' was bought by Neil Rose of Portland, Ore., and restored, finally flying again in 1994. It's currently at the Gerald Yagen/Fighter factory/Training Service in Virginia Beach, Va.
'5711' (G-HURI) is one of two Hurricanes acquired by Lynn Garrison, who established the Aircraft Museum of Canada in 1964. It was acquired by the Historic Aircraft Collection in 2002, received an 18-month overhaul and emerged as it now appears in 2004.
It has been repainted to represent Hurricane Mark IIb, 'Z5140', of 126 Squadron which was based at Takali aerodrome on Malta, during the Axis siege of the Mediterranean island, whose inhabitants were jointly awarded the George Cross for bravery.
The contemporary squadron codes for No. 126 Squadron were 'HA', while the individual letter for airframe serial 'Z5140' had been 'C', thus 'G-HURI' became 'HA-C'. Coincidentally, these letters also represented its owners, the Historic Aircraft Collection.
During their years of ownership of 'G-HURI' the HAC went to great lengths to reintroduce authentic equipment. This included the discovery of a brand-new Merlin 29, to exactly the correct specification and which replaced the Merlin already in the plane. 'G-HURI's only modern equipment is the radio, seat harness and long-range fuel tanks fitted discreetly into the gun bays.
This Hurricane is still making history today. In its current livery, 'G-HURI' has flown as a tribute to 'The Epic of Malta' and in particular honour of an Australian pilot, Sgt. Jack Mayall, who was killed in the original 'Z5140' in Malta, on 10 March 1942. In tribute to that heroic aerial defence, 'G-HURI' was flown to Malta in September 2005, along with HAC's Supermarine Spitfire Mark V, to take part in the "Merlins Over Malta" project. This aircraft was the first Hawker Hurricane in many decades to return to that historic battlefield.
In August 2012, this much-traveled old warrior flew to Russia to participate in the centenary celebrations of the Russian Air Force, near Moscow. In so doing, it was the first Hurricane to fly in Russian skies since 2,952 were sent there in Arctic convoys in 1941.
'HA-C' was flown before President Putin by its regular pilot – serving RAF instructor and display specialist Flt Lt Dave Harvey. He then flew home via Lithuania, Poland, Germany and Belgium, completely trouble-free. 'HA-C' completed some 21 operational hours before returning to its longtime home within the Imperial War Museum at Duxford, Cambridgeshire.
After its initial storage and rescue in Canada, 'G-HURI' was acquired by the Duxford-based Fighter Collection, in whose tenure it was painstakingly restored to airworthy condition under the direction of specialist engineer Paul Mercer. The Fighter Collection later operated it in a comprehensive programme of airshows, displays and film work between 1989 and 2002.
This Hawker Hurricane was then acquired by the HAC, in whose hands it has been impeccably maintained ever since. It has been flown by them continuously since 2004.
Unlike most of the few other airworthy Hawker Hurricanes, G-HURI has always been regarded as a complete airframe … substantially preserved 'in the metal'. It is not a so-called "data-plate reconstruction" embodying mostly new parts, replicating or replacing the contemporary originals. Civil aviation authorities strictly monitor the structural and mechanical integrity of such aircraft before permission to fly is certified, and G-HURI complies fully with such requirements. Even with essential repairs, it is estimated that as much as 65-70% of the machine's intrinsic fabric is original.
Very few other airworthy Hurricane aircraft can boast such provenance. Its loved, but well-used character is evident, as is the very patina of an 'in-service' wartime Hurricane fighter. It also has legendary status as an iconic symbol of Great Britain's unaided survival against the Nazi onslaught of 1940. The current vendors may be prepared to continue operating and maintaining G-HURI for its new owners.
In case you're wondering what a Hurricane would cost to operate, pick up a Haynes Owner's Manual for the Hawker Hurricane (really) by Paul Blackah MBE and Peter Lowe for £18 ($29.19) http://www.haynes.com/products/productID/670. Costs are comparable to a Spitfire, which is not encouraging to mere mortals. Expect third party insurance to cost about £6,500 ($10,000) a year, insuring the plane for total loss is around £65,000 ($100,000).
Spares are expensive too: expect to pay £40,000 ($60,000) for a propeller hub, £8,000 ($13,000) for a single blade. Tires cost about £500 ($800) each, and are only good for 30 landings on tarmac. While you're in the air, you'll be burning £8-10 Avgas ($6-9 in the US) at the rate of 40 gallons an hour, which gives you about two hours flying time at a cost of £650-800 ($500-$700 in the U.S.) Altogether, estimate flying costs at about £3,000 ($5000) an hour, including maintenance.
While a genuine Battle of Britain survivor would probably bring three to five times as much, £1.5 million ($2 million) for such a well-preserved and functional WWII fighter does seem like a bargain. Especially compared to a £20 million ($30 million) Ferrari GTO. Why the discrepancy? Classic car collector Bob Ames, himself a director of Bonhams, put his finger neatly on the difference. "How many people can fly one of these?" he asked. "Anybody can drive a car."
Technical Specifications
Wing Span: 40.0ft (12.19m)
Length: 32.2ft (9.81m)
Height: 13.0ft (3.98m)
Power Plant: 1,460hp Packard built Merlin 29
Weight: 8,100lb (3,674kg) loaded
Maximum Speed: 322mph (518km/h)
Service Ceiling: 32,100ft (9,785m)
Range: 900 miles (1,448km) standard
Armament: 12 x Browning .303 machine guns
Current operational data
Airframe hours 464.25
Engine hours 171.05
Propeller hours 171.05

Avionics Equipment – Becker x 1 radio, Becker x 1 transponder along with Mode S

Annual due 03/04/2013
Permit due 12/07/2013
Propeller o/h 25/03/2016

Engine serial no: A265386