You may have noticed that here at Hagerty we love to use our classics, and we encourage all our policyholders to drive their vehicles as much as they can. We also know how much fun a European tour can be, either to an event such as Le Mans, a show such as Techno Classica or just a leisurely jaunt to a destination of your choice.
All our annual classic policies come with 90 days European touring cover as standard, and this won't change after Brexit. However, if you are planning a trip to the Continent after 29th March, other regulations will change. This guide highlights the key changes and will hopefully prevent you falling foul of any problems.
How much is your car to insure? Find out in four easy steps.
Get a quote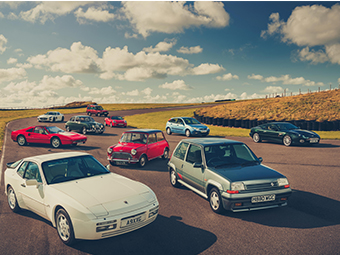 The Green Card
From 29th March regardless of whether there is a deal or no deal, it is expected that any travel into Europe by car or bike will require a Green Card.
This will replace the European Certificates of Insurance that have traditionally been issued from UK insurance companies who have an agreement with the EU to allow UK citizens to travel under one simple certificate of insurance.
The certificate will now be replaced by a European Green Card. Essentially, this will be a letter of confirmation that the bearer of the paper has an insurance policy in place with a UK insurance company, although the actual language for these new Green Cards is still unknown.
Cost: Nil
Where do you get them? Your insurer. Hagerty customers drop us a line or call us if you're planning a European trip.
More information: enquiries@hagertyinsurance.co.uk
International Driving Permit
In addition to your UK driving licence, motorists may be required to purchase an International Driving Permit (IDP) to be able to legally drive on European roads post-Brexit. This is likely in the event of a no-deal Brexit.
Two different types of IDP are used in the EU, depending on which countries you plan to visit. These are:
1949 IDP. Malta, Spain, Cyprus and Ireland. This is valid for 12 months. Please note that in January 2019, the UK Government advised that an IDP would not be required to drive in Ireland post-Brexit.
1968 IDP. Travel through other EU countries. Valid for three years, or until the expiry of your driving license (whichever is sooner).
Cost: £5.50 each
What you'll need: Proof of ID, current driving license, passport photo.
Where do you get them? Main post offices.
More information: https://www.postoffice.co.uk/international-driving-permit
Environmental/ Low Emissions Zones
Hundreds of towns and cities in Europe now have environmental or 'Low Emission Zones' (LEZ). These prevent all but the newest and least-polluting vehicles from entering them, which in some countries are required to display a sticker that can be purchased from official local outlets.
Although regulations vary from country-to-country, most offer exemptions for classic cars which are those defined as being over 30-years-old and registered in an EU or European Economic Area country. It is possible that this exemption could cease for British-registered classics after Brexit. If this is the case, the only option is to plan a journey that avoids the LEZ areas.
Cost: Nil
More information: https://www.green-zones.eu/en.html
Passports & Visas
If there's a no-deal Brexit, it is likely that you will not be allowed entry to the EU (except Ireland) if your passport is within six months of its expiry date (as is the case with the rest of the world). If you previously renewed your passport before its expiry, the time left may have been added, which doesn't count. Check the link below for more information.
Under the Brexit deal drafted at the end of 2018, visa-free travel should continue as it currently stands until the end of the transition period, but in the event of a no-deal, confirm the arrangements before you travel. It is likely that visa requirements will be waived by reciprocal agreement.
Cost: To be confirmed.
More information: https://www.gov.uk/guidance/passport-rules-for-travel-to-europe-after-brexit
Hagerty wish you safe and enjoyable continental motoring this summer.