Everyone in the classic car world knows how hard it is to value an AC/ Shelby Cobra. There is such a confusion of models, types, continuations and replicas that make it a minefield, even if the chassis number has the charmed 'CSX' prefix, denoting that the divine hand of Carroll Shelby had touched the car.
That said, there are three Cobras that stand out from the rest: the only prototype (CSX2000), the first production car (CSX2001) and the first works racing car (CSX2002). The fourth book in Porter Press's Exceptional Cars series tells the story of these three machines in a visual treat by Gordon Bruce.
How much is your car to insure? Find out in four easy steps.
Get a quote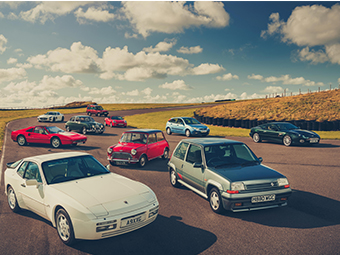 The result is, as ever, delightful to read. There's something for everyone: a great layout, amazing photographs and simple chapter focus to attract those generally interested in classics, but there's also a huge amount of hidden detail that Bruce has unearthed for the Shelby or Cobra buff. Build photos of the prototype in Dean Moon's garage in Santa Fe Springs, with his staff rubbing the bare bodywork down with Brillo pads; a period newspaper 'for sale' notice for CSX2001 stating that it is "Ideal for swift competition at Watkin's Glen or for elderly lady commuting to super market (sic)"; it is tiny details like this that make this series of books come alive. As usual, every aspect of the cars is dissected, from the design development of the AC Ace from the original Tojeiro roadster to a biography of all major players in the story: Ken Miles, Peter Brock, and of course Shelby himself.
There's also the usual superb quality studio photographs of the cars. These capture superb and interesting little details that others would miss: a wheel removed to study the brake calliper; CSX2002's battered original door mirror, the prototype's boot trimming.
The book ends with a chapter describing the development of the model range – a handy guide, given the statement I started this article with.
All in all, Bruce's story of the first three Shelby Cobras is a really good book – full of facts and beautiful to look at. It is available from www.porterpress.co.uk for £30, ISBN 978-1-907085-55-0