The Jaguar XK8 and XKR represent a genuine attempt by Ford to recapture a bit of the E-Type's magic – if you can live with an automatic transmission

The XK8 was launched in 1996 and represented a new start for Jaguar, now firmly in Ford's control. It replaced the XJ-S, which had been in production for 20 years, during which time it had been grumbled about by purists as a lumbering tank and poor successor to the E-Type.
The XK8 and its high-performance sibling, the supercharged XKR, which appeared in 1998, combined the essence of the original E-Type with modern conveniences like air conditioning, power windows and a power top.
How much is your car to insure? Find out in four easy steps.
Get a quote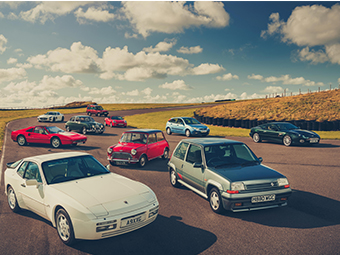 The XK8 also bore a marked resemblance to the Aston Martin DB7, which was also designed by Ian McCallum, as both companies belonged to Ford at the time.
The heart of the XK8 was a new 4-litre, 290-horsepower, AJ V-8, which did away with both the expensive V-12 and the unrefined 6-cylinder. The engine rested in a modified XJS chassis with high-quality leather interior, and it was available in both coupe and convertible.
Sadly, no manual transmission was ever offered, which propelled it straight into country-club and boulevardier ownership, though perhaps to better maintenance and less use.
Thorley offers through inspection guidelines, both summary and in-depth, and points out known weak spots in the cars – front suspension, the need for regular transmission maintenance, dubious timing chain tensioners, water pumps that can scatter their plastic vanes throughout the limited cooling system, areas to watch for rust, complicated and expensive headlights which have moisture problems. Even little issues like disappearing electronic dashboard graphics and stubborn warning lights can be very expensive to correct.
Thorley stresses that competent maintenance and full records are vital for a car that is beyond many enthusiasts' capability to work on. He also observes that the XK8 isn't really collectible yet, so any serious work will be a losing proposition for a while. With 66,518 XK8s, and 23,856 XKRs built, they aren't rare, either.
Nevertheless, Thorley points out that the XK8 and XKR are legitimate successors to the classic Jaguars of the past and good examples can reward their owners with thousands of miles of trouble-free use — if you buy the right car.
Provenance: ***
Nigel Thorley is clearly well-versed in Jaguar XK8s and XKRs and the only real complaint is the lack of information about his background. It's a similar grumble to his Mk1 & Mk2 book. Even online searching reveals sparse details, beyond his being a founding member of the Jaguar Enthusiasts Club and having written about a dozen Jaguar books. So he gets 3-stars, but the book gets none for not telling us about him.
Fit and finish: ***
In common with other Essential Buyer's Guides, production is excellent. It's perfect-bound with glossy cover, clear typography, useful photographs, checklists and statistics, and it's pocket-sized for convenience.
Drivability: ***
A buyers guide to a car you probably can't work on yourself is vital. This book enumerates problems you absolutely MUST find, if they exist, as a number will be deal-breakers. It's something to show to a seller when he tells you "Oh, they all do that, sir."