Veloce have just released the 4th edition of Jonathan Wood and Lionel Burrell's superb MGB, the Illustrated History, which now includes the artwork of Graeme Jenner and traces pictorially the model's evolution over an 18-year period.
Jonathan Wood has 35 books to his credit and has twice won the Guild of Motoring Writers' Montagu Trophy. Lionel Burrell was, in 1973, the originator of Classic Car magazine, and was later managing editor of The Automobile magazine.
How much is your car to insure? Find out in four easy steps.
Get a quote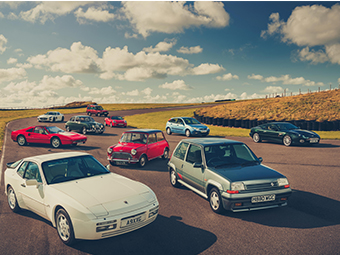 The book is what we have come to expect from Veloce: packed full of high-quality and unusual photographs and including details from a wide range of people involved in the production of this iconic classic including contributions from the original design team. A foreword by John Thornley OBE, general manager of the MG Car Company from 1952 to 1969 sets the scene, then there's a short history of the company to set the scene.
Even as a non- MG enthusiast, I found the chapter on the design and development of the MG to be fascinating. Pictures of Frua-styled roadsters and GTs are stunning, and design cues can be seen leading through to Don Hayter's definitive MGB design. The development of the prototypes is catalogued with many photographs, leading to the production car which is shown in numerous pictures both old and new. Changes in design through the BMC and then the Leyland years are shown in detail, before specific chapters on the MCG and MGB GT V8.
Competition history is also covered, looking at all major races including Le Mans, Sebring, and the Targa Florio, then quite a substantial chapter on the MG RV8. Finally, a detailed series of appendices will prove to be very useful for any restorer or owner.
In all, the book is a very comprehensive and visually-pleasing record of one of Britain's best-loved classic roadsters, the MGB.
MGB, The Illustrated History, ISBN 978-1-787113-62-6 is available for £35 from Veloce Publishing Ltd at www.veloce.co.uk