Philip Porter and James Page's eighth book in the 'Great Cars' series is an extensive autobiography of the iconic Jaguar E-Type Lightweight '49 FXN' which features a detailed account of the car's many owners over the years illustrated by nearly 300 glossy images, which tell the fascinating tale of its journey.
The car, more commonly known by its number plate, 49 FXN, was originally driven by Peter Lumsden and Peter Sargent, and famously given an aerodynamic makeover by Dr Sami Klat for the 1964 season. The car proved it was one to watch after running third in the GT class at Le Mans in the same year until it was forced into retirement, and at the prestigious Tourist Trophy at Goodwood, where it placed fifth in the GT class, which made it the best-placed E-Type at the event.
How much is your car to insure? Find out in four easy steps.
Get a quote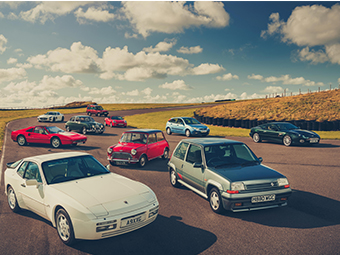 As well as proving itself to be a strong competitor in the 1960s, the lightweight E-Type continued to compete going into the 1970s, and in the latter half of that decade moved to California to race. In recent years, the car has been involved in displays and historic racing at various events including the Goodwood Festival of Speed and the Goodwood Revival. With careful maintenance, 49 FXN has managed to race almost continually for over fifty years and still retains its recognisable features, such as its elongated nose and alloy wheels.
This 320-page book gives in-depth accounts of 49 FXN's full modifications, especially in 1963-'64 and the vast number of photographs each come with an informative description. The book also features comprehensive results of each event the car competed in, with details of how it did in comparison with other competitors.
The book is divided into eight parts, which help the reader to distinguish the different episodes in 49 FXN's history, with each part featuring one or more chapters, to ensure that the reader is fully informed about all the up and downs of its history. Porter and Page also include many personal insights of 49 FXN's history from various sources, including double page spreads from Lumsden and Sargent.
If you're looking to learn more and deepen your understanding of Jaguar's Lightweight E-Type, especially 49 FXN, or are simply interested in Jaguar's racing heritage, then this is the book for you.
'Jaguar Lightweight E-Type, The Autobiography of 49 FXN' RRP £60, is available from Porter Press International www.porterpress.co.uk ISBN: 978-1-907085-20-8