Ferrari 250 GTO: The Autobiography of 4153 GT is the seventh book in the 'Great Cars' series. As with the other titles, the story of this outstanding car has been methodically documented by Ferrari aficionado Keith Blumel, writer for many Ferrari-specific magazines worldwide.
The book boasts nearly 300 portfolio images, a combination of colour and period black and white, to illustrate the racing history of 4153 GT. Sporting various liveries, including the particularly famous Ecurie Francorchamps colours and the French 'Tricolore' paintwork, the pictures enhance what is already an amazing story.
How much is your car to insure? Find out in four easy steps.
Get a quote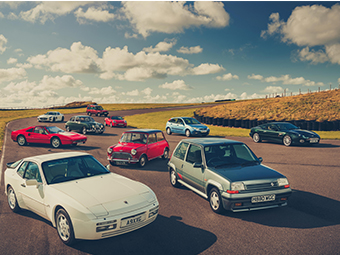 Blumel records the racing history of 4153 GT, starting with its 1963 Le Mans run, where the car came home in fourth place driven by Pierre Dumay and Leon Dernier. The following year, the car competed in and won the arduous Tour de France – a race stretching across the country – driven by Lucien Bianchi and Georges Berger, then made an end-of-season trip for the Angolan Grand Prix.
The versatility of the Ferrari 250 GTO is one of the reasons that the model is now considered such a significant machine. This is illustrated by Blumel's account of 4153 GT's later racing history: in 1965, 4153 GT competed in two hill climbs, three rallies, and two races, then from 1966 to 1969 it competed in Spain, a period that has previously remained undocumented. In 1970, the car came to the end of its racing career and since then has been in the possession of multiple collectors.
Blumel has divided this 320-page book into six parts and 20 chapters, which makes easy to navigate for the reader. He includes detailed documentation of the evolution of 4153 GT, and an appendix on scale models. The book also features various viewpoints from different owners and racers of the car during its diverse history, to ensure the reader receives a true insight into 4153 GT's life.
This book is a must-read for any Ferrari or racing fan, and as ever with the Great Cars series, it is a work of art in itself. Ferrari 250 GTO – The Autobiography of 4153 GT by Keith Blumel is published by Porter Press International at £60.00 ISBN: 978-1-907085-27-7, https://porterpress.co.uk/