After a long absence from the bookshelves, motoring publisher Veloce has just issued a reprint of BMC Competitions Department Secrets. Including never-before published photographs and details of planned prototypes, the book is a mine of information written from an insider's perspective.
The book was written by three BMC Competition Department heads, each of whom gives a unique perspective. Marcus Chambers controlled the until from 1955 until 1961, the years when the Works Austin-Healeys were at their peak. He was brought in as the department was established, forged from the old Nuffield Competitions Committee, and oversaw the development of the team into a force to be reckoned with.
How much is your car to insure? Find out in four easy steps.
Get a quote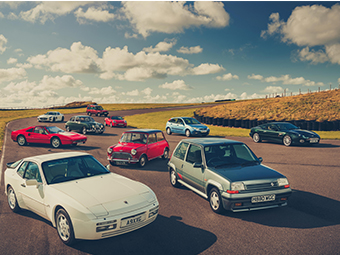 Stuart Turner was a young motoring journalist and rally navigator when he was headhunted to take over from Chambers in 1961. He takes up the story of the department at a time when the Mini Coopers were winning Mote Carlo Rallies.
In 1967, Turner left to work for Castrol, before finally ending up running BMC rival Ford's competition department. His replacement at BMC was Peter Browning, who previously had been the press officer. He led the department during the period of success by the Works Sebring MGC, but then had to deal with the BL management decision to close the department in 1970.
For anyone interested in British motorsport of the 1950s and 1960s, and especially anyone with an interest in BMC cars, this book is a great read. To have the first-hand accounts of all three Competitions Department heads is impressive, but when interspersed with personal photographs and a host of memos, the result is an extraordinary book.
Some of the content is not without controversy- the authors decided to include such items as a confidential memo from Alex Issigonis to Stuart Turner (headed 'Highly Confidential- read then burn!') detailing the illegal modifications made to rally Coopers, and assessing which would get past scrutineers. Turner noted that this simply reflected common practise of the time, and that all the teams were up to something similar. Later Browning recalls that he had to smuggle car build sheets out, when a strict edict issued on the Department's closure stipulated that they were to be burned.
All in all, BMC Competitions Department Secrets is a fascinating book, and would make a valuable addition to any BMC enthusiast's or British motor racing historian's collection.
BMC Competitions Department Secrets by Peter Browning, Marcus Chambers, Stuart Turner and Philip Young, ISBN 978-1-845849-94-8 is published by Veloce. It is available at a cost of £24.99 direct from Veloce www.veloce.co.uk or telephone 01305 260068.