Buying a classic car can be a difficult business, especially if you don't know the model very well. Ideally, we would all know a friendly expert who could look at the car on our behalf, but this is not always possible. That's when buyer's guides come into their own.
The Essential Buyer's Guide range of books by Veloce Publishing covers some of the most popular classics owned in the UK. Small enough to fit into a pocket (A5 size) they are packed with information and photographs, and are a very useful tool to acquaint yourself with a potential purchase both before and during inspections.
How much is your car to insure? Find out in four easy steps.
Get a quote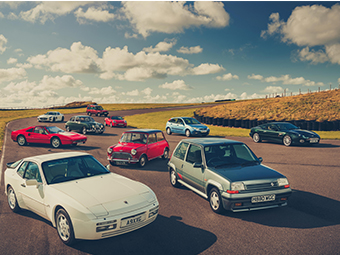 Hagerty read the Alfa Romeo Giulia Spider Essential Buyer's Guide, which covers all 105/115 series Spiders from the 1966 Duetto up to the 1993 Series 4 Spider. It includes a lot of background information on the different models, what they are like to own and drive, and the various areas which can be expensive to maintain.
In general, the book is well written and clear. It contains a great deal of information, and is probably best read thoroughly a couple of times before viewing your first Spider. Many of the photographs are very small, but they do their job in showing which areas to look at. We also found the 'Fifteen minute evaluation' section a little wordy- for a quick assessment we would have preferred bulleted lists of key areas to watch- but all the information is there.
The 'Relative values' section is cleverly done- the value of a Duetto is set at 100% and the other models given a percentage value against this. These percentages accord roughly with the values shown in the Hagerty Price Guide- for more see our Alfa Romeo Duetto Price Guide.
The 'Serious evaluation' section is very thorough and encourages the buyer to score each area 1-4. Following this to the letter would create a very thorough report, giving the potential buyer a lot of food for thought, and support for any price negotiations.
In general, we felt that all of the key points to look for in an Alfa Spider were there. We would have preferred a little more in the way of engine identification- possibly a diagram showing the symbols used to identify the various block sizes- as incorrect engines are a frequent problem with these cars. But otherwise it is a really great reference book, either for an owner or someone looking to purchase their first Alfa Spider.
The Essential Buyer's Guide range of books covers many popular classics including the Jaguar E-Type, MGB, Porsche 928, Triumph TR6 and VW Type 2 bus. The book we reviewed was the Alfa Romeo Giulia Spider Essential Buyer's Guide by Keith Booker and Jim Talbott, ISBN 1-904788-98-X, published at £9.99 by Veloce Publishing and available online from www.veloce.co.uk