With this year's F1 season starting this weekend in Australia, we've taken a chance to look back at a superb book we reviewed last year- Ayrton Senna, All His Races by Tony Dodgins.
With McLaren-Honda ready to return to the grid for the first time since the era of Senna, it is apt that we have one of these books to give away to one of our readers.
How much is your car to insure? Find out in four easy steps.
Get a quote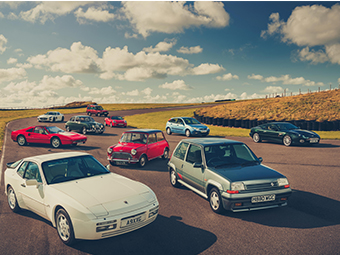 For your chance of winning, just email us at uknews@hagerty.com with the answer to the question below before midday on Friday 20th March. A winner will be chosen at random from all the correct answers. The winner will be informed by email that afternoon.
Question:
How many race wins did Ayrton Senna achieve in F1?
And just to whet your appetite, here's an exclusive extract from the book:
Monaco Grand Prix • 15 May 1988 • McLaren-Honda MP4/4
From the moment practice began, Senna was on another level entirely at his first Monaco Grand Prix in a McLaren, sometimes as much as two seconds quicker per lap than team-mate Alain Prost. Nobody imagined for a moment that a similar margin would still be there at the end of qualifying. There was stunned disbelief, therefore, when Ayrton stopped the clocks in 1min 23.998sec!
It's the most talked about lap of Senna's career, when he spoke of 'coming out of himself', of having had a spiritual experience and driving with such intensity that perhaps he even frightened himself.
And then came the race. Senna disappeared at around a second a lap for the first half. But with only 12 laps to go, he clipped the barrier on the inside of Portier while accelerating out onto the harbour front and his McLaren was sent across the road into the outside barrier.
This was one of the most notorious episodes of Senna's career. Unable to take in what had happened and not wishing to contemplate its consequences, Senna walked straight back to his nearby apartment, where he was uncontactable for hours. Prost duly won.
When Jo Ramirez, McLaren team co-ordinator, finally got Ayrton to come to the phone at 9pm that evening, he was still crying: 'When he made a mistake, which wasn't often, he used to get so upset with himself that nobody, not even Ron Dennis, could or would tell him off. He knew, himself.'
Ayrton Senna: All His Races by Tony Dodgins is printed by Evro Publishing. All images are reproduced with the kind permission of www.sutton-images.com