There were buyers for five out of the six top cars parked on the Bonhams carpet at the Goodwood Festival of Speed auction, where a Dick Seaman driven 1935 Aston Martin Works Team Ulster with period Le Mans, Mille Miglia, TT and French GP race history occupied the top step of the podium with a world record breaking £2,913,500 result, £700,000 more than forecast, during a £17m afternoon.
The Sir Stirling Moss-entered 1961 Porsche RS-61 Spyder that Bob Holbert and 'Gentleman Tom' Payne raced in the States had been treated to an exclusive catalogue of its own at the sale and cost the next guardian £1,905,500 with premium, at the top end of the guide price band. A within pre-sale estimate £1,513,500 was paid for a 1998 Mercedes-Benz CLK GTR Roadster, one of only six made, though this one with just 8 kilometres of wear and tear.
How much is your car to insure? Find out in four easy steps.
Get a quote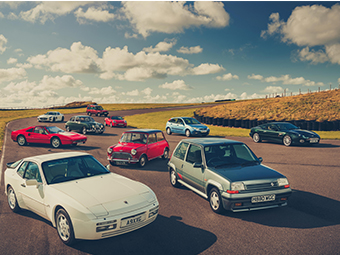 A 35,000k from new in 1958 300SL Gullwing with a £800k+ suggested price tag failed to fly anywhere however, but back home again. Whereas a 1963 Aston Martin DB4 Series V Convertible with Vantage-spec motor and air-con, that had been in receipt of full restoration in the workshops of specialists Desmond J Smail, Bodylines and Spraytech, realised £964,700, within the estimate range.
A quartet of left hookers who were being auctioned 'Without Reserve' under 'The Proceeds of Crime Act' attracted plenty of bargain hunters. Although after long bidding battles, the victors had to pay £897,500 for a 2003 Ferrari Enzo with repaired front panels declared, £124,700 for an unregistered 2008 599GTB Fiorano with only 132 delivery kilometres, £97,820 for an equally mint 2009 California Hardtop Convertible with 221 kilometres recorded, and £69,820 for an ex-New York 2004 Rolls-Royce Phantom with unfortunate custom alloys.
Among market noteworthy prices paid in the tent behind Goodwood House, £393,500 was handed over for a 1973 Porsche 911S from the long-term ownership of the late pop artist Richard Hamilton that had been restored to better than new condition by Clark & Carter, and for which £250,000-300,000 had been forecast. The 1954 Alpine Rally class winning Jaguar XK120 Competition Roadster, estimated to cost the next retro-eventer £240,000-280,000, went on to raise £365,500, and a little exposed and well stored £120,000-160,000 E Type 4.2 FHC 'original' driven 7438 miles from new in 1965 had made £214,300 by hammer fall.
At £24,300 more than the guide, the £74,300 valuation for a 1979 Range Rover, admittedly an early Classic 2-Door 'Time Warp' that had been driven only 5635 miles by two owners, was also fairly spectacular. As was the £91,100 result of a 1960 Volkswagen Type 2 Devon Samba Deluxe Microbus with matching numbers, which is not far short of busting through the £100k barrier. For a split-screen VW van with 23 windows, heady stuff indeed.
Rolling Stone Bill Wyman sold both his 1971 Citroen SM Coupe for £61,980 and his 1966 Mercedes 250S for £61,980. Whilst the James May consigned 1984 Porsche 911 Carrera was certainly in 'Top Gear' too – guided at £28,000-34,000, the 3.2 Coupe achieved £35,750 at auction.
Damon Hill OBE himself had introduced the first lot, the former World World Champ's personal copy of the Champions Edition of the F1 Opus, which raised £20,125 for 'The Halow Project', which supports young people with a learning disability so that they can have the same life choices and chances as any other young person. And during the preceding Automobilia, a Briggs & Stratton 5hp powered Porsche 936 Child's car from the toy cupboard of former World Sportscar Champ Derek Bell that had been raced at the Little Big Mans by son Sebastian fetched £17,500.
80% of the Big Boys Toys sold at Goodwood, as they had done just off the Champs-Elysees in Paris the previous Monday evening, where Artcurial shifted 11.13m euros (£6.44m)) worth of automobiles led by a 1991 Ferrari F40 sold for 986,000 euros with premium (£700,000 plus TVA on the premium) from a 1970 Porsche 911S/T 2.3 Rallye Coupe for 881,600 euros (£625,936), a world record price for the model. Another record price buster was a 1925 Bugatti T13 Brescia with original body by Maron-Pot that had been en familie since 1953 and which sold for 812,000 euros (£576,520). A 1966 Alpine A210 Le Mans Berlinette raced to a 464,000 euros result (£329,440), for which the Parisian house is claiming yet another record prix, the sixth that evening.
During a 77%-sold sale in the Bonhams Oxford saleroom just outside Woodstock on the previous Saturday, when punters parted with £1.63m on non-essential but collectible vehicles, a much picked over 1964 Morris Mini Cooper 1071S Mk1 for restoration was taken on for a graph topping £39,100 with premium. Simultaneously during RREC Rally Weekend at Burghley House in Lincolnshire, H&H oversaw 35 changes of Rolls and Bentley ownership from the 50 classics offered, a 70% sale rate and £1.22m sale total, headed by a 1923 R-R Silver Ghost fitted with unique Shooting Brake coachwork which sold for £161,280.
The talking point cars from the previous weekend's ACA sale at King's Lynn – where huge crowds were magnetised once again by a 259 strong classic entry, 183 or 71% of which sold for £1.88m with premium – were a non-running 1962 Maserati 3500GT restoration project trailered away for a stupendous £117,600, and a thickly dusty and very sleepy 1987 Ford Sierra RS Cosworth with 59,449 mileage displayed which did potter past the rostrum under its own power to raise a quite extraordinary £47,250.
For while many economic sectors wobble nervously, the market for both old and young timers continues to amaze at all levels and does so in all currencies.