National Motor Museum assembles 50 vehicles from the 24 James Bond movies to celebrate the franchise's golden anniversary on film – 007's hot rides could drive, fly, or even swim

The Bond in Motion exhibition, which opened at Beaulieu on January 17, is reckoned to be the largest of its kind staged anywhere in the world, featuring 50 vehicles to celebrate 50 years of James Bond movies.
A collaboration between Eon Productions and Beaulieu, it runs until the end of the year at the National Motor Museum. Lord Montagu attended the launch on January 16, along with former Bond girl Britt Ekland.
How much is your car to insure? Find out in four easy steps.
Get a quote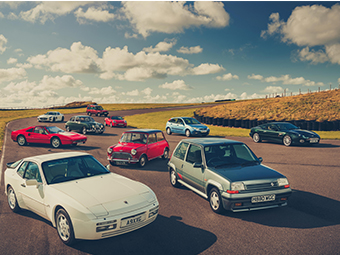 You can see 50 of the best-loved Bond vehicles. There's no Sunbeam Alpine, 007's first film car in Dr. No, (1962) but there is a silver Aston Martin DB5 (the 'realest' one left in the world was bought by an American collector at auction in 2010) but this car was a publicity car for Goldfinger, (1964) and comes from the Dutch National Museum.
The rest of the list is impressive and includes: the 1937 Rolls-Royce Phantom III driven by Auric Goldfinger; the Ford Mustang Mach 1 famously two-wheeled down an alley in Diamonds Are Forever (1971); the Lotus Esprit S1 submarine from The Spy Who Loved Me (1977); a 1962 Rolls-Royce Silver Cloud II like the one pushed into a lake by Zorin and May Day with Bond still inside, in A View to a Kill (1985); and the 'remote-controlled' (actually from the back seat) BMW 750iL from Tomorrow Never Dies (1997).
There's a Jaguar XKR with SFX weapons from Die Another Day (2002), (it's a 4×4 – see if you can spot the Ford Explorer running gear underneath); a crashed Aston Martin DBS stunt car from Quantum of Solace (2008); the villain Zukovsky's Rolls-Royce Silver Shadow II from The World Is Not Enough (1999) – a suitably big car for big actor Robbie Coltrane; and the original 'Pig' from The Living Daylights (1987), used to smuggle Koskov across the border through the Siberian pipeline.
Other Bond 'vehicles' include the 'burial-at-sea bed' from You Only Live Twice (1967); the Bede Acrostar jet from Octopussy (1983); the surfboard with concealed weapons and ammunition from Die Another Day; the Parahawk powered paraglider featured in The World is Not Enough; the cello case 'ski' from The Living Daylights, and the Casino Royale (2006) Skyfleet S570 model, based on a Boeing 747.

The National Motor Museum has a collection of more than 250 vehicles, telling the story of motoring in Britain from its inception to the present day. This year marks the 40th anniversary of the world-famous museum, 20 years after Beaulieu opened as a visitor attraction.
The attraction is open every day except Christmas Day. More information at www.beaulieu.co.uk.